"We have helped lower mortgage rates to the lowest point in many, many decades," Bernanke told homebuilders. "Yet we are not seeing as much activity as we would like to see." [Bloomberg]
In the same speech, Bernanke said housing had been recovering slowly because many lending institutions have tightened underwriting conditions dramatically, relative to the pre-recession period. This unfortunately is the wrong diagnosis, so what we have is the wrong solution.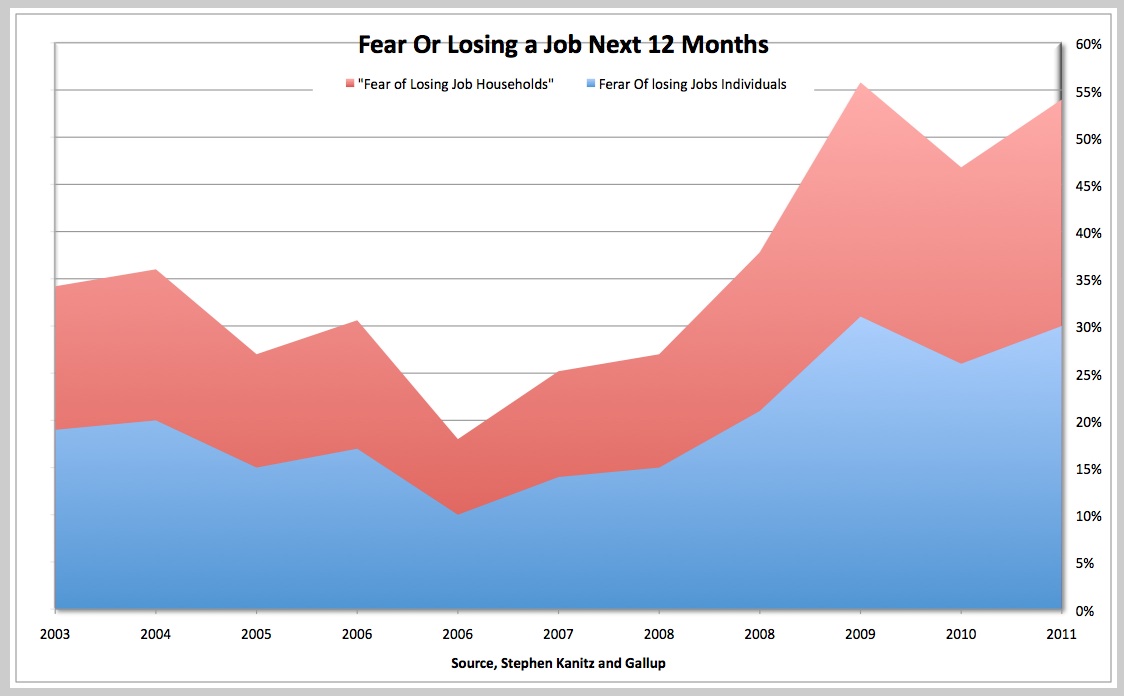 The forward-looking statistic I watch closely is the number of American households "that fear that a member may lose his or her job in the next 12 months." This statistic is gathered only so often by Gallup, and is based on individual responses. But for the purpose of analysing Housing, the correct would be to know the total sentiment of all members of two+ income families, were there is the obvious effect of contagion of one member towards the other. So I made some adjustments to reflect the overall sentiment of the households, which is the red portion of the graph.
The last statistic is from September 2011, and the number that worries me, and should worry you, is the staggering 54% of households that fear a member may lose a job in the next 12 months. Even the individual statistic is an eye opener, so even if you don't agree with the concept of contagion, up to a point, things are definitely getting worse for housing.
This statistic is also a very good proxy to conclude that somewhere around 54% (or 30%) of American households are not even considering buying a new home. At whatever bargain price houses may be, these 54% of households will not consider buying them. This explains why the home market isn't picking up, even after 7 years of falling real estate prices. No one will consider a 20 year mortgage if one of the households members thinks he or she may lose a jobs in the next 12 months.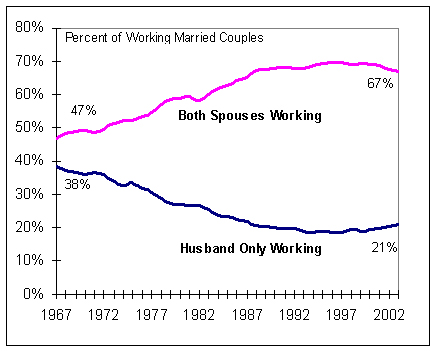 The two-income trap is waht has really changed since 1929, as the graph above suggests, and that contagion is fairly high is evidenced by the numerous articles on the two-income trap one can find now a days. (Source: The fallacy of cheap home prices and the two income trap - dual income households.)
Harvard Business Review, for example, points out that "rents have risen 12.5% whilst home values have declined 16% since 2005 as uncertainty about jobs and the housing market drive more people into rental properties." Which is what one would expect from those 54% that need to upgrade to a bigger home but fear losing a job in the next 12 months.
So all this discussion whether homes are at a reasonable price again, as Robert Schiller is suggesting, is meaningless if this dire statistic is taken into consideration, even if the decline in prices overshoots and reaches a 20% decline below norm. But if a family has decided to postpone a major investment for another 5 years or so, there is money left to spend on other things. That is why leading indicators are, for the first time, giving mixed readings.
Consumers are consuming more, but are actually redirecting their expenditures away from housing. So why 54% of American households are so apreenhesive, if only 2% at most of them will lose a job if there is a double dip at all? The reason may be the knowledge that getting a new job may not be so easy. So I suspect that what is driving this unusual 54% in America is the realization that if a job were to be lost, a new job would not be found as easily as in normal times. This is actually mentioned by Gallup: "American workers are not optimistic about replacing their current jobs if they are laid off."
Now comes the worst part. This number has practically doubled since 2008, which means that main street is not so confident about the measures being taken by the US government so far. The measures are misdirected. The Council of Economic Advisors and the Administration, are betting on an Employment Plan which targets getting the 4% newly unemployed back to work.
But the big problem, if this analysis is correct, lies with the 54% that are currently employed, not with the 4% that lost their jobs since 2008. What needs to be done is to get those 54% less worried and have them consider buying a new home. And will take more direct actions that QE 1,2, and 3, actions directly targeted to those 54%. What would make these 54% less frightened and willing to underwrite a 20-year mortgage?
Fortunately I am old and wise enough to know that one should never present a solution to a problem in the same article. The barrage of criticism on the proposed solution usually distracts from the main point, which is accepting or not the newly discovered problem. So I will stop here, but I'd be glad to make a summary of suggestions posted to comments, and then add my own solutions should they not appear spontaneously among readers.
PS. For those of you that decide to follow my tracks, which I hope you do, most will find a new study Gallup study for 2012, which may show things are even worse. The latest Gallup survey seems to finally address the problem of contagion, but asks a questionable question: You/Spouse will lose a job? I am not aware this question was asked before to allow for the comparative statistic presented, but Gallup says it has gotten worse in 2012.
The new Gallup statistic I believe underestimates, since how many wifes and husbands tell their spouses they fear losing their jobs? Males may be less forthcoming in this matter. So it does not come as a surprise that the number is lower than my calculations, which are based on 90% and 70% and 0% contagion rates, for 2-, 3-, and 4-income families.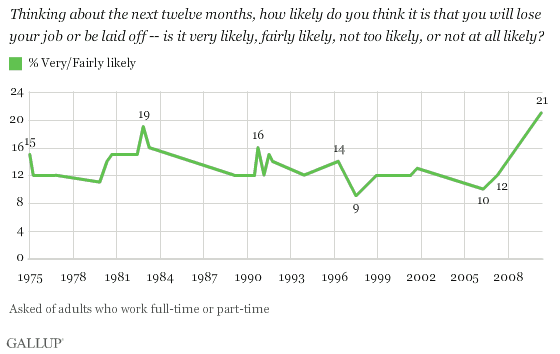 Source: Gallup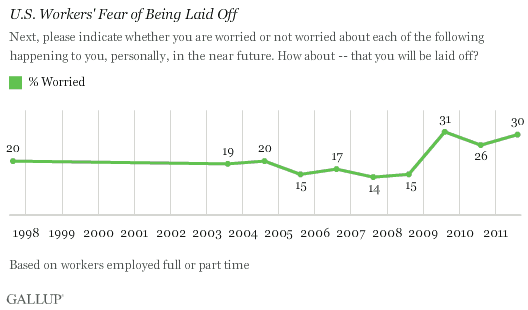 Source: Gallup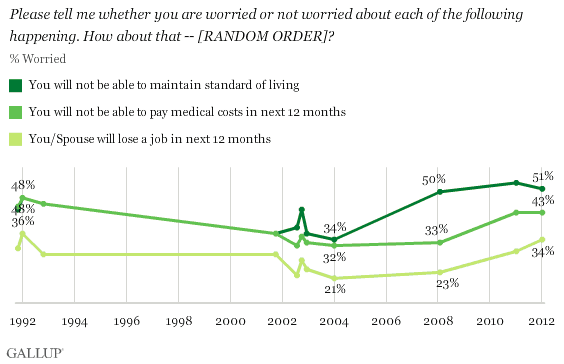 Source: Gallup
Disclosure: I have no positions in any stocks mentioned, and no plans to initiate any positions within the next 72 hours.