Could it be that the U.S. economy is actually accelerating? Is it possible that the drama in Greece is nearing a resolution?
Well, stock investors seem to think so. The S&P 500 is inching closer to a 52-week high reached last April, while the Dow is approaching a price that we haven't seen in four years.
On the flip side, crude oil prices have rocketed more than 12% over the prior six weeks. It's certainly within the realm of imagination that - with the rising prices of petroleum-based products (e.g., diesel, gasoline, jet fuel, etc.) - transporters may transport less. Equally disconcerting, consumers may travel less. And the fragile U.S. economy might find itself in dire straits yet again.
Let's examine United States Gasoline (UGA) for clues. The last time that UGA was firing on all cylinders was at the end of April, 2011. Ironically, gasoline prices began to tank at the same time that the S&P 500 came off its loftiest perch.
Click to enlarge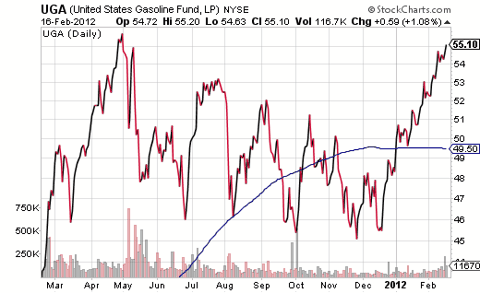 Some might suggest that higher oil prices merely indicate robust demand from a rapidly growing world. Unfortunately, $100-plus per barrel tends to cause shifts in the driving habits and air travel plans of Americans. At $150 per barrel, many begin looking at gasoline at the $5 per gallon range in some parts of the United States.
The last time that oil pushed $150 per barrel? The 2007-2008 housing collapse and subsequent Great Recession began to take shape, while high gasoline prices added undesireable fuel to the funeral pyre.
Click to enlarge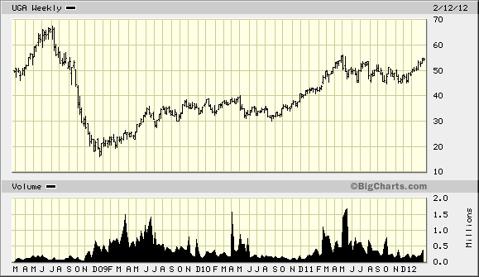 If tighter-than-desired physical oil markets couple with European economic contraction, don't expect the Fed to be able to bail you out. Keep an eye on United States Gasoline (UGA). A pullback to the trendline could be a healthy sign for the economy longer term, whereas a runaway gasoline binge could send shock waves through stock assets.
Click to enlarge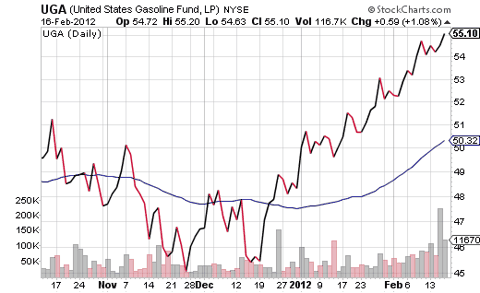 Disclosure: Gary Gordon, MS, CFP is the president of Pacific Park Financial, Inc., a Registered Investment Adviser with the SEC. Gary Gordon, Pacific Park Financial, Inc, and/or its clients may hold positions in the ETFs, mutual funds, and/or any investment asset mentioned above. The commentary does not constitute individualized investment advice. The opinions offered herein are not personalized recommendations to buy, sell or hold securities. At times, issuers of exchange-traded products compensate Pacific Park Financial, Inc. or its subsidiaries for advertising at the ETF Expert web site. ETF Expert content is created independently of any advertising relationships.