The closest account of a biography of Buffett. A depiction of Buffett's personal and business life illustrating key events that shaped him into what he is today.
'Buffett: The Making of an American Capitalist' by Roger Lowenstein (Broadway Books / Random House; 1st edition 1996)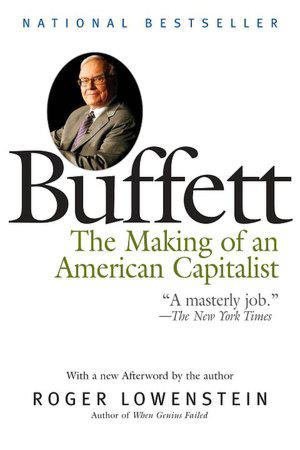 In his book, Outliers, Malcolm Gladwell talks about the "10,000 hour rule", which states that one needs about 10,000 hours of practicing a task to reach a level of mastery. If one spends about 4 hours a day that would be around 7 years to become a master of the trade. This rule may hold very true if only one puts one's mind into it. Buffett surely did. He started crunching numbers even before he was 10 years old. By age 11 he made his first investment buying a stock. By the time he was in is 20s, he was a millionaire. This book walks the reader alongside Buffett's key life events and acquaintances that have shaped him into what he is today.
The Women Behind the Successful Man
Buffett was very fortunate to marry a woman like Susie, who catered to Buffett for a major part of his life. She was responsible for raising three kids and taking care of all family affairs, while Buffett spent most of his day in his home office or Kiewit Plaza, the headquarters of Berkshire Hathaway. She even took care of buying car for Buffett. During later part of their marriage, she moved out to San Francisco into her own apartment to pursue her singing career and to have a life of her own. Although they lived apart, they were madly in love with each other. After she moved out, Buffett was taken care of by maid Astrid, who later moved in with him. The author lucidly writes about this unique relationship which is part of Buffett's immense success.
The Problem Solver, The Savior, and The CEO
Buffett is not just an investor; he is a great decision maker and a problem solver. He invested in companies like GEICO and American Express at a time when these companies faced crisis and for a regular investor, it would have sounded disaster. He was able to see through the crisis and come to the rescue by investing in them. He reaped exponential returns. He so strongly believed in the soundness and the economics of business models of companies he clearly understood, that when they faced crisis he stepped in directly to fix the unsolvable problems like what he did with saving Buffalo News and Solomon Brothers. He even had a fair share of SEC investigations in a few of his deals and he came out clean and reputable. The author shares the minute details of these epic events in Buffett's life.
Man of Paramount Character
Buffett was very resolute in his character. He developed an independent way of thinking. He would not take anything for granted, any advice or theory at face value. When he was running a partnership, managing money for investors, many thought that he was running a scam who would give exorbitant returns. He welcomed investors to cash their money out anytime, if they didn't believe in him. Those who believed in his integrity harvested hefty sums. He never lost his composure when events were not favoring him. He grew up in a modest middle class family who had seen the great industrial revolution, the Wars, and the Great depression and all the tides and troughs that followed. Lifestyles changed, technologies evolved, investors came, investors went, companies arose, companies dissolved, but his belief in the fundamental human virtues and principles of common sense investing endured the decades of hullabaloo and he has become a symbol of permanence.
At the time this book was first published in 1996, Buffett was worth $9.7 billion. It another 15 years, today, he is worth more than $45 billion and counting. This book is a melting pot of all facets of the greatest investor the World has seen thus far. It would enthrall an investor reader with numerous anecdotes and quips from Buffett's pages of life. Although this book does not provide the math behind the power of compounding - Buffett's mantra, there is a lot to glean from the pages that hold his life's works. This book beholds a great living history in the making of the greatest American Capitalist, who will be spoken of for centuries to come. The author Roger Lowenstein deserves copious laurels for putting forth extensive research, time, effort and true penmanship.
Disclosure: I have no positions in any stocks mentioned, and no plans to initiate any positions within the next 72 hours.