The market reversed its Wednesday woes as good data led to the market moving higher. The combination of a positive jobless claims' report, housing starts, and Philly Fed Index were enough to outweigh any negatives attached to the market about Greece. Greece continues to struggle and Thursday morning Moody's threatened to downgrade a slew of global banks on the European debt crisis. That news hurt Asian and European markets early on, but the American data was seen as very strong. Jobless claims dropped back below 350K. The Philly Fed broke 10.0 to 10.2, and housing starts were better than estimates. It all meant a positive day.
Data is fleeting...the macro situation is not. That is what continues to spook us about this market and have a hard time believing that it's completely okay. The bulls are in full force, but it's always good to have bearish ideas in mind. Here are two stocks we are watching that we believe have downside potential:

For bearish positions, we can look at some companies that had disappointing earnings and are not looking as strong in 2012. Those companies are JM Smucker (NYSE:SJM) and Marriott (NYSE:MAR). Both companies missed estimates. SJM was much weaker than expected. Marriott was not as bad, but it was still a miss. SJM dropped from 78 to 71, which is well below any support lines. The miss was based on higher costs and lowered demand.
Both issues are not short-term problems for the company. Coffee prices are rising, and they seem to be losing some demand to other more popular brands. We believe that these issues are not fleeting and would use any pop to immediately write bear call spreads. The 76 area looks impossible to obtain in the near future. MAR was not as weak, but the stock seems to be topping out at the 36 area, and we like bear call spreads in the 38-40 area.
click to enlarge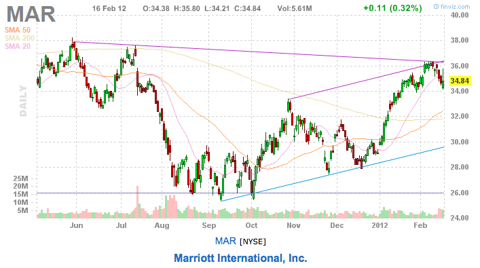 Friday's Outlook: We had a nice rally, and the past two days puts us about at neutral. Developments in Greece will probably come back to the forefront. We have CPI and leading indicators out Friday for our own data. We get information on Eurozone producer prices as well as Canada's CPI. A lot of data is out on inflation singals that can move the dollar and Euro, which will definitely be important to the market's move. Yet, we believe that more focus on Greece into the weekend will leave the market with limited upside. Hard to imagine a large slew of buying with the possibility of Greece not getting a bailout right around the corner.
We had a solid Thursday here as we had some positives and negatives. On the positive side, we exited our long position in BIDU at 142.00 for a 2.3% gain. We had to take a stop loss on UltraShort Proshares Crude (NYSEARCA:SCO) at 36.00 as oil broke out, bu we still got a net gain after taking gains on Tuesday. We also took a 0.5% loss on 2/3 of our long Oil States International (NYSE:OIS) position as we wanted to get out a majority before earnings tonight. We did get a 9.5% gain on VF Corp. (NYSE:VFC) from our Extended Value Portfolio after the stock jumped to 148.
We have the following positions. In our Short-Term Equity Portfolio we are long Titan (NYSE:TWI). In our Options Portfolio, we are long SPDR Gold (NYSEARCA:GLD), Apple (NASDAQ:AAPL), Priceline (NASDAQ:PCLN), Dollar Tree (NASDAQ:DLTR), Weight Watchers (NYSE:WTW), Nordstrom (NYSE:JWN), Bed, Bath, and Beyond (NASDAQ:BBBY), and Discover Financial (NYSE:DFS). We are short SPDR S&P500 ETF (NYSEARCA:SPY). In our Earnings Portfolio, we are long CF Industries (NYSE:CF), Priceline , VF Corp. , EOG Resources (NYSE:EOG), Oil States International , and Fossil (NASDAQ:FOSL). We are short AOL (NYSE:AOL).
Chart courtesy of finviz.com.
Disclosure: I am long TWI.