Through the credit crisis, corporations took a conservative approach to their balance sheets, building cash reserves and paying down debt levels given the economic uncertainty and credit market fragility. As the economy stabilizes, this source of excess liquidity could be returned to shareholders in the form of dividends or through corporate share repurchases. These corporate actions could provide an important catalyst for further stock market gains if the macroeconomic picture brightens, or provide an important buffer against large declines if the outlook worsens. The constituents of the S&P 500 Index (NYSEARCA:SPY) hold double the cash on their balance sheets that they held five years ago, but the dividend yield these companies pay on average has increased only by 0.2%.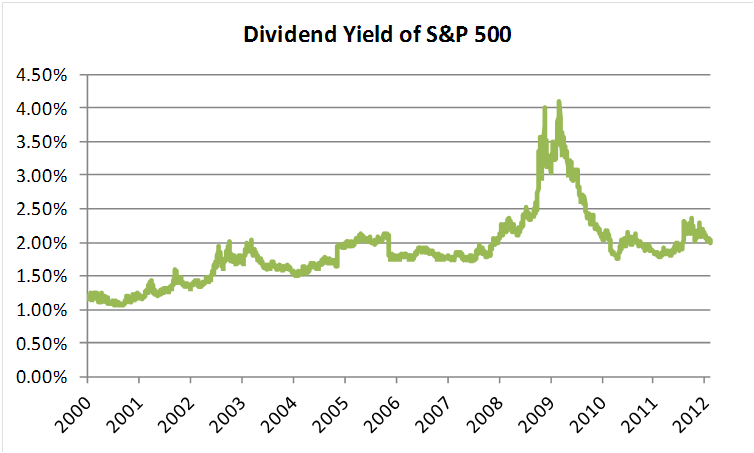 Click to enlarge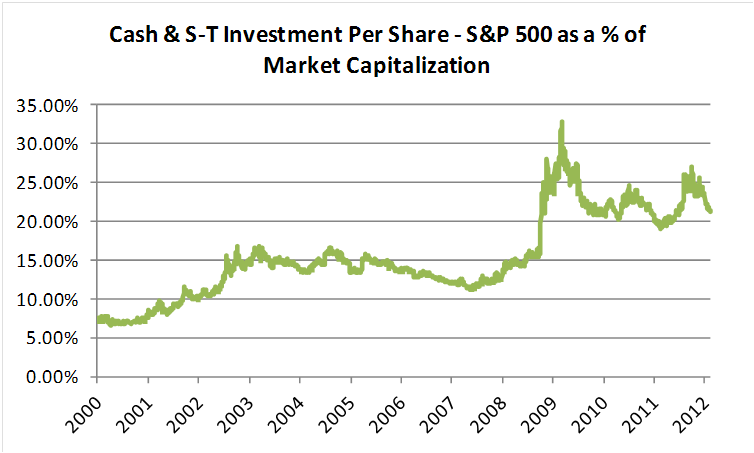 Click to enlarge
To determine whether the excess cash on S&P 500 company's balance sheets is due to the regulatory build-up of liquidity mandated at some financial institutions, or a function of the capitalization-weighted nature that has given more weight to companies like Apple (NASDAQ:AAPL) that have extremely high cash balances and do not pay a dividend, additional indices were examined. The liquidity and dividend yield of the price-weighted Dow Jones Industrial Average (NYSEARCA:DIA) was used for comparison.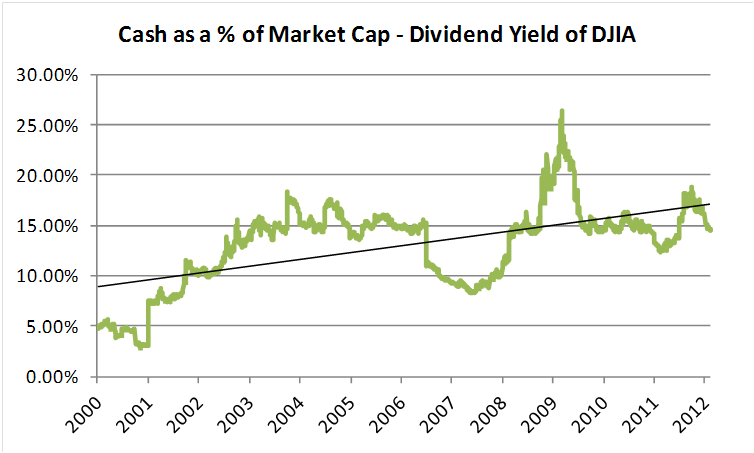 Click to enlarge
While less dramatic than the increase in the difference between average cash balance and dividend yield seen with the S&P 500 constituents, the linear trend line on the graph above does show that cash on hand is growing for these underlying companies relative to cash sent to shareholders.
This trend has also held for smaller capitalization companies as proxied by the Russell 2000 index (NYSEARCA:IWM). Presumably, these higher growth companies would be deploying their cash into profitable projects instead of sending money to investors like more mature businesses. Potentially, smaller capitalization companies may be unable to find profitable growth avenues due to the economic downturn, which may incent their management to engage in shareholder-friendly corporate actions in the future. While cash balances have expanded, the average dividend rate of the Russell 2000 of 1.4% is slightly less than the trailing ten-year average of 1.43%.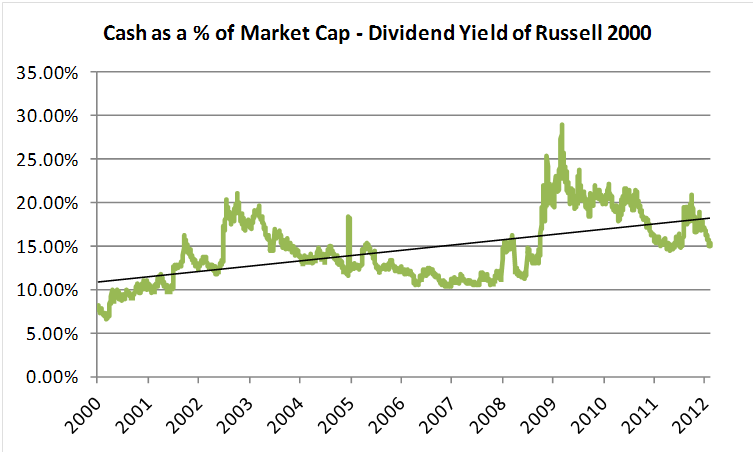 Click to enlarge
High cash balances and relatively low leverage levels at U.S. corporations could signal future dividend increases. If the S&P 500 constituents collectively paid a cash dividend of 32% of their cash holdings tomorrow this would take the average cash balance down to its trailing ten year average.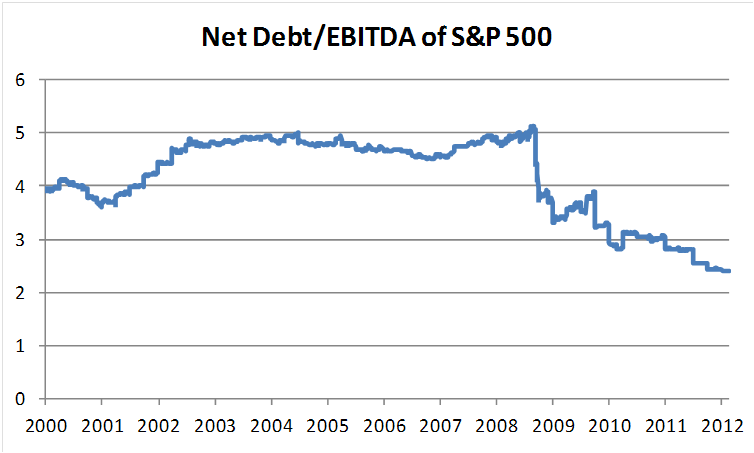 Click to enlarge
A special dividend of this magnitude would only take net leverage (debt less cash divided by earnings before interest, taxes, depreciation, and amortization) from 2.45x to 2.94x, still well below the trailing ten year average of 4.2x. The high cash balances and low leverage of U.S. corporations signal future distributions to shareholders, potential leveraged recapitalizations, or increased bouts of mergers and acquisitions. Coupling these factors with the strong earnings yields of these companies signals further market advances.
Disclosure: I am long SPY.