15% Week Over Week Growth
The latest IMS numbers for Avanir Pharma's (NASDAQ:AVNR) Nuedexta (for the week ending Feb 3, 2012) showed an almost 15% increase in total scripts from the prior week. Wolters Kluwer data for the same period showed total scripts increasing by 11.5% w/w. The difference may be due to Wolters Kluwer not reflecting institutional scripts.
Since the launch of Nuedexta, Avanir has enjoyed a strong steady growth in perscriptions. This recent increase in growth may be hinting at an inflection point. Avanir's CEO, Keith Katkin, indicated in the latest investor conference call:
New patient and physician market research undertaken during the last quarter reaffirms our long-term belief in the growth opportunity for NUEDEXTA. For example, the physician market research suggests that physicians in our target that are already prescribing NUEDEXTA expect a substantially increase in the number of patients treated with NUEDEXTA over the next 12 months. And those physicians who have not yet prescribed NUEDEXTA for the first time, expect to write their first prescriptions in the near future.
This further supports the speculation that an inflection point may be on the horizon.
Long Term Care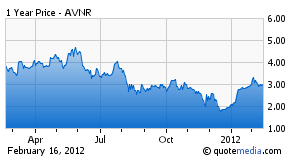 Soon after the launch the company detected that institutional settings (i.e., Long Term Care "LTC") may provide a compelling target market. Management reacted to this perception swiftly by setting up a long term care pilot, i.e., a team of account executives to target LTC to get a feel for the opportunity. The results were staggering. In a matter of months LTC sales are accounting for 50% of Nuedexta sales.
Europe
The company has recently indicated it expects to receive its "120 day questions" from the European Medicines Agency sometime in March. A moderate view is that European approval will occur sometime in the spring or summer of 2012, further expanding Avanir's growing revenues.
Insider Ownership
Avanir's Board of Directors have in excess of 200,000 shares each and they have not sold any shares in the last many years. Executive management have a lot of options and a strong interest in seeing the company grow.
Institutional Ownership
Institutional ownership has been steadily increasing. This week we've seen a number of new 13G filings which indicate an increase in institutional holding. For example, FMR increased its holding by over 1 million shares to 6.358%. T Rowe Price continues to be the top holder with 15.959% of outstanding shares. They also increased their ownership by over 1 million shares in quarter ending 31 Dec 2011.
Short Interest
Short interest in Avanir has been going down steadily since the high of 35,392,914 last July, except the last report which showed a slight increase to 26,325,500 shares. The recent slight increase in short interest might indicate that shorts are finding it increasingly difficult to find shares to cover with. Institutional appetite has been on the rise and many retail holders view Avanir as a long-term investment. The drop in short interest may have been aided by the last outstanding warrants which were exercised towards the end of 2011. Within the last few months the company has made it clear that further dilution is not an option on the table (see quote by VP finance below).
Basic economics tells us growing demand and steady supply means increasing price. A year ago at the annual shareholder meeting the CEO was asked about the large short interest. He brushed it aside with the confidence that the company will succeed and short sellers will not do well. A year later, short interest is still quite high but given the recent two quarters' strong growth, the CEO may get proven right after all.
Off Label Use
Nuedexta continues to generate interest from the medical community about off-label use. A number of studies have been proposed or are on the way to prove Nuedexta's uses other than for PBA (aside from the company's own new trials including Nuedexta for MS Neuropathic Pain). As Avanir's Senior VP of Research and Development, Dr. Joao Siffert indicated:
Community and academic physicians have continued to explore other potential users of AVP-923 and have started to report on potential new uses in the literature.
An unofficial list of possibilities for Nuedexta's off-label use can be seen here.
200 Million Lives With Unrestricted Access
The company has recently stated that insurance coverage has been steadily increasing:
35% of patients have tier 2 access to N and approximately 65% of patients, representing about 200 million lives in the U. S. have unrestricted access to Nuedexta… no requirements for administrative steps such as prior authorization, prior to filling the prescription... We continue to work with the remaining commercial and Medicare Part D plans to improve coverage.
Bear Case
While the "bull case" for Avanir is very strong, the "bear case" relies on the notion that PBA might not be prevalent, and the speculation that the launch would fail. Furthermore, I read that bears still hope that SSRI's to be a preferred treatment for PBA but as Avanir has indicated several times, their surveys show that a significant majority of doctors surveyed far prefer Nuedexta to SSRI's for treatment of PBA.
PBA is not a fiction. As Dr. Randall Kaye, Chief Medical Officer stated recently:
We're encouraged by the prevalence estimates of PBA that we're seeing and they seem consistent with some of the recent survey data that's out there.
Lastly, bears have been touting the possibility of dilutive financing for a long time. Recently the company has reiterated on a number of occasions that further dilution is not an option that is considered presently, and that if and when the company needs to raise funds it has several other options. Christine O'Campo VP of Finance stated:
Should we have the need for additional capital, we have a number of non-dilutive options that we may be able to take advantage of, including lines of credit, term loans, royalty debt and ex-U. S. partnerships.
The way the scripts are growing profitability looks closer than ever. I will not be surprised to see Avanir be profitable within a year.
Conclusion
With sales increasing, and demand from institutional investors at historical high, it is just a matter of time before this stock hits the limelight.
Disclosure: I am long AVNR.