In this write up, I have identified stocks that are ready for short term gains now. The criteria being used combines current fundamental reasoning and chart technicals that appear to match up with the fundamental reasoning. Combining these factors, I came up with 2 stocks that should return nice gains in the short term.
ReneSola (SOL) 2/16/12 pps: $2.72
Fundamental factors: ReneSola is a Chinese solar company and on on 2/16/12 Bloomberg ran a story about China purposely cutting polysilicon production 30% in order to get pricing back up to levels where better profit margins can be gained. This has created a temporary supply issue, giving polysilicon wafer prices a boost off their Q3 2011 lows. Couple this with the growing demand in emerging Asian markets for solar power, and ReneSola's current pps of $2.72 should see a jump to near $3.40 very soon.
In the chart above, I draw black lines showing the channel trend off the 52 week lows. In early January, it almost looks like a head and shoulders pattern wanted to develop. What ended up happening was an engulfing pattern emerged, which was a bull signal to buy. The 4th line down I draw a line where this signal occurred. The first line drawn from Nov. 11 shows the longer term uptrend channel. The lines form a wedge to the current date that indicates another upward move is about to take place. The MACD signal has climbed above the zero line for the first time since March 2011. The signal is clearly showing accumulation.
The stock just recently made an intra-day high of $3.35, which the first 3 lines cross over. The 3rd and 4th line show this pps will be hit again in the short term. The question is whether a head and shoulders pattern occurs from this, or the pps holds the $3.25 to $3.40 range. If it holds this range and makes higher lows, then a move over $4 will happen.
ReneSol was grossly oversold last year from an overbought 52 week high of $13.25. The stock did not retrace 50%, but a whopping 80% down to $1.45. The stock has over corrected and should correct back to $6.25 this year, where it should have corrected to in the first place.
All these factors land ReneSola on my list for a nice short term gain. Consider the stock for a mid-term gain as well. I am not confident for the long term prospects yet. I am playing this channel as well for short term gain, and plan to sell at the $3.50 level. I offer more opinion about Chinese solar stocks in a recent article of mine for those who wish to read it. I like the entire Chinese solar sector for large short to mid term gains.
Orexigen Therapeutics (OREX) 2/16/2012 pps: $3.01. OREX is a development stage company, focuses on the development of pharmaceutical product candidates for the treatment of obesity.
Fundamental factors: The FDA rejected Orexigen's weight loss drug Contrave in early February last year, citing a single approval deficiency related to cardiovascular safety as the rejection cause. Vivus (NASDAQ:VVUS) and Arena Pharmaceuticals (NASDAQ:ARNA) had their weight loss drugs qnexa and lorcaserin rejected as well, before the FDA rejected Contrave. Vivus and Arena are next to in line for another attempt to get their weight loss drugs approved after they received similar CRL's from The FDA.
As a side note, Arena and Vivus may be decent mid term plays as well, and I will take a look at them to see if I can find clear indicators to warrant a write up. I do find their weight loss drugs interesting, especially Arena's lorcaserin.
Because Orex was first up for approval and failed, they now move to third in line. In order to gain another shot at FDA approval, the company must complete a pre-marketing study to rule out an increase in major adverse cardiovascular events that would significantly affect the drug's benefit-risk profile. The objective of this trial will be to demonstrate that Contrave does not unacceptably increase the risk of major adverse cardiovascular events. The Company plans to initiate the Contrave outcomes trial late in the second quarter of 2012.
Investors have expressed concern that the company might not have the cash for this study. However, on 1/10/12 Orex released a form 8K stating that they have enough money for operations through 2014.
On 02/6/2012, Orexigen Therapeutics announced that it has reached an agreement with the FDA on a Special Protocol Assessment for the Contrave outcomes trial in overweight and obese patients.
The stock took a real beating on the original FDA rejection of Contrave, going from $9.09 to $2.50 just in 1 trading session on Feb.1, 2011. The chart is finally showing a new move up in the short term.
Technical factors: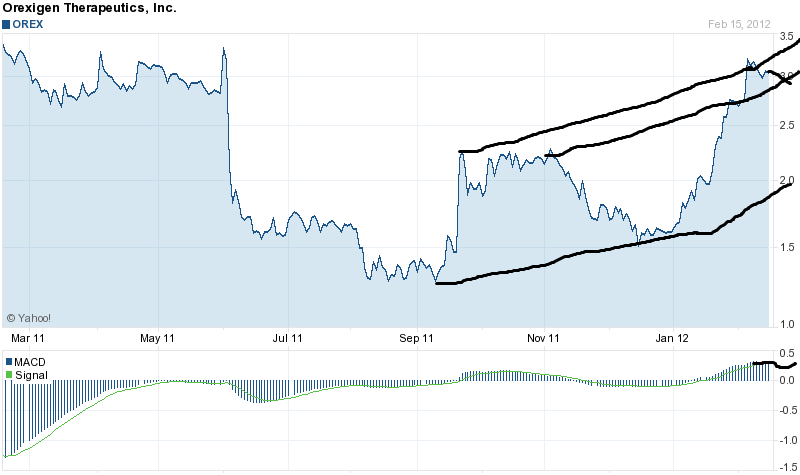 The MACD is trending nicely above the zero line. The 3 lines I mark in the chart above shows an uptrend channel since Sept-Oct. 2011. Between the 2nd and 3rd line from the top, we see accumulation occur as the stock pps bottoms out. The one black line between the 1st and 2nd line that turns downward, indicates a possible pullback to $2.80 before heading upwards over $3.50. The chart shows for a good swing trade to that level. I would recommend a cost basis average in from the current level down to $2.80, then loading up at that price. This play is purely a short term one, as I need to see some more information from Orex on how the SPA studies are coming along.
In 2 weeks, we will revisit these picks and see how my calls are performing at that time.
*Data sourced from Yahoo Finance
Disclosure: I am long SOL.
Additional disclosure: This article is intended for informational and entertainment use only and should not be construed as professional investment advice. Always do you own complete due diligence before buying and selling any stock.