The Labor Department reported that the consumer price index rose 0.2 percent in January, paced by a surge in apparel costs, and the official measure of U.S. inflation now stands at an annual rate of 2.9 percent, down from a 3.0 percent rate in December.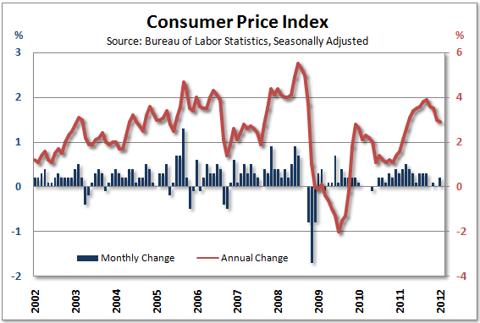 The so-called "core rate" of inflation – excluding food and energy – also rose 0.2 percent in January and now sports a 2.3 percent year-over-year gain, its largest 12-month increase since September 2008.
The closely watched energy index rose 0.2 percent last month – one of the smallest changes ever for this volatile component – and it is now up 6.1 percent from a year ago, though, with gasoline prices now rising sharply, higher fuel costs will likely show up next month.
Gasoline prices were up 0.9 percent in January and are 9.7 percent higher than a year ago, these increases being offset by tumbling natural gas prices as overall household energy costs fell 0.4 percent last month.
Prices for clothing jumped more than a full percentage point, but were offset slightly by a 0.3 percent decline in footwear costs, resulting in an overall increase of 0.9 percent for apparel, now up 4.7 percent on a year-over-year basis.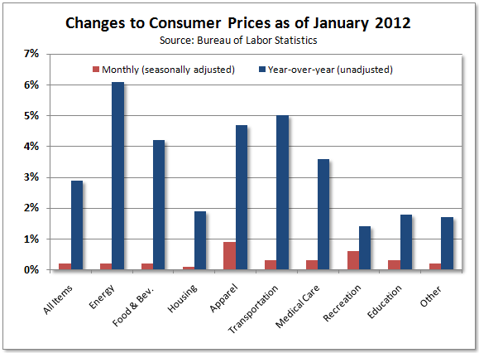 Prices for food and beverages rose 0.2 percent, up 4.2 percent from a year ago, while housing costs were up 0.1 percent and are now 1.9 percent higher than last year at this time in a report that was unusual insofar as there were no major categories posting price declines, as evidenced by all the red bars extending upward in the graphic above.