The recent bankruptcy of Energy Conversion Devices (ENER) shows how risky solar stock speculation can be. ENER shares plunged 80% on the news of the bankruptcy filing. ENER is not the only solar company to go bust in recent history. Evergreen Solar (ESLR) and Solyndra both recently filed for bankruptcy.
ENER 1-month chart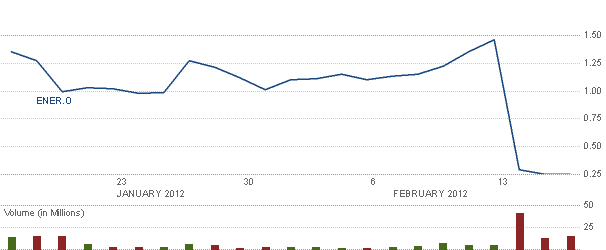 Source: CNBC
All three of these bankruptcies were primarily the result of the weakness in solar as a sector. Even the strongest companies in the industry like First Solar (FSLR) have suffered significantly. The weakness in the sector has pushed many solar stocks to historic lows. Low prices have attracted speculators who think there could be value in some beaten down solar stocks. Some of the most popular solar stocks for traders are JA Solar (JASO), Trina Solar (TSL), Canadian Solar (CSIQ), Renesol (SOL), Yingli Green Energy (YGE), LDK Solar (LDK), Sun Power (SPWR), MEMC Electronics (WFR), Suntech Power (STP), and Jinko Solar (JKS).
In the end, at least one of these companies is likely to go bankrupt. Also, in the long-run at least one of these companies is likely to be a major winner. Figuring out which will be the winner and which will be the loser is both difficult and risky. The better option is buying a solar ETF.
The biggest and most liquid solar ETF is the Guggenhiem Solar ETF (TAN). This ETF owns 32 different solar companies. TAN also has a low expense ratio of just 0.65%.
Conclusion
Investors and speculators who want to bet on solar stocks should do it with TAN because the individual stocks are too risky. Solar stocks are cheap because the market believes that a very bad outcome remains a possibility. It would not be surprising to hear of more bankruptcies in the coming months in the solar industry. Owning TAN will prevent investors from getting wiped out in the event of a bankruptcy.