By Joseph Hogue, CFA
Newmont Mining (NYSE:NEM) reports earnings on the 24th with expectations of $1.26 per share, an increase of 8.6% over the same quarter last year but 2.3% down from the most recent quarter. While gold and copper prices were volatile over the last quarter, Newmont is a strong company with low costs and good growth prospects from recent acquisitions. Gold prices will continue to be the largest factor in profitability but should be supportive through this year.
In the last quarterly report (pdf), cash costs for gold came in slightly above expectations at $622 per ounce but well above the prevailing price over the quarter. Prices for gold have come down slightly since highs last September but are stabilizing on accommodative global monetary policy and the sovereign credit crisis in Europe. The credit crisis in Europe will most likely not see a resolution this year as problems in Greece become problems in Portugal and Italy. Combine this with possible additional easing in the United States, and prices could trend even higher.
Cash costs for copper came in last quarter at $1.25 per pound with production of 58 million pounds. Copper last year was volatile as well, but well above the cash costs and averaged around $2.94 per pound. Positive trends in housing and employment in the U.S. should support the metal this year.
The company is one of the world's largest gold producers with operations in Australia, Canada, Indonesia, Mexico, Peru and the United States. Total sales are well diversified as well with 22% in the United States, 50% from Asia/Pacific, 19% from Peru and 7% from Ghana. The company has been exposed to significant headline risk lately from operations in Peru. Workers in the country have escalated protests over the last quarter but the government has largely come down on the side of company interests. A resolution is still being brokered but a final deal should not significantly increase costs or operations.
Shares have outperformed the Market Vectors Gold Miners (NYSEARCA:GDX) and competitor Barrick Gold (NYSE:ABX) over the past year. Both Barrick and the sector fund fell dramatically when gold prices came down in October while shares of Newmont were much less volatile. Newmont broke below its 200-day moving average on January 18th, prompting Trading Markets to call for a short bounce from oversold territory.
(Click charts to expand)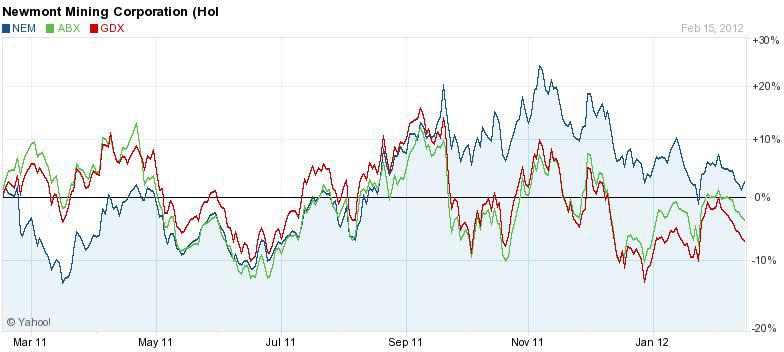 The company completed a large acquisition last year with the $2.3 billion purchase of Fronteer Gold. Fronteer had significant assets in Turkey, Peru and the United States including multiple projects close to existing Newmont infrastructure in Nevada.
The shares trade at a premium valuation relative to competitors like Barrick Gold. Share price to earnings on a trailing basis is slightly higher for Newmont, though the company also pays a higher dividend. The two companies' return metrics are almost identical at around 9.9% (ROA) and slightly above 19% (ROE) and are above industry standards. Newmont is marginally more attractive on growth prospects from recent acquisitions.

A 12-month price target of $73.22 is based on expected earnings of $5.05 per share over the next four quarters and multiple expansion to 14.5 times trailing earnings. Present multiples would yield a target price of $69.69, more than 15.3% above the current price. A discounted cash flow valuation yields a value of $78.58 using a long-term growth rate of 2.7% and a 9.3% weighted average cost of capital.
Disclosure: I have no positions in any stocks mentioned, and no plans to initiate any positions within the next 72 hours.