I love bargains. When I go to the produce store I typically look in the discounted food bin first. I enjoy searching online classifieds for good deals. I appreciate it when my sister mails me coupons across the country for free cereal, razors, ice cream and french fries.
But if you have ever brought home a rotten mango or an squeaky used exercise bike you'll know that not all bargains are good deals. Can the same be said of stocks? Are companies trading near their 52-week lows spoiled fruit, or simply unpopular brands at great prices?
Analyzing the 52-Week Lows
Before we get company specific we should note the forces that may be working against us. We have momentum: Stocks that significantly outperform the market over the past 12 months generally do so over the following year. If this is accompanied by sliding fundamentals or share dilution at low prices it might be hard for prices to work their way back up. Yet there are a couple of fundamental and technical clues we can use to suggest when a turnaround might be near as stocks trade near their 52 week lows. We will examine three stocks to see if we can separate the wheat from the chaff.
Pitney Bowes Inc. (NYSE:PBI) - This supplier of mail processing equipment is trading less than 5% above its 52-week low. This stock has been struggling since the end of the 1990s. Is $18 a good entry?
One might look to the forward P/E ratio of 8.86 vs. the 5 year trailing P/E average of 16. This may not mean too much to a growth investor but to those that like dividends it means a high yield without dipping deep into the earnings. We are looking at a potential for a dividend yield over 8% with a moderate payout ratio. Earnings growth is not expected to be stellar over the next 5 years at a 6.7% average but if it can even stay above 0, this could translate into a stable share price with a good yield.
On a price chart we have decent support at the $17 - 18 level, and volume has increased, which hints that buyers are showing up at these price levels. My take on this? If you are the contrarian type that buys stocks near their 52 week lows, PBI has a few things going for it to consider buying between here at $16.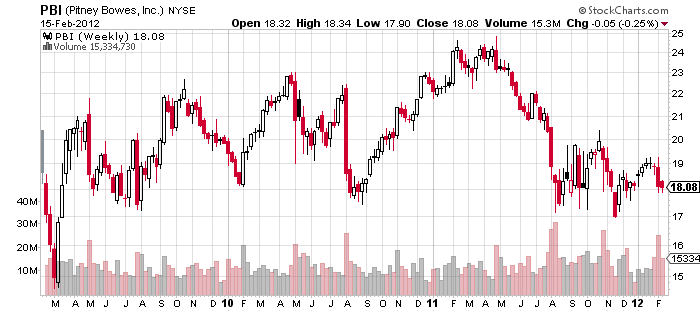 Click to enlarge
Sprint Nextel Corp. (NYSE:S) - The war is being waged between cell phone carriers and Sprint just can't seem to get a leg up; not even carrying the coveted iPhone has been able to break their multi-year unprofitable streak. Some look at the seemingly deep value as they sit on $1.87 cash per share as prices are only $2.26 - and this is well below book value of $3.81. If you look at the goodwill and intangibles of $7.48 per share you'll see that this isn't an inventory of phones and liquid assets.
While share prices do have some support at $2, I see the Sprint story as being too much of an uphill battle at any valuation for investors to wantonly throw money at. I'd recommend sitting this one out until they at a minimum turn profitable and bandage the bleeding of money.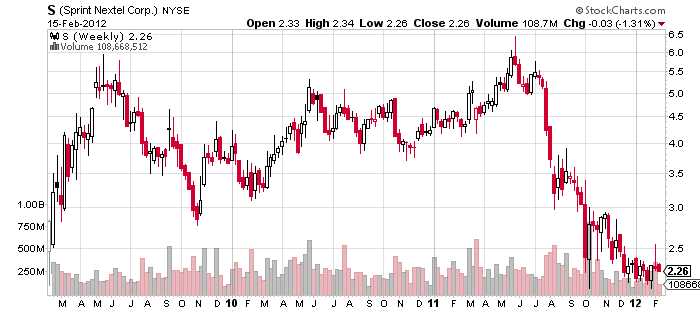 Click to enlarge
SUPERVALU Inc. (NYSE:SVU) - This retail food store chain is trading at a fraction of its $50 highs in 2007, now sub-$7. Is this discount food stock a steal or spoiled fruit?
Due to dilution, I use sales per share as opposed to total revenue as a comparison. From $144.76/share in 2005 up to $211.20 in 2009 and back to $172.31 now (trailing 12 months) means that things are not great but not horrible either. Earnings are all over the place with a $3.54 loss reported last quarter. Over 30% of the float is rightfully shorted due to problems. In this instance I am not a fan of paying dividends out of earnings they are not generating - but without it there is little to offer an investor with a $3.51 book value and only 92 cents in cash.
While I see potential deep value P/E ratios based on earnings targets for 2012 and 2013 and the potential for a whopping dividend yield, I still recommend sitting this one out. The company has already shown the willingness to cut the dividend payment down as they try to entice investors with a yield that has little backing in current earnings. Dropping earnings, dropping dividends, constant yield - not a great way to build wealth. The risk of loss is too great with too little upside unless they start to turn things around significantly. I'm just not seeing it yet.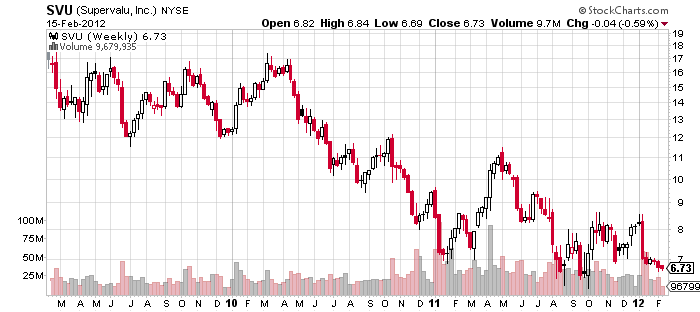 Click to enlarge
Be Judicious With 52-Week Lows
So if you like to discount shop I strongly advise you to do your due diligence. An unloved company can be lurking but you might also pickup a carefully packaged bag of moldy shares that is a bad value as it continually makes new 52 week lows on the way to the disposal bin.
Disclosure: I have no positions in any stocks mentioned, and no plans to initiate any positions within the next 72 hours. Additionally, I may intra-day trade these stocks over the next 72 hours but currently have no plans to do so and do not currently have a directional bias for such such term trading.