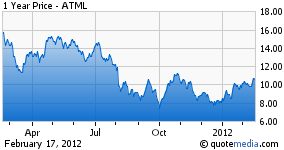 My sudden love affair with chip giant Atmel (NASDAQ:ATML) has prompted many emails from investors asking bluntly, "what's the big deal?" Well, there are several reasons and not the least of which has to do with its ecosystem-ties to behemoth Apple (NASDAQ:AAPL) and its many products. I've become an unabashed cheerleader of the company because its robust microcontroller business is really just beginning.
Though I have pointed out the benefit of its association with Apple and the tablet phenomenon, Atmel is also gaining share in the non-Apple gadget market with its line of maXTouch controllers which basically run the touch-screen interfaces on several devices from Nokia (NYSE:NOK) as well as Google (NASDAQ:GOOG) and to a lesser extent HTC.
The quarter that was
In its recent quarter, the company all but affirmed my long thesis by meeting or exceeding expectations on several of its key metrics. Atmel reported full year 2011 revenue that arrived at $1.8 billion compared to a $1.64 billion for 2010. This figure represented a 10% increase over the prior year. Actually full year revenue would have increased by 15% when excluding the smart card divestiture, which occurred during the first quarter of 2010. In the fourth quarter, gross margin arrived at 48.1% - slightly above the midpoint of the company's guidance of 48%.
It also reported non-GAAP gross margin of 48.7%. The sequential decrease in gross margin was due primarily to lower factory utilization as a result of decreased revenues due to the downturn. Despite this softness in the semi cycle, the company said its fab-lite operating model showed much better performance when compared to past downturns - particularly in the periods of 2009 where it reached the low 30% level. Overall, the full year 2011, gross margin of 50.4% represented a record for the company and was a significant improvement from the 2010 gross margin of 44.3%.
Atmel on the radar
What is not to like? This stellar report trumps any disappointment that arrive as a result of its Q3 report which sent the stock downward. Management (then) attributed the less than stellar numbers (in part) to the fact that its major customers - namely Dell (NASDAQ:DELL) and Samsung (OTC:SSNLF) - could not compete in tablet sales with Apple's iPad. But that is not a huge surprise. As a value investor I tend to see this current share weakness as an opportunity for significant value and astute investors should have this company on their radar.
The reality is Atmel has been and will continue to be a great name in the semiconductor space for quite some time and as Apple and other smart phone/device manufacturers continue to produce the types of products that consumers can't live without, Atmel is well positioned for this robust growth - one that has yet to truly reach its peak. But the company is not without its headwind or more specifically, stiff competition from the likes of ARM Holdings (NASDAQ:ARMH) and Texas Instruments (NYSE:TXN) that is vying for the same market.
For Atmel, what continues to stand out is that the company's products include microcontrollers, programmable logic devices and a wide range of proprietary system-on-chips and non-volatile memory chips. The company manufactured about 93% of its own chips in 2007. It sells products into many different end markets, including communications, consumer electronics, computing and automotive.
Granted, as has been the case for most tech companies, it has had its own fundamental challenges at the onset of the recession. But not all companies succeed in self-improvement to the extent that Atmel has. Atmel is a good example of the rewards that can come when patient shareholders and committed management intersect. From a fundamental standpoint, one can argue that it has outpaced its peers over the past several quarters - even giant Intel (NASDAQ:INTC). Plus there is some speculation that the company will be releasing details of new leading-edge products and potential new business partnerships to go along with contract extensions and reports of existing technology improvements at some point during the year.
Summary
I can't deny that the company has indeed caught my attention and I'm suggesting that it is one that should now be on the radar of several investors as well. There is some skepticism that still remain from its somewhat disappointing 2011. However, so far in 2012, it seems that it has taken on some new life. And yet even at its current valuation, it looks like a steal considering it is trading below its book value and its potential to reach $15 by year's end. For this reason, Atmel should be on the watch list of value investors willing to be patient.