This series of articles are an ongoing analysis of the changes made to Pershing Square's US stock portfolio on a quarterly basis. Bill Ackman's Pershing Square U.S. stock portfolio size increased by ~29% during Q4 2011. With just 10 positions by the end of Q4 2011, Ackman is running the epitome of a heavily concentrated stock portfolio. All of his top-5 largest positions (CP, JCP and calls, GGP, BEAM, and KFT) which account for 76.5% of this U.S. stock portfolio increased significantly in value during the quarter.
New stakes:
Beam Inc (NYSE:BEAM) and Fortune Brands Home & Sec (NYSE:FBHS): BEAM and FBHS were initiated following the split-up of Fortune Brands, which resulted in Fortune Brands holders receiving a share each of BEAM and FBHS for every share of Fortune Brands held. The bulk of the original stake in Fortune Brands was acquired in Q3 2010 and Q4 2010 in the low 50s range. Given that the combined share price now stands at ~$73 per share, it is evident Ackman is sitting pretty on the position. As of Q4 2011, BEAM accounts for ~13.5% of the US stock portfolio and FBHS for ~4.5%.
Stake Disposals:
Lowes Companies (NYSE:LOW): LOW, acquired in Q3 2011 when the price-per-share varied between $18.11 and $23.99, was a sizable ~7% of the US stock portfolio. In Q4 2011, the price-per-share varied between $18.98 and $25.96. The stock is currently trading at $27.43. The sudden about-turn clearly indicates a bearish bias. This disposal was a shocker for Ackman presented LOW as a long stock idea on 11/08/2011 in the "Great Investors' Best Ideas Foundation" 2011 event in Dallas. The stock price, in the $21 range then, spiked over 20% to ~$26 by 12/21/2011. Ackman must have exited the position as the price-per-share approached ~$28 (the low-end of his valuation-range for EOY 2014) in less than 45 days.
Stake Increases:
Canadian Pacific Railway (NYSE:CP): CP, a huge 21% stake, was initially purchased in Q3 2011 when the price-per-share varied between $44.92 and $63.86. The stake was increased by ~500% in Q4 2011 when the price-per-share varied between $46.05 and $71.82. The stock currently trades at $73.17. As an activist investor, Ackman has plans to replace CEO Fred Green with former Canadian National Railway CEO Hunter Harrison. Clearly a power struggle is ensuing - Ackman is very critical of CP Rail's performance under Green and his Q3 2011 letter to investors stated the following: "On nearly every operating measure, CP underperforms its closest competitor Canadian National Railway Company as well as the other North American railroads. We believe the discrepancy in performance at CP is generally not attributable to structural factors and can largely be resolved." Ackman asserts the 2008 acquisition of US Class II railroad DM&E - made at a high valuation with irresponsible financing - was a huge gaffe. Ackman has a history of several spectacular successes and a few catastrophic failures in his role as an activist investor and the jury is still out on the CP story.
Stake Decreases:
Family Dollar Stores (NYSE:FDO): FDO, a 6% stake purchased in Q2 2011 when the price-per-share varied between $51.32 and $55.74, was reduced by 26% this quarter when the price-per-share varied between $50.01 and $59.78. Ackman was bullish on FDO during Q3 2011 commenting "On September 29th, Family Dollar announced that Edward Garden, the CEO of Trian is joining FDO's board of directors. Contemporaneous with this announcement, Trian withdrew its $55 to $60 offer to acquire the company, an offer we and the company deemed inadequate. We hold Ed and the Trian team in high regard and are confident that Ed will serve the interests of shareholders well." The significant stake reduction indicates a shift in bias to the bearish camp.
Kraft Foods (KFT): KFT, a 10% stake, was initially purchased in Q1 2010 when the price-per-share was in the high 20s. The stake peaked at ~33 million shares in Q2 2010. Since then, the position has been trimmed to just over 21 million shares. The stake was eased by a sizable 16% this quarter. The significant stake reduction indicates a bearish bias.
Citigroup (NYSE:C): C, a 9% stake marginally reduced this quarter, was first acquired in Q2 2010 when the price-per-share was in the high-30s and low-40s. The stock underwent a 1:10 split in Q2 2011 (May 2011). During that quarter, Ackman roughly doubled the stake in the same price-range. Ackman is sitting on losses on this position but is quite bullish despite the marginal stake reduction, as indicated by the comment regarding Q3 2011 earnings: "Citi remains on track to begin returning capital to shareholders in 2012, which we expect will be a catalyst for share price appreciation."
The remaining 5 positions remained unchanged during the quarter. JC Penney (NYSE:JCP) and General Growth Properties (NYSE:GGP) positions are huge stakes that represent ~17.5% and ~14% of the total US stock portfolio value respectively. As such, the positions indicate a strong bullish bias.
The spreadsheet below highlights changes to Pershing's US stock holdings in Q4 2011: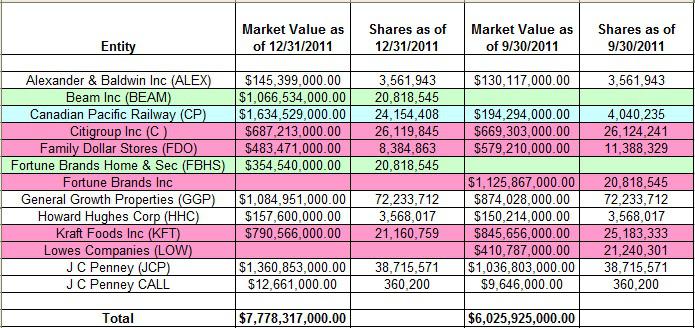 Click to enlarge
Please visit our Tracking Bill Ackman's Pershing Square Holdings article for an idea on how his holdings have progressed over the years.
Disclosure: I am long KFT.