Ctrip (NASDAQ:CTRP) reports 4Q11 on February 20th. The Street expects the company to earn $0.27 per share on $148 million in revenue and forecasts $146 million in revenue for 1Q12.
eLong (NASDAQ:LONG), Ctrip's smaller rival, reports on February 23rd. The Street expects the company to earn $0.08 per share on $24 million in revenue.
Last quarter, Ctrip reported in-line top and bottom line results but faced margin pressure as it ramped up on sales and marketing to compete against rival eLong. In October, Ctrip introduced its coupon promotion program similar to that of eLong, which has been attracting price sensitive travelers with its coupon promotion program since middle of last year. On the surface, both coupon programs share many similarities:

However, I believe that eLong will likely become the ultimate winner in this price war, due to:
Its extensive hotel networks: While Ctrip has a strong presence in both air ticketing and hotel bookings, eLong's hotel network outnumbers that of Ctrip by approximately eight times, thanks to its partnership with Expedia.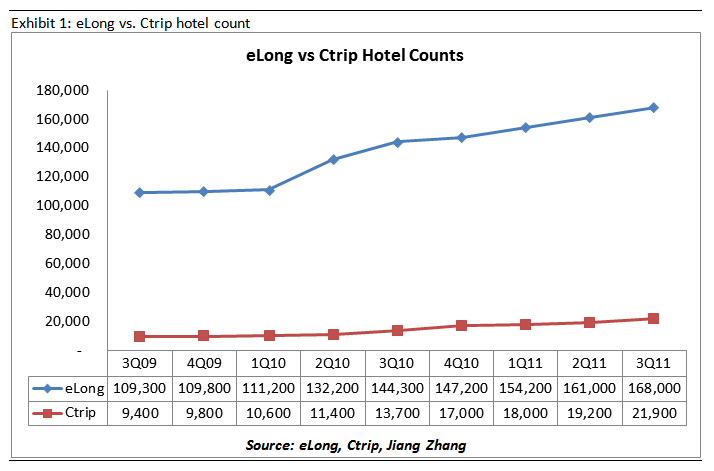 The extensive hotel network offers travelers with more options both domestically and internationally, which allows eLong to be the "go-to place" for hotel bookings.
First mover advantage into O2O and reverse auctions: eLong delivered shrewd execution by first targeting price sensitive travelers with its coupon promotion and group-buy initiative, thus gaining brand awareness and user stickiness. Despite Ctrip's entrance into coupon promotion, eLong's management pointed out that hotel volume was healthy heading into December, and the company has yet to experience any negative impact from Ctrip, which indicates that Ctrip's effort is not gaining any traction.
Finally, eLong introduced its own reverse auction platform that is similar to Priceline's (NASDAQ:PCLN) "Name Your Own Price" model. On February 2nd, Tencent Tech reported that eLong filed a patent on the reverse auction model. The successful grant of this patent will strengthen eLong's industry standing, attract even more price sensitive travelers, and establish an insurmountable barrier to entry for the other online travel sites.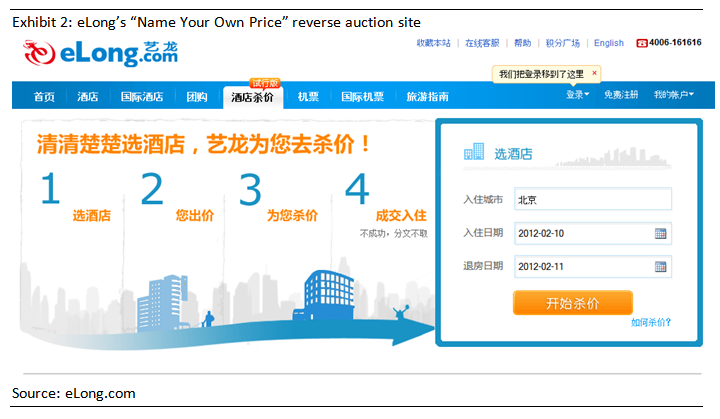 Expect continued margin pressure and headwinds for Ctrip
In order to win the price sensitive travelers from eLong, Ctrip has to ramp up on sales and market cost, which could further deteriorates margins going forward. While the company has historically delivered strong execution and was always at the forefront of product and service offerings, Ctrip's entrance into the low-cost segment places itself in a disadvantage against eLong, which has been focusing on low-cost and online travel booking since its creation.
Disclosure: I have no positions in any stocks mentioned, and no plans to initiate any positions within the next 72 hours.