Insiders might sell their shares for any number of reasons, but they buy them for only one: they think the price will rise. -- Peter Lynch
It is commonly thought insider buying (i.e: transactions by these stockholders of greater than $1 Million) signals to the investing community that members of the company believe that their stock is undervalued and ready to pop. Today, we take a look at several significant insider buying transactions to see how well these majority owners/executives predicted the eventual increase in their stock's price. Here is a summary of the companies - Assured Guaranty (NYSE:AGO), Energy Transfer Equity (NYSE:ETE), Federal-Mogul (NASDAQ:FDML), KIOR (NASDAQ:KIOR), Mueller (NYSE:MLI), NuStar (NYSE:NSH), Plains All American (NYSE:PAA), TransDigm (NYSE:TDG), and VMware (NYSE:VMW):
Click to enlarge

The first table summarizes the gains seen 1 day, 1 week, and 3 weeks after the report of each investor's SEC EDGAR Form 4.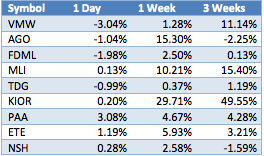 5 out of the 9 companies' stocks increased within one day
9 out of the 9 companies' stocks increased within one week
7 out of the 9 companies' stocks increased within three weeks
The next graph shows us the maximum gains that each stock has seen since their releases back in late August 2011.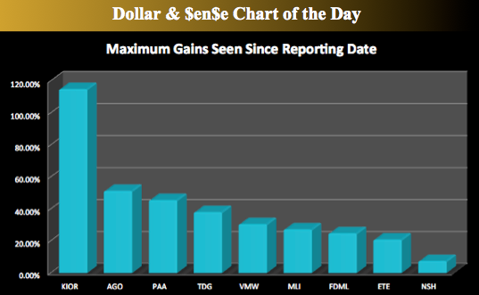 Click to enlarge
Each company has had at least a 7% gain since the report date in late August.
The largest gains have been for KIOR, who saw 114% increase within 28 days of their filing.
The average gains for each company is 40.0% seen within three months of the filing (92 days).
Every company but NSH has had at least 20% gains since the release of their SEC Form 4.
The final graph shows the maximum losses seen between the reporting date and the date of the maximum gain given above (to show the maximum losses you would have to endure before seeing the gains given above).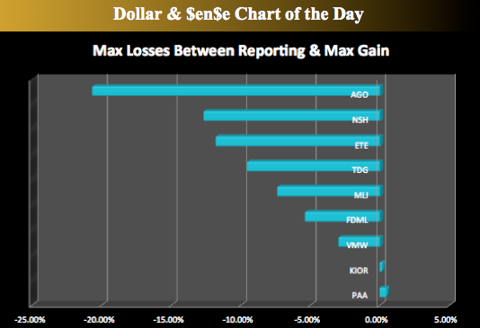 Click to enlarge
KIOR and PAA never went lower then the date they released their SEC Form 4.
The worst loss was by AGO, who saw losses of -21%, one month after the release.
6 of the 9 stocks had less than -10% max loss over this period.
For most of the stocks the long-term volatility is not that high. The stocks maximum losses on average are seen 29 days after the release for a -7.8% loss - much lower than the maximum gains seen earlier in our research.
In conclusion, insider buying, at least over this period and for this sample, has signaled that the stocks are going to jump within the next three months, and these movements are usually quite significant. The maximum losses over this period are not great enough that a long-term investor would sell off his or her losses. We will keep an eye on SEC Form 4 filings and may initiate trades based on these reports, and we will continue to look at more of these companies to continue to build on the theory.
Note: Each of the companies included had at least $1 Billion market cap, and each of the transactions were "significant" ( greater than $1 Million).
Disclosure: I have no positions in any stocks mentioned, and no plans to initiate any positions within the next 72 hours.