One of the biggest losers in Thursday's bullish trading session was Ancestry.com (NASDAQ:ACOM), which lost 16% to close at $24 after releasing its fourth-quarter earnings, which were accompanied by a soft first-quarter outlook.
Price action
Just being public for 3 years now the company's shares have a whole "history" already. Shares quickly went from low teens in 2009 to a peak of $45 in 2011 after shares retraced by some 50% as growth started to slow down.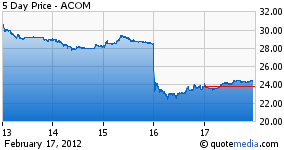 Fourth quarter figures
Revenue growth for the fourth quarter was up 26% to $104 million on 1.7 million active users. EBITDA came in at $40.7 million for a net profit of $18.3 million or $0.40 per share, which was up 60% compared with last year.
Full-year revenue growth was 43% to $400 million. EBITDA came in at $159 million up 76% on the year with earnings per share going up 87% to $1.31
Outlook
Ancestry expects first-quarter revenue to come in at $106-$108 million with EBITDA coming in at $29.5-$31.5 million. This means a further slowdown in revenue growth to just 17% year-on-year.
Full-year revenue for 2012 is expected to come in at $455-$470 million, EBITDA at $167.5-$177.5 million.
The first-quarter guidance comes in a little softer compared with analyst expectations. The full-year guidance meets analyst expectations as the company already guided full year 2012 revenue growth of 15-20% on the 5th of January.
Slower subscriber growth
It looks like Ancestry is reaching the boundaries of its very specialized niche market. In the fourth quarter net subscriber additions were just one thousand compared with 22 thousand in the final quarter last year. In the full year of 2011 it added 308 thousand subscribers, for 2012 it is guiding for 212-247 thousand. While net additions are slowing down subscriber cost increased to $108 in the final quarter, up 12% on the year. Comparing this with monthly average revenue, which slightly increased to $18, it means the company is spending 6 months in future revenue to attract new subscribers.
Valuation
After Thursday's stellar drop the company is valued at $1 billion. Taking the 2012 outlook into account where the company is still expected to grow revenue 15-20% accompanied by similar earnings growth, the stock is valued at 2 times revenue and approximately 15 times 2012 earnings.
With the stock down 50% compared with last year the slowdown in revenue and future margin pressure is well priced in, and the company seems to be valued quite attractively. Investors looking for a long-term addition in their portfolio could possibly pick up some shares if they settle for a level in the low twenties in the coming days.
Disclosure: I have no positions in any stocks mentioned, and no plans to initiate any positions within the next 72 hours.