When I wrote my last article on Star Bulk Carriers (NASDAQ:SBLK), about 6 months ago, I recommended it as a "good buy." SBLK traded that day at $1.47 a share and has since paid out 10 cents in dividends. Yes, I guided my readers to a six-month loss of 25.2% while the S&P 500 (NYSEARCA:SPY) gained 4.4%. I suffered along - as SBLK is my 8th largest holding on a cost basis from among 39 positions. Of course, SBLK is ranked a lot lower in terms of current market value (35th to be exact).
I am a valuation person: fundamentals, especially balance sheet strength are my main concern. Obviously, business trajectory and management are also important in this analysis. This approach allowed me to bust Netflix (NASDAQ:NFLX), Abercrombie & Fitch (NYSE:ANF), and Green Mountain Coffee Roasters (NASDAQ:GMCR) last year, while riding Microsoft (NASDAQ:MSFT), Intel (NASDAQ:INTC), and Aeropostale (NYSE:ARO) to huge gains. SBLK is a stock that is a "market reject," it is going to take big shifts and big news to move this stock in the right direction. However, when SBLK finally emerges, it will bring massive returns.
Pundits often criticize my fascination with the dry bulk sector with comments such as "late 2013 is the absolute earliest that this sector will show signs of recovery" or "all of these companies are headed for bankruptcy." While the former might be true (it might even take until mid-2014), the latter is anything but logical regarding a few special shippers [hint: SBLK and Paragon Shipping (PRGN)] - article on the latter coming soon].
Approach
I prefer to value these companies on their fair market value - or "liquidation value." Of course, in a forced liquidation, assets will be sold for below current market; however, banks own large collateral in these vessels, and they will give companies such as Starbulk time to make proper sales. I doubt the liquidation will occur, in fact, I believe that SBLK will emerge in 2014, perhaps light one or two ships, but as a profit earning machine. A future P/E of around 1 is realistic in my opinion. If this does occur, what does it matter if it takes 2-3 years? A 4-bagger in 3 years is still an annualized return of 59%.
The second approach I take is looking purely at operating cash flow, while checking interest coverage and upcoming payments. How solid are the charters - are several expiring - is the TCE sticky? Normally, in a strong market, an investor would want income to more than cover depreciation, as that cash should technically be set aside for new vessel purchases. However, in a weak market any amortization or depreciation should be discounted since it is a non-cash expense. Nobody believes the book values on these companies, so I am surprised amortizations have not picked up even faster.
Headed to Bankruptcy?
A quick look at SBLK's FY2011 results paints a scary picture. The dividend is cut from 5 cents (20% yield) to 1.5 cents (6% yield), and the FY11 loss is enormous. $69M lost, nearly a $1 loss per share. However, a deeper look shows that this is actually not a problem. $62M of this is a write-down on vessel values, values that everyone knows have been inflated since the 2008-2009 crash. $50M of this is depreciation.
The actual cash flow for FY11 was $43.1M, enough to cover the interest in 2011 by a ratio of 7.8. Dividends were sucking up $16M annually, but under the new payment plan dividends are down to $4.8M per year. The TCE is dropping, but it is already near bottom-- $19,561. All of SBLK's top charters are good through at least 2Q-13. 2012 TCE is therefore going to be about $18.5k, and 2013 will likely be around $17k if conditions continue to worsen. This gives SBLK a revenue stream of approximately $90M, and net operating cash flow of around $30M (after interest). The repayments are posted below from Q4-11 webcast (pdf) - the largest being $36M in 2014 - bankruptcy is an absurd idea.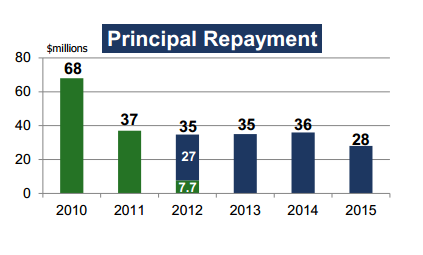 Balance Sheet Analysis
After dispelling the bankruptcy myth, how does the balance sheet look?
First off, how much are we paying for SBLK? With 80.5M shares @ $1 and $283.6M in liabilities minus $78.3 in tangible assets, SBLK is up for the price of $286M.
$286M for 15 vessels - earning minimal annual cash flows of $30M: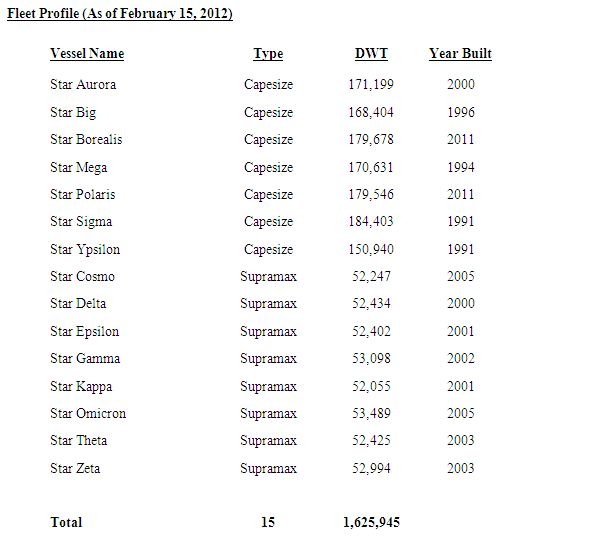 The book on these vessels (after the huge write-down) is $638.5M, but we know that's far overpriced, so let's get some good data (source 1 (pdf), source 2, source 3) based on the Jan-Feb 2012 S&P market. For the sake of rounding - (6) 10-year Supramaxes, (2) 5-year Supramaxes, (2) 20-year Capesizes, (2) 15-year Capesizes, and (2) newbuilt Capesizes.
Supramax @ 10yr- 16.5M * 6 = $99M
Supramax @ 5yr - 23.5M * 2 = $47M
Capesize @ 20yr - 9M * 2 = $18M
Capesize @ 15 yr - 17M * 2 = $34M
Capesize @ newbuilt - 47M * 2 = $94M
--$292M in vessels valued using Jan/Feb '12 S&P prices. Lowest S&P rates in over a decade.
Dividend Drop & Delisting:
The dividend drop was inevitable - I mentioned so in my original article (July 28 ):
Although investors will likely drop the price short-term if the dividend is cut, this would be a smart long-term financial decision that will save the company approximately $16M each year.
I wish SBLK had cut the dividend earlier, similar to the move by PRGN last spring, but better late than never.
There is a delisting threat if SBLK hovers below $1 long enough (it has been below $1 about 37 days in the past 3 months); however, SBLK nipped this in the bud by announcing a re-extension of a $30M repurchase plan in late January. This represents 37% of its outstanding market cap, and is covered by one year of operating cash flows.
Patience and Leverage
It might take a while for SBLK to rise back up in value - it might be 50 cents before it ever sees anything north of $2. I am not going to price speculate in the short term; however, there are not many cheaper (and durable) plays out there. $80M of equity will leverage an investor into a fleet of 15 vessels, an above-water (barely) balance sheet during the worst S&P market in over 10 years, and practically zero chance of bankruptcy. I am committed.
Disclosure: I am long SBLK, PRGN.