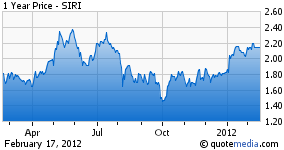 Do Mel Karmazin's plans to sell shares show a lack of confidence In Sirius XM (NASDAQ:SIRI)? That is the question that will certainly be asked time and time again on message boards throughout the Internet. It is interesting how moves that seem prudent by nature bring about such a dynamic response.
The simple answer to that question is no, the move is actually a prudent one that had a certain inevitability to it.
Think of it this way. Karmazin holds a lot of shares of Sirius XM. Even though he is well compensated as a CEO, the vast majority of that compensation came in the form of options to buy stock at a very low price. Even after his planned sales announced today, Karmazin will still hold over 68 million shares and options in the company with a face value of about $146,000,000 at today's prices. That is an incredible amount of money by anyone standards.
This move by Mel is prudent in many ways. He already has a substantial position in the company, and is probably way "overweight" in that position by any reasonable standard. In other words, he already has a lot of Sirius XM eggs in his basket. Karmazin carries a responsibility to himself, as well as his family, and the things he holds dear. He is an accomplished man, but if you ask him the things he is most proud of in his life it would most likely be the groundbreaking work he has done to support and raise funds for autism rather than his work in radio. This planned sale event allows him to continue that passion in an even more meaningful way.
Whenever you see Mel Karmazin, you will notice that he wears a blue puzzle piece on his lapel. I have the same puzzle piece. That blue puzzle piece represents support for autism. Rather that get caught up in the debate of whether Mel Karmazin's sale is good or bad for Sirius XM, people should look at the news release for today in a light that celebrates the fact that Karmazin is doing his part and more to address an issue that impacts the lives of families.
With that being said, it is unavoidable to look at the announcement of exercising options and selling that stake without thinking about other reasons that may be involved.
As stated earlier, Mel already has a huge position in the company, and the move is likely prudent.
There is an "unknown" of what the intentions of Liberty Media (NASDAQ:LMCA) are with regard to its existing 40% stake, and whether or not it will take a controlling position in the company. Mel has stated that he does not want to play second fiddle, and there is a possibility that part of this move deals with the Liberty issue. That being said, Liberty's John Malone has expressed satisfaction in how Karmazin captains the Sirius XM ship, and through a pre-negotiated Reverse Morris Trust, Karmazin would be very likely to remain at the helm.
Karmazin's deal ends this year. Whether or not he is planning on staying in the business or fading into the sunset is a possibility.
These are all points of consideration, but in the end, the one conclusion regarding the planned sale is that Karmzin still holds an impressive stake in the company, and given the job he has done with satellite radio deserves to reap some of the reward. No one should punish him, or the equity, for finally getting a good pay day.
There is a mantra that when insiders sell it is a bad thing. Sometimes that is the case. However, when an insider still carries a massive position in the company investors need to consider that as well. I do not see these events as carrying anything negative and applaud Mr. Karmazin for his commitment to charity and sharing his wealth.
Disclosure: I am long SIRI.
Additional disclosure: I have no position in LMCA.