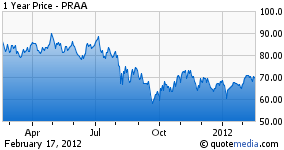 When it comes to buying charged-off debts and then trying to collect them, surprises are seldom ever a good thing. So it's probably just as well that Portfolio Recovery Associates (NASDAQ:PRAA) offered few surprises this quarter. This company is always going to be controversial - the accounting is confusing for those unaccustomed to it, the IRS is investigating the company's tax calculation policies, there's more regulation and oversight coming, and it's an inherently difficult thing to collect on debt.
All of that said, PRAA is one of the best at what it does and there's more than enough room for the company to continue growing.
A Few Blemishes, But A Mostly Solid Fourth Quarter
Portfolio Recovery's revenue rose 17% for the quarter, basically in line with expectations. Cash collections rose 25%, a growth rate also in line with expectations. Call center collections were just a bit soft (up 14%), as were bankruptcy collections (up 34%), but that can be attributed in part to a seasonally more challenging quarter.
PRAA's amortization rate for the quarter was 43% - up from last year's 41.3% and higher than I had expected, but not higher by enough to be concerning. All in all, operating income was up 31% and the company did fine at the bottom line.
Receivables Getting More Expensive
With the economy getting stronger, it's not too surprising to see that PRAA is having to pay more for its receivables. Purchases of $89 million were up about 4% from last year, but relative to face value the company paid about 60% more.
These charged-off receivables are largely bought through auction, so some of this inflation can be laid at the feet of rivals like Asta Funding (NASDAQ:ASFI), Encore Capital (NASDAQ:ECPG) and Accept Acceptance (AACC), as improving cash collections and improving economic connections are leading to bolder bids.
It's also worth noting, though, that the supply dynamics are also changing. Banks like Capital One (NYSE:COF), US Bancorp (NYSE:USB) and Wells Fargo (NYSE:WFC) are doing better with their own collection efforts, and it's tough to match the flood of supply from the 2008-2010 time period.
All of that said, the 2009-2011 vintage receivables are already looking like some of the best in the company's history. The collection ratio on 2009 alone is already 300% and PRAA is hardly done with collection efforts on this vintage.
Government Still A Source Of Uncertainty
Two items pertaining to the government are worth monitoring. First, PRAA and the IRS are still wrangling over how the company recognizes/calculates its tax liabilities (PRAA uses the method used by almost everybody in the industry). With $194 million in tax liabilities on the balance sheet, this is not a trivial issue, but it will almost certainly head to court before it's finished. Although PRAA should have a good case, the words "sir, the IRS would like to speak with you" never seem to lead to anything good.
PRAA is also looking to come under more scrutiny and regulation. Like any regulatory body, the Consumer Financial Protection Bureau wants to extend its power and scope - in this case bringing credit bureaus, credit information, and debt collection firms under its umbrella. I frankly don't think the company has much to fear - it's record in court is quite good and the activities targeted by the CFPB have been illegal for a while - but regulation almost always leads to higher costs for the regulated.
In the long run, this may actually work in PRAA's favor. Regulation has hardly kept Capital One or Wells Fargo from making a buck and tighter supervision would likely be a bigger threat (and a bigger burden) to smaller firms - allowing a larger company like PRAA to get stronger.
The Bottom Line
Anyone considering Portfolio Recovery Associates as an addition to their portfolio has to accept a few realities. This is an unpopular business; nobody celebrates or supports the debt collector over the debtor. Moreover, it's true that they do buy debt that is sometimes two or three years old (or older) from the point of first collection attempt. All of that said, in the parlance of sports, check the scoreboard - PRAA has been at this a while and has shown that there can be a lot of money to be made in prudent and disciplined receivables collection.
By a conservative excess returns model I project that PRAA is worth something in the mid to high $80s, and a discounted cash flow model suggests an even higher potential fair value. With the company now branching out beyond the U.S. and expanding its bankruptcy business, this could be a growth story with many more years to run its course.
Disclosure: I am long PRAA.