According to a recent article in The Independent, one of the U.K.'s prime fund managers, Invesco Perpetual's Neil Woodford, sold his funds' stake in Tesco (TSCDF.PK) in January, following Tesco's profit warning. Apparently, Woodford was able to exit his Tesco stake so quickly because Buffett's Berkshire Hathaway (BRK.A) was buying.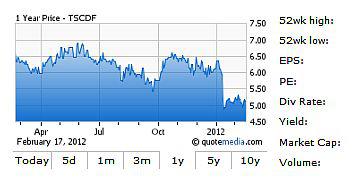 So what does Woodford know that Buffett doesn't? According to the article, Woodford believes the supermarket giant "has too many plates spinning and its competition has improved, making restructuring a more difficult task".
Also in the article, Woodford mentions that he "favors resilient companies with strong balance sheets, which generate plenty of cash and grow dividends." I wonder, isn't he just describing Tesco, with its land bank, year-on-year dividend growth, and the largest market share in the U.K. retail market?
In years to come, it will be fascinating to discover who has made the correct portfolio move.
Battle of the investment titans?
Before January's sale, Woodford's Invesco Perpetual Income and High Income funds owned about 167 million Tesco shares, most of which was acquired during the first half of 2004, when Tesco's share price was trading between 237 pence ($3.75) and 270 pence ($4.27).
Assuming that Woodford bought his stake in Tesco at an average share price of 252 pence ($3.98), and will have received some 81 pence ($1.28) in dividends, per share, he may have made a 59% total return if indeed he has sold at the post-warning share price of 320 pence ($5.06).
What about Buffett's return so-far?
Following its January purchases, Buffett's Berkshire Hathaway has now accumulated some 508 million Tesco shares, which represent about 5% of the supermarket chain.
Berkshire Hathaway first disclosed a sizeable interest during 2006. Since then, several subsequent purchases have followed. Prior to the January purchase, Berkshire Hathaway's last major purchase took place in September 2011, when Tesco's shares averaged around 353 pence ($5.58).
For its initial stake, Mr Buffett may well have paid around 333 pence ($5.27) per share. Adding some 71 pence ($1.12) per share of dividends received since, Buffett may therefore currently be sitting on a 26% total return, at least based on his initial purchase of 230 million Tesco shares during 2006.
And the winner is?
I must admit, I have never come across a situation where two such distinguished investors with track records as Buffett and Woodford were at the opposite ends of the same trade, having apparently diametrically opposing views on the same company.
The final verdict on this transaction is likely to take years to come out, but only if and when Buffett sells.
While Buffett's shareholding in Tesco may perform well from here on, over time, in the meantime, Woodford may have used the sale proceeds in another company with a "strong balance sheet, which generate plenty of cash and grows its dividends".
Additional disclosure: Our Dividend Income Portfolio owns a shareholding in Tesco Plc, purchased during 2011 and most recently in 2012, following the trading profits update. At current levels, Tesco remains historically undervalued as per our valuation methodology.