T. Boone Pickens is one of the most popular businessmen in the U.S. He frequently can be seen on TV, particularly when it comes to energy-related issues. Pickens, who became a billionaire through his oil investments, has a vast amount of business experience in the energy sector.
Pickens is an activist; he introduced the Pickens Plan, which aims to reduce America's dependency on foreign oil. His plan puts a particular emphasis on replacing oil with alternative energy sources, such as natural gas. Recently, the White House revealed what Pickens calls "a series of energy initiatives that closely track the Pickens Plan". Comparing these two initiatives, one can see strong similarities in their targets, but small discrepancies in methodology. While the Pickens Plan suggests some overambitious targets, such as a huge wind corridor in the Great Plains, it also offers natural gas as a cleaner alternative to oil:
We should continue to pursue the promise of electric or hydrogen powered vehicles, but America needs to address transportation fuel today. Fortunately, we are blessed with an abundance of clean, cheap, domestic natural gas.
I like this idea. As I stated before, natural gas is cleaner, cheaper, and domestically available. While vehicles running on liquid natural gas are uncommon in the U.S., almost every gas station in Europe offers liquid natural gas as an alternative energy supply to automobile users. Europe itself does not have many resources. In fact, a dominant portion of gas is imported from Russia. On the contrary, U.S. has an abundance of natural gas reserves, but they are significantly under-utilized. Only a small fraction of vehicles in the U.S. run on natural gas. Most of these vehicles are partially subsidized by local state institutions.
However, there are promising initiatives by authorities. The city of Los Angeles retired its last diesel bus in the last year. Now, almost all of the Metropolitan Transit Authority's buses are fueled by natural gas. According to transit officials, this replacement
has reduced the release of cancer-causing particulates from the bus fleet by 80% and greenhouse gases by about 300,000 pounds a day in one of the smoggiest areas of the country.
Los Angeles City is the first to make such transition on a full scale, as it replaced more than 2000 diesel-run buses with natural gas-run alternatives. I think sooner or later other major metropolitan areas will make this transition, as it saves them a bunch of money in the long-term. Apparently, T. Boone Pickens agrees with me, since he has significant investments in several natural gas stocks. While over-supply concerns have driven these stocks to significantly lower prices in 2011, they are very likely to bounce along with the natural gas prices. Here is a brief analysis of five natural gas plays in T. Boone Pickens' Portfolio:
| | | | | |
| --- | --- | --- | --- | --- |
| Company Name | Shares Held | % of Portfolio | 1-Year Return | YTD Return |
| Chesapeake Energy (NYSE:CHK) | 570,055 | 8.76% | -24% | 3.7% |
| Devon Energy (NYSE:DVN) | 140,006 | 6.70% | -18.44% | -2.4% |
| Sandridge Energy (NYSE:SD) | 1,181,417 | 6.29% | -17.8% | 15.65% |
| Canadian Natural Resources (NYSE:CNQ) | 186,272 | 4.54% | -32.4% | -6.2% |
| Gastar Exploration (NYSEMKT:GST) | 1,261,579 | 2.51% | -9% | -2.3% |
Holdings data is obtained from Edgar Online. Other data obtained from Finviz/Morningstar.
Chesapeake Energy
Chesapeake Energy has been one of the biggest losers of 2011. While the y-t-d return is in the positive territory, its market cap was slashed by one-fourth in the last 12 months.
Click to enlarge: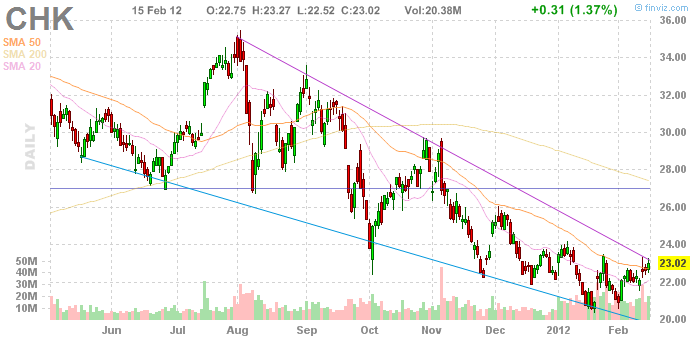 It is quite hard to say whether the stock reached an absolute bottom. But looking at the graph above, it looks like the $21-$22 interval is a strong support level for the stock.
Based in Oklahoma City, Chesapeake is among of the most prominent natural gas players in the U.S. The company has significant assets in the Eagle Ford, Haynesvilles, Barnett, Bossier, and Marcellus natural gas shale plays. It also owns several leases in a number of liquid-rich basins. According to a recent investor note, its management plans to "monetize" assets worth as much as $2 billion in 2012. Along with company's regular and other cash flow streams, the total cash flow in 2012 is expected to reach as much as $12 billion in this year.
While asset sales is not a good sign for any company, considering the giant portfolio of assets owned by the company, this movement could initiate a positive attitude towards the stock. Energy companies tend to be undervalued, and their book value does not reflect the current market valuation of their assets. The premium-pricing (over book value) of these assets could strongly push the stock's performance to higher levels. Current liabilities slightly overweight the current assets, but with the incoming cash-flow, this should not create a big concern for the long-term investors.
Devon Energy
Devon Energy is another big player in the natural gas business. While its yearly return is in the negative territory, the stock made a big move after a promising earnings report. Devon's Q4 EPS of $1.55 was better than the consensus estimates. The company was able to boost its gross profit margin to 37.5%, and its proven reserves increased to $3 billion barrels.
Click to enlarge: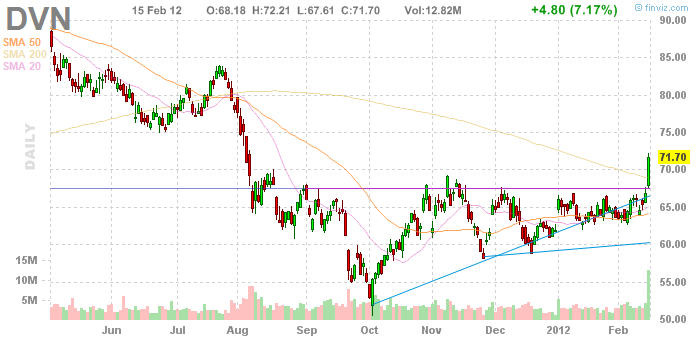 Devon is also involved in strategic partnerships to provide funding for its exploration expenses. Most recently, it announced a deal of $2.2 billion with one of China's leading energy companies, Sinopec. The deal suggests that Sinopec acquired one-third of interest in Devon's five shale regions. Devon is a relatively expensive stock compared to Chesapeake, but it is also more diversified. As Jim Cramer suggests, the company is opting for more lucrative oil fields as oil prices are making into new highs.
SandRidge Energy
SandRidge Energy is one of the few energy companies that insiders are pretty bullish about. In the last 6 months, insiders increased their holdings by almost 10%. While the stock looks like a risky one to invest in, substantial insider buying provides a sense of safety.
Click to enlarge: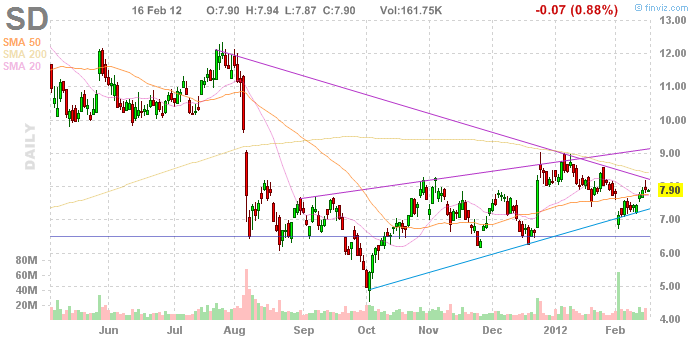 Similar to Devon, SandRidge is a hybrid energy producer, switching from gas to oil whenever the other one becomes more lucrative. When gas prices experienced a drastic reduction, SandRidge shifted to liquids on the Permian Basin and Anadarko Shelf. Meanwhile, shareholders experienced significant losses as insolvency fears caused a massive collapse in the stock price during the sub-prime crisis. Since 2009, the stock has been trading between an $8 - $14 range, which is way below its heyday valuations. However, Morningstar analysts are pretty bullish on the company's future, expecting double-digit returns over the next few years.
Canadian Natural Resources
Established in 1973, Calgary-headquartered Canadian Natural Resources is involved in both the crude oil and natural gas businesses. Its portfolio of assets include several fields in North America, the North Sea (in Europe), and West Africa.
Click to enlarge: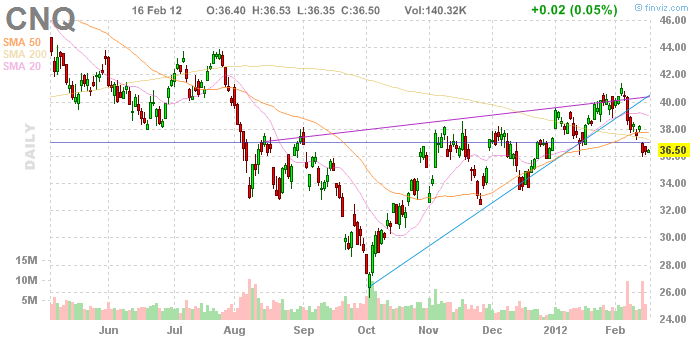 Canadian Natural Resources is in high momentum. Since its dip of $26 in October, it has returned almost 40%. However, this year has not been a good one so far, as its return is in the negative territory. Analysts are pretty bullish about the company. The consensus target price of $49.5 implies significant upside potential from current valuations. What is more bullish is its estimated EPS growth rate over the next 5 years. The forward P/E ratio is 10.5, and analysts estimate an annualized EPS growth of 17.7% for the next 5 years. If their estimates hold, Canadian Natural Resources could be an outperformer among its peers.
Gastar Exploration
Gastar Exploration is probably the least known stock among this list. It is a micro-cap company with a market valuation of $192 million. Founded in 1987, the Houston-headquartered Gastar is involved in the exploration and production of both natural gas and oil in the U.S.
Click to enlarge: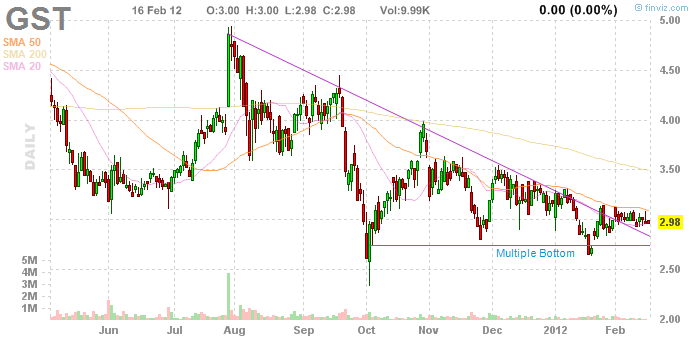 Given its relatively small capitalization, Gastar is a pretty volatile stock, moving up-and-down in remarkably short periods. The stock lost almost half of its market cap between August and October. Since then it is trading at the low-end of its trading range. It is quite hard to say much about the future of the company, but it looks like a good deal at the current prices. The company's balance sheet shows a minor amount of debt compared to the current and long-term assets. Gastar recently announced a monthly cash dividend of 8.625% on the series A preferred stock (GST.PRA). Thus, the preferred stock can be a better investment for income-oriented investors.
Disclosure: I have no positions in any stocks mentioned, and no plans to initiate any positions within the next 72 hours.