Recent spin-off TripAdvisor (NASDAQ:TRIP) [see Spin-Off Mania Benefits Alert Investors] had possibly the most disappointing Q4'11 earnings report reviewed so far. The spin-off from Expedia (NASDAQ:EXPE) offered huge potential as it became independent from the bigger corporation.
TripAdvisor provides a travel research platform which aggregates reviews and opinions of members about destinations, accommodations, restaurants and activities throughout the world. In a way, the travel version of IPO filer Yelp (NYSE:YELP) and recent IPO Angie's List (NASDAQ:ANGI). With 50M monthly users and expanding Facebook interaction, TripAdvisor appeared to provide huge earnings growth potential.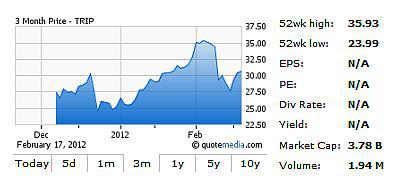 Unfortunately though, TripAdvisor provided relatively sanguine guidance for 2012 on the recent earnings conference call. Costs are expected to increase due to higher spending on search engine marketing, but revenue will slow down from 2011 growth. In our opinion, the stock quickly went from an undervalued social media play not appreciated by the market to a big question mark for this year.
This year should've been the year this company soars, with it's independence from Expedia. Instead the company expects mid-double digit revenue growth and relatively flat earnings. Quick, somebody remind me of the benefits of being independent. It sure wasn't suppose to be higher costs and less growth. At least the company remains very profitable compared to Yelp and Angie's List.
Some good summaries of analyst disappointments following the Q4 2011 report per Forbes blog:
Benchmark Co. analyst James Dobson cut his rating on the stock to Hold from Buy.

"TripAdvisor reported decent Q4 results but issued disappointing guidance," Dobson writes in a research note. "2012 revenue guidance was lower than anticipated with no EBITDA growth. TripAdvisor will aggressively spend on search engine marketing. The level of increased expenses is surprising."

Dobson noted that revenue guidance for 2012 is for mid-to-high percentage growth, lower than 2011, and below expectations. The company blamed the weak view on slower hotel travel growth, a redesigned website with less monetization and various other factors. And he says that expense guidance was higher than expectations, due largely to planned higher spending on search engine marketing.

Lazard Capital analyst Jake Fuller likewise cut his rating to Neutral from Buy. He cites three issues for the stock:

Top-line guidance points to a material slowdown.

Margin was weak in Q4 and guidance points to further pressure in 2012.

"The stock is near our initial target and estimates are down. In short, we underestimated the headwinds here."
Originally the stock slid out of the gate from the spin-off to minor attention to only soar from $24 to $36 within weeks of the Facebook (NASDAQ:FB) IPO announcement. The interaction with Facebook, while beneficial, was clearly over-hyped as the Q1 2012 guidance clipped the stock back down to $27. With the stock closing back over $30 last week, any spin-off investors left have been holding on for a wild trip.
At current levels, TripAdvisor still provides a better valuation than other recent social media IPOs in Groupon (GRPN) and Zynga (ZNGA). TripAdvisor maintains a respectable 18 forward PE while the others have 24 and 36 PEs, respectively. Neither company expects anything special in 2012, so why pay up for the others? Not to mention the other similar user review services aren't even close to being profitable.
With growth in 2013 and beyond expected, TripAdvisor is worth a look once the company proves itself worthy. The company has several catalysts in new China operations, mobile apps, and vacation rentals to make this a multi-year growth story. As an investor not looking for a wild trip, I want to make sure this management team can safely fly this stock as an independent company. Something they haven't been able to do so far.
Stay tuned for the ideal ticket price!
Disclosure: I have no positions in any stocks mentioned, and no plans to initiate any positions within the next 72 hours.
Disclaimer: Please consult your financial advisor before making any investment decisions. This article is provided for informative purposed only and should not be relied upon for investment advice.