It seems like a person going to Wal-Mart (NYSE:WMT) these days is taking a risk of exposure to some type of criminal or otherwise negative behavior. A search of Google News yielded a theft, indecent exposure, picketing and a shooting associated with a Wal-Mart stores, all on the first page of the search results. Maybe it has to do with Wal-Mart's targeted market segment.
Wal-Mart's stock price has been on the rise for the last five months, as shown below (click to enlarge image):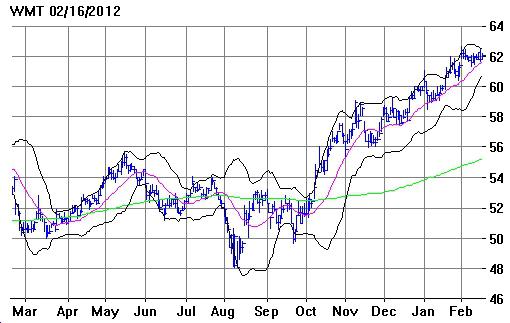 Wal-Mart's rising stock price indicates that investors think the company's prospects are improving, but investors may be a little disappointed in Wal-Mart's upcoming earnings release on Tuesday, February 21, 2012. Two issues potentially getting in the way of Wal-Mart celebrating are Europe and gasoline prices.
With a significant portion of Wal-Mart's revenue attributed to Europe, and with the recent volatility associated with European sovereign debt, Wal-Mart's European results may not be so stellar. Additionally, the amount of money that Wal-Mart shoppers spend is inversely correlated with the price of gasoline. As the price of gasoline increases, Wal-Mart's shoppers have less to spend at Wal-Mart and vice-versa. And, as the price of gasoline has increased over the timeframe of the results that will be reported, Wal-Mart shoppers probably spent less as a result.
In its most recent Q3 2012 earnings call, the company indicated it is executing well on its plan to broaden assortment, improve merchandising and reaffirm price leadership. Additionally, the company realized strong consumer demand in emerging markets.
In the earnings call, the company indicated that it is relocating apparel functions located in New York to Bentonville, Arkansas. Some New Yorkers are about to experience a little culture shock.
The company also indicated that 13 stores in Chongquing China were closed temporarily, as directed by a local regulator.
Over the holidays, the company's reinstated layaway program appears to be successful, as the company was required to park trailers outside some U.S. stores in order to hold the products on layaway.
Competitors to Wal-Mart include Costco (NASDAQ:COST) and Target (NYSE:TGT).
With Wal-Mart's stock price increase, an investor might consider locking in the profit during the upcoming conference call. One way to partially lock in profit is by using a collar. A collar may be entered by selling a call option against a stock and using some of the proceeds to purchase a put option for protection.
Using PowerOptions tools, a collar position was found for Wal-Mart with a potential return of 1.6% (20.1% annualized) with a maximum potential loss of 5.8%, even if the price of the stock goes to zero. The potential return and maximum potential loss assume a dividend payment of $0.36 during the timeframe for holding the position. The specific call option to sell is the 2012 Mar 62.50 @ $0.70 and the put option to purchase is the 2012 Mar 57.50 at $0.15. A profit/loss graph for one contract of the collar is shown below: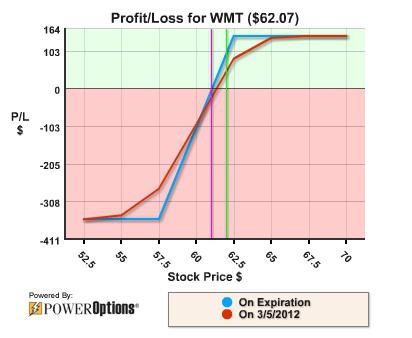 As a bonus, if the price of the stock is greater than or equal to the $62.50 strike price of the call option at option expiration in March, the position will return 2.3%. And for a stock price less than the $57.50 put strike price, the value of the collar will remain unchanged with a maximum loss of 5.8%. And, if the price of Wal-Mart's stock increases to around $70, the position can potentially be rolled for realizing additional potential return.
Disclosure: I have no positions in any stocks mentioned, and no plans to initiate any positions within the next 72 hours.