Johnson & Johnson (NYSE:JNJ) could be considered "the Teflon® healthcare company", as no matter how many snafus and recalls the company endures, it maintains its image of a top-notch company with impeccable integrity.
In its latest misstep, the company is recalling its entire U.S. supply of infant Tylenol after problems encountered with a new dosing system.
In its most recent Q4 2011 earnings call, even though the company started delivering growth after two years, U.S. sales were down 3.4%. The company's positive performance was primarily due to international growth and due to success of new product launches, an amended agreement with Merck (NYSE:MRK) regarding REMICADE and SIMPONI as well as the company's acquisition of Crucell.
The spat between Merck and Johnson & Johnson was a result of Merck purchasing Schering-Plough, with whom Johnson & Johnson had a co-marketing agreement.
With its acquisition of Crucell, Johnson & Johnson gains a strong position with respect to research and development, production and marketing of vaccines and antibodies.
J&J's competitors include Abbott Labratories (NYSE:ABT), Covidien (COV) and Novartis (NYSE:NVS).
J&J's stock price has been in an upward trajectory over the last year, with a significant dip in the July-August timeframe as shown below (click to enlarge images):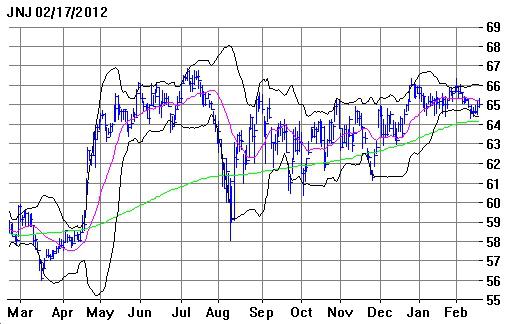 With J&J's earnings release out of the way, its limited upside potential and its Teflon® image, an investment to consider for the company is a bull-put credit spread. A bull-put credit spread may be entered by selling one put option and purchase a second put option further out-of-the-money.
Using PowerOptions tools, a bull-put credit spread for J&J was found with a potential return of 5% (62.9% annualized) using midpoint pricing as shown below:

The specific put option to sell is the 2012 Mar 62.50 at a midpoint price of $0.28 and the put option to purchase is the 2012 Mar 57.50 at a midpoint price of $0.04. A profit/loss graph for one contract of the position is shown below: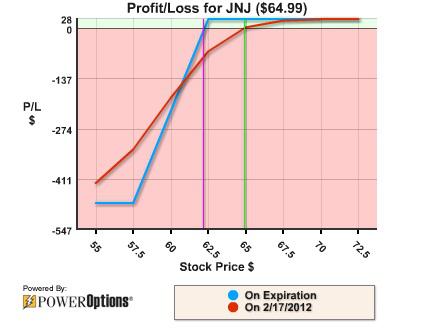 A management point for the position for consideration is around $63.75. If the price of the stock drops below $63.75, management of the position for an exit or roll should be considered.
Disclosure: I have no positions in any stocks mentioned, and no plans to initiate any positions within the next 72 hours.