Many are concerned that environmentalists may soon begin to seriously impact the growth story in the oil well services sector. Environmentalists are concerned with the possibility that fracking fluids may pollute the ground water in areas of high drilling. They are also concerned that fracking uses too much water in areas short of water. Further some fracking operations may lead to earthquakes. The services companies that can allay fears in these areas will likely navigate this potential minefield with the least damage. Halliburton (NYSE:HAL) is a leader in this area.
Halliburton is a global company, but nearly half of its revenue is derived from US operations (46%). Most of this US business is in unconventional oil well services such as horizontal drilling and fracking. HAL has been the leader in "clean fracking" for years. A recent innovation is HAL's "Clean Suite" technologies. Among the products in this suite is the CleanStim Formulation -- an "environmentally friendly" fracking fluid. CleanStim uses acids and enzymes naturally present in fruits and vegetables. HAL publishes a generalized statement of what is present in this mixture on its web site.
Another way of cutting down on the possible environmental pollution is to recycle the fracking fluids. HAL is now providing water conservation capabilities in key shale areas. These areas include the Permian Basin, the Niobrara Shale, and the Eagle Ford Shale. In these areas the water resources are more scarce, and the environmental concerns are also high with many shallower well depths. Essentially the plan is to recycle the fracking fluids (a high proportion of which are water) and to reuse flowback and produced water. This will reduce the amount of fresh water used for fracking. Simultaneously it will reduce the amount of possible pollution, and it will reduce the overall cost for water related services. HAL will also be able to supply the volume of fresh water needed to supplement available recycled water. It can manage the transport, storage, and disposal of the required water volume. HAL's CleanWave technology uses electro coagulation to remove suspended solids from water. This makes it into a clear brine that can then be used for fracking (or other applications).
I have heard of no solution(s) to the earthquake problem. Many, usually expensive, solutions have been proposed. However, the only reasonable suggestion so far is to monitor the seismic activity during the fracking fluid disposal process (pumping waste fracking fluids into an empty well). Of course, the above mentioned water conservation/recycling process will automatically cut down on the amount of disposal that needs to be done. This by itself should decrease the earthquake risk.
Aside from the above issues, HAL is a leading oil well services firm. It trades at a PE of 11.78 and an FPE of 7.98. Its historical PE range including the recession low is 5 to 27 (last 5 years), so it is currently close to its non-recession low. HAL's average analysts' five year EPS growth estimate per annum is a robust 26.54%. HAL pays a 1% dividend. Plus the analysts' average one year target price of $50.90 gives HAL an approximate 44% upside near term. Longer term the US is in a long term secular bull market for oil well services due to the large and growing number of new unconventional oil and gas fields. These are much more prevalent in the US currently, but they will soon spread to Argentina, China, etc. The US natural gas drilling may be temporarily abating due to low natural gas prices, but it too will pick up long term. The US energy policy has changed recently to include natural gas for trucking. Also the energy business is building LNG liquefaction terminals to allow export of natural gas from the US.
I wrote an article last month describing the recent down trend in the number of natural gas rigs, "Slowing Rig Count May Presage Slower Services Growth For 2012". It is still a good reference. The latest US rig count (February 17, 2012) is 1994 -- 1272 oil rigs and 716 natural gas rigs and 6 miscellaneous rigs. This shows the down trend is still in place. The total rig count is roughly flat for the last week as the number of oil rigs is still growing, while the number of natural gas rigs is decreasing. This is having an impact on HAL's revenues and earnings. However, HAL is a leader. It can pick up some extra oil business to replace the natural gas business it is losing. This is especially true over the longer term. Plus I forecast in my article that the North American natural gas rig count down trend should level out by this spring sometime. They do still have to drill in many areas just to be able to lock up their leased acreage via HBP. The natural gas drilling will not go to zero (or near it).
There has also been a grave concern that Halliburton would be found liable in a huge monetary way for the Macondo well oil spill. BP had sued HAL in order to get it to pay approximately $15B+ in costs for the spill. However, HAL argued that it had a valid indemnification agreement with BP. In January 2012 US District Court Judge Carl Barbier in New Orleans found that the indemnification agreement was valid even if HAL was grossly negligent. The skies are not completely clear. They seldom are in civil law. However, investors have to be very much relieved by this ruling, and it should give them the confidence to again invest in HAL with a deserved fervor.
The two year chart of HAL gives some technical information for this trade (click to enlarge image):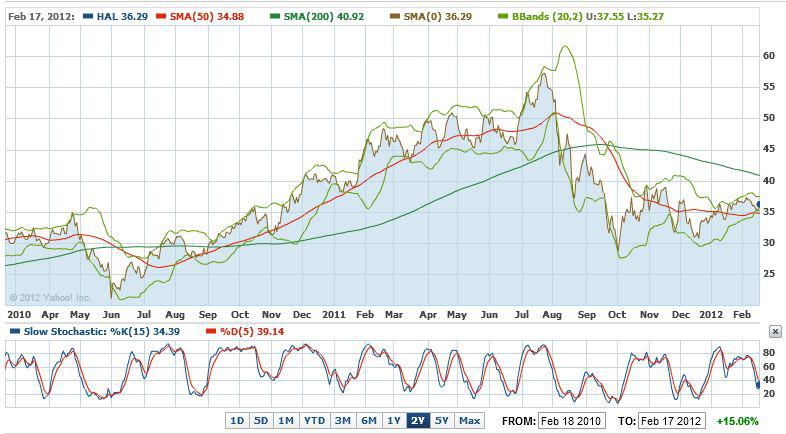 The slow stochastic sub chart shows that HAL is near over sold levels. The main chart shows that HAL may be slowly rising from a near term bottom. Its low of Oct. 2011 was followed by a higher low in Dec. 2011. If its recent low near $35 is the next low in this sequence of rising lows, HAL's uptrend will soon be firmly in place. The price has moved up past its 50-day SMA. It seems to be channeling upward toward its 200-day SMA. The positive fundamental news of the lawsuit win should help. Seeing the light at the end of the tunnel in the natural gas drilling down trend should help. If the overall market does not undergo a significant retracement in the near term, HAL seems to be set to move up significantly.
A quick look at the charts of Baker Hughes (NYSE:BHI), Patterson-UTI Energy (NASDAQ:PTEN), and Helmerich & Payne (NYSE:HP) show that these stocks are near over sold levels too. It is possible that a general sector up move could occur soon. Even if the market undergoes a retracement, HAL should still move up. It just may have a small blip downward thrown into the mix. The secular growth story for US unconventional oil and gas drilling is still in place. Plus Argentina is beginning to look like it may soon get on the band wagon. The Argentine President is already screaming at oil companies operating in Argentina to step up unconventional oil and gas drilling there. In fact YPF Sociedad Anonima (NYSE:YPF) recently discovered an approximately 1B BOE new unconventional field in Argentina. In early Feb. 2012, YPF upped the estimate for this field's (Vaca Muerta) reserves to 22.8B BOE. Further Vaca Muerta may just be the tip of the iceberg in Argentine oil and gas shale.
Averaging in can be a good strategy.
Good luck trading.
Disclosure: I have no positions in any stocks mentioned, but may initiate a long position in HAL, BHI, PTEN, HP over the next 72 hours.