Canada has vast amounts of natural resources which have yet to be explored. The country is rich in oil and natural gas reserves, as well as precious and essential commodities. According to the country's official statistics, revenues from natural resources constitute more than 11% of Canada's GDP. Companies in this sector generated revenue of $133 billion in 2009 alone. A significant portion of the productivity in the natural resource field is exported to the U.S. and other trading partners. In 2009, the natural resource sector contributed almost $70 billion to Canada's trade balance.
There are more than 100 Canadian natural resource stocks that trade within the U.S. markets. These stocks offer the U.S. investors an opportunity to profit from Canada's vast amount of natural resources. However, some of these stocks are priced with hefty premiums, whereas others are trading at a discount. Over the next few articles, I am planning to examine these stocks from a fundamental perspective, adding my O-Metrix grading system (Out of 10) and FED+ Valuations where possible. This is the second article on this series. Here is a list of 5 Canadian basic material companies. Based on my analysis, I rate 4 of them as buy, and 1 of them as hold:
| | | | | | | |
| --- | --- | --- | --- | --- | --- | --- |
| Stock Name | Yield | EPS Growth Estimate | O-Metrix Score | FED+ Valuation | YTD Return | My Take |
| Encana (ECA) | 4% | 33% | 3.99 | $15 - $37 | 9% | Buy |
| Kinross Gold (KGC) | 1.08% | 4.7% | 2.05 | $11 - $24 | -2% | Hold |
| Yamana Gold (AUY) | 1.2% | 14.9% | 4.47 | $17 - $27 | 13% | Hold |
| Goldcorp Inc. (GG) | 1.14% | 10% | 2.95 | $41 - $66 | 7.4% | Hold |
| Nexen Inc. (NXY) | 1.02% | 5% | 3.16 | $29 - $45 | 24% | Buy |
Data from Finviz/Morningstar, and is current as of February 17. You can download O-Metrix calculator, here.
Encana (ECA)

Encana was among the biggest losers of 2011. Its market cap was slashed by almost 40% in the last year. However, this year has been a good one so far. The stock returned 9%.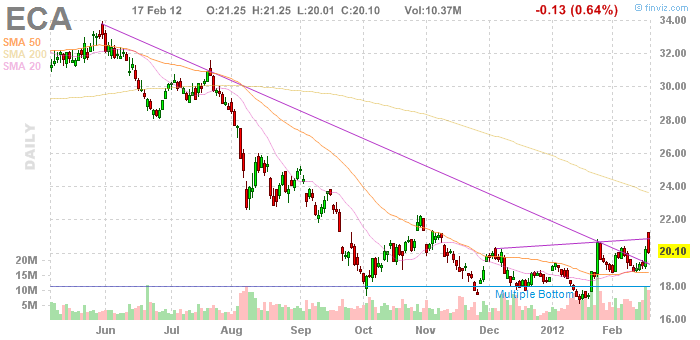 Encana is one of the largest major integrated oil & gas companies headquartered in Canada. Established in 1971, the Calgary-headquartered Encana is a prominent player in the natural gas business. That is one of the primary reasons why the stock has been a loser. The over-supply concerns has driven the natural gas prices to significantly lower prices, dragging the natural gas related stocks along the way. Otherwise, Encana looks a like a good deal, as it is trading below the book value. The 4% yield is also appetizing. Based on a pretty bullish EPS growth estimate of 33%, my FED+ valuation is $15-$37 range. I rate Encana as a speculative buy for big profits in 2012.
Kinross Gold (KGC)

Established in 1972, the Toronto-headquartered Kinross is a leading gold mining company. Its assets spread across Americas, Africa, as well as the Russian Federation. The company has negligible debt and plenty of liquid assets in the balance sheet. It is also trading below the book value.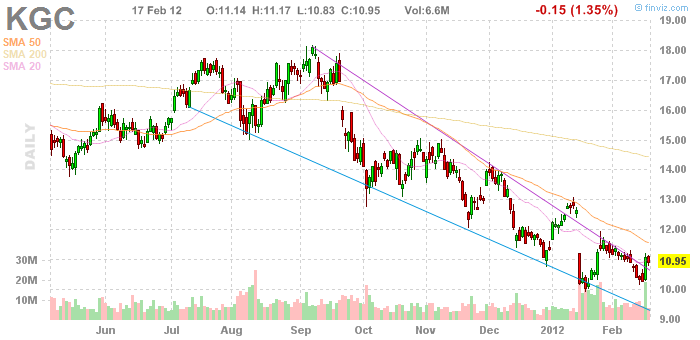 Most gold-related stocks significantly underperformed the gold. Kinross disappointed its shareholders with a return of -35% in the last year, and the stock keeps going down. While I do think that it can be a good contrarian play, you do not want to hold a falling knife. At the same time, the stock is trading at the lower-end of my fair-value range. It is also too late to sell. Therefore, I rate it as a hold.
Yamana Gold (AUY)

Founded in 1980, Toronto-headquartered Yamana is another large-cap gold company. Yamana has several gold mines in North America. It also has significant interests in South American gold fields.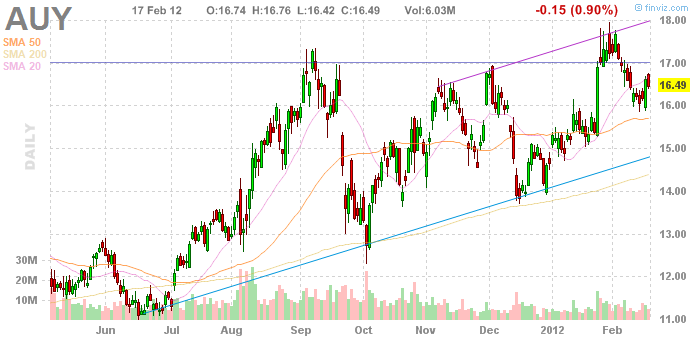 Unlike most gold stocks, Yamana was an outperformer, returning 37% in the last 12 months. The stock is still in high momentum, but I doubt that it can keep its mojo. From a technical perspective, it reached a strong resistance level of $17. It is also trading at a significant premium to its book value. I rate it as a hold, but I think, a pullback might create a cheaper entry point.
Goldcorp (GG)

Goldcorp is among my favorite gold companies. While I am not a fan of gold-related stocks, Goldcorp is an exception. The company was able to maintain a strong growth in both revenues and profits. Earnings per share was boosted at an annualized rate 30% in the last 5 years.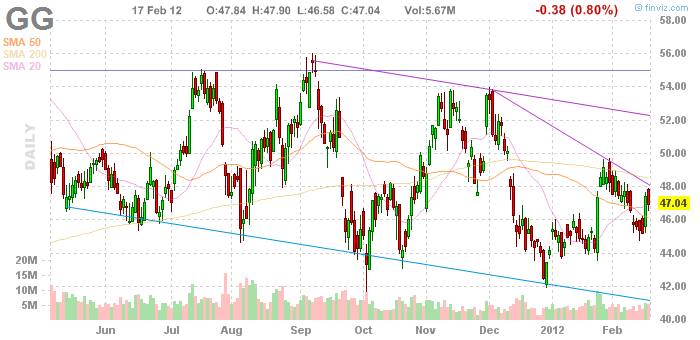 Goldcorp has always been trading at a premium over the book value. It has a very clean balance sheet with a near-zero debt/equity ratio of 0.03. However, the P/E ratio of 20.1 is a bit overvalued compared to other gold miners in this list. Goldcorp has been paying some sort of dividends for the last 10 years. Its current yield is 1.14% with a low payout ratio of 16.11%. At a price of $47, Goldcorp is priced within my fair value range. Therefore, I rate it as a hold.
Nexen (NXY)

Nexen is an independent oil and gas company, with global operations. It is a pretty diversified company that operates on four segments, namely, oil and gas, Syncrude, energy marketing, and other chemicals. Along with its subsidiaries, it has a good moat in its field.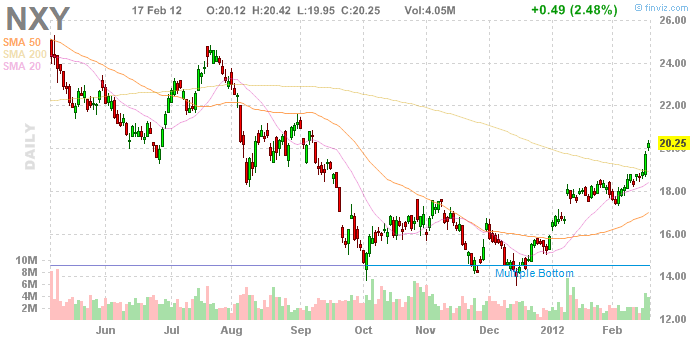 After a disappointing 2011, Nexen is on the bounce. The stock found itself a strong support at the $14-$15 range, and it returned 24% in this year. Even after making significant returns, the stock is still trading at a single digit forward P/E ratio of 9.23. A modest EPS growth estimate of 5% suggests a fair-value around $29 - $45 range. At the current price of $20, it is significantly undervalued. Therefore, I rate it as a buy.