The persistent pursuit of new pharmaceutical solutions by biotech companies always piques my interest. It's fascinating to see how new companies dedicate themselves to developing new or improved medical solutions to improve and save lives. As investors, we can look to find small companies that have the potential to sell the next blockbuster drug.
These companies must obtain FDA approval before marketing and selling the drugs.
Thus far, I have written three (I, II, III) previous articles about companies with FDA approval decisions. In this article, I will discuss three companies facing FDA approval decisions in Q3 2012.
Amarin (NASDAQ:AMRN) - Drug: AMR101 for dyslipidemia - Decision Date: July 26, 2012
Dyslipidemia is the abnormal amount of lipids (cholesterol or fat) in the blood. Over 100 million people in the United States have dyslipidemia. This equates to 1 in every 3 Americans. Therefore, it is easy to see the marketing potential for AMR101, which is a prescription grade Omega-3 fatty acid.
AMR101 has also completed Phase III clinical trial for treating people with very high triglyceride levels (high cholesterol). According to the CDC, approximately 1 in every 6 adults (16.3% of the U.S. population) has high cholesterol levels. This further increases the amount of potential customers for Amarin.
Analysts expect Amarin's earnings to grow at 74% annually for the next five years. Of course this is contingent upon the FDA approval of AMR101. I like the prospects for Amarin, however the stock is highly risky since the entire company is riding on the FDA approval of its only drug.
The stock looks to be on the rise again after taking a tumble from over $18 down to around $6. It has since recovered slightly to its current price of $9.
Click to enlarge: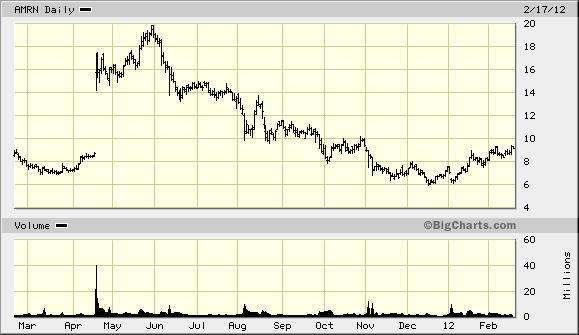 Horizon Pharmaceuticals (NASDAQ:HZNP) - Drug: Lodotra for rheumatoid arthritis - Decision Date: July 26, 2012
An estimated 1.5 million adults in the U.S. have rheumatoid arthritis, which is an inflammatory disease that affects the joints. Sufferers of this disease experience stiffness, pain, and immobility. There are about 4 million RA patients in the U.S., Japan, France, Italy, Spain, Germany, and the United Kingdom.
Lodotra has been approved in Europe for reducing morning stiffness associated with rheumatoid arthritis. The drug is a programmed release formulation of low-dose prednisone.
Horizon already has an FDA approved drug known as Duexis. Duexis is prescription strength ibuprofen and famotidine for the relief of pain and inflammation associated with osteoarthritis and rheumatoid arthritis.
However, Horizon's stock is taking about an 8% beating on news that Par Pharmaceuticals (NYSE:PRX) has filed a new drug application for a generic version of Duexis. Horizon reported that it will review this information and will vigorously enforce its intellectual property rights. This is an example of the high risk associated with these small-company pharma stocks. Any news that could negatively impact the sales of the drug in question has a profound impact on the stock price.
Horizon is also developing TruNoc for pain-related diseases and chronic inflammation. It is also developing HZN-602 which is a naproxen/famotidine combination to reduce the risk of NSAID-induced upper GI ulcers in patients with mild to moderate pain and arthritis.
Horizon looks a little too uncertain with the recent news. It also has one downward earnings revision for 2012. I think it is at risk for too much competition since there are many pain relieving drugs already on the market.
Click to enlarge: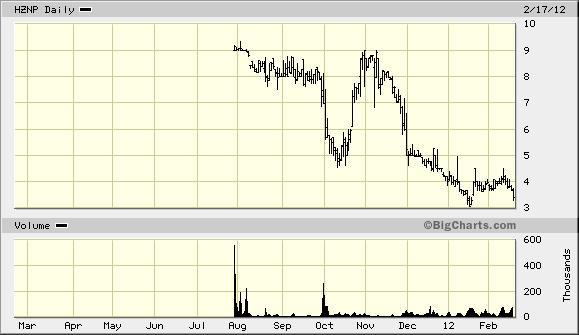 Onyx Pharmaceuticals (NASDAQ:ONXX) - Drug: carfilzomib for multiple myeloma - Decision Date: July 27, 2012
Multiple myeloma is a relatively uncommon cancer. It occurs in 1 in 159 people over a lifetime in the United States. About 21,700 new cases of multiple myeloma and 10,710 multiple myeloma related deaths are expected in the U.S. in 2012. About 50,000 people are living with multiple myeloma in the U.S. The five year survival rate is about 40%.
Onyx is focused on developing therapies that target the molecular mechanisms that cause cancer. Carfilzomib is a late-stage next-generation proteasome inhibitor to treat patients with multiple myeloma and solid tumors.
Onyx already has an approved drug known as Nexavar to treat liver cancer and advanced kidney cancer. It is also undergoing clinical trials for Nexavar to treat the following cancers: Non-small cell lung cancer, thyroid cancer, breast cancer, ovarian cancer, and colorectal cancer.
Onyx reports Q4 2011 earnings on February 22, 2012. Its EPS is estimated to be $1.43 for Q4. This was upgraded from $1.28 90 days ago. This would be the first profitable quarter of 2011 for the company. It has one upward earnings revision for 2012. It is expected to grow earnings annually at 27.8% for the next five years.
Onyx looks promising, as it is targeting a variety of cancers with two drugs. Nexavar's approval for liver and kidney cancer has increased the chances for it to be approved to treat the other cancer types.
Click to enlarge: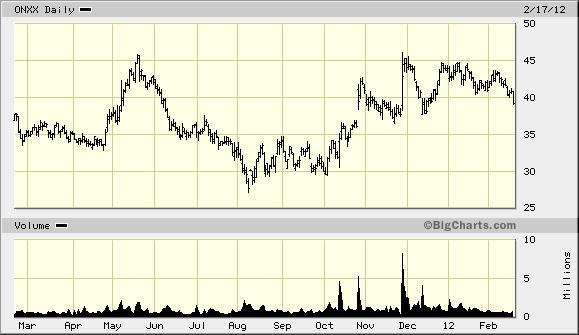 Conclusion:
Small pharmaceutical companies are risky, as their success is contingent upon the approval of the drugs being examined. This risk causes large fluctuations in the price of the stocks based on the positive or negative news regarding the drugs. Money used to buy these stocks should be considered similar to money used at a casino - use only what you can afford to lose. However this large risk also creates the potential for large rewards. I like Amarin due to the large volume of potential customers.
One common strategy to use is to purchase the stock now and sell it prior to the decision date. The stocks have a tendency to rise in the months leading up to the FDA decision. Occasionally, the drugs are approved earlier than the stated date, at which point you can lock in a profit.
Most importantly, I hope that these drugs are found to be effective for treating the conditions for which they are intended to improve and save the lives of individuals.
Disclosure: I have no positions in any stocks mentioned, and no plans to initiate any positions within the next 72 hours.