Ann Inc. (NYSE:ANN), formerly known as AnnTaylor Stores Corporation, is comprised of the Ann Taylor chain and the LOFT chain. Each segment of ANN has its own retail, outlet and online stores. Ann Taylor is viewed as a premium brand that caters to the female professional, while LOFT carries more casual wear.
ANN's products are viewed as a better quality product and many women use the brand to find their "work clothes". With unemployment declining and more women age 20+ joining the workforce, we think that ANN is uniquely positioned to capitalize on the growth of the US economy.
Strengths
Same store sales were up 10.7% (fiscal year 2010) and are currently up 5.5% (quarter ending Oct 29th 2011). This is a significant recovery from 2009 and with current retail sales and consumer credit numbers continuing to rise, we expect sales to follow.
Net income as a percentage of sales is increasing quarter-over-quarter. Selling and administrative expenses have declined, while overall sales have picked back up with margins increasing.
Weaknesses
Inventory turnover has decreased from 5.4 times in 2008 to 4.8 times in 2010. Year to date, the average price per piece of retail sold is down for both Ann Taylor and LOFT. With the average selling price per unit coming down, we would hope to see ANN move product quicker than it has.
Opportunities
Ann Taylor retail stores did not have the right product mix in Q3 2011, but still represented 21.5% of the company's sales. Same store sales in 2011 were down 5.8%, the only segment of the company to have a decrease, while Ann Taylor's online segment had 45.8% growth during the same time period, equaling about 6% of the company's sales. If management can learn from its mistakes, the Ann Taylor retail stores should provide significant upside.
Threats
Company has shown it can miss with its product mix as evidenced by the current state of Ann Taylor stores. A repeat of this misstep or a spread to LOFT stores would have a negative impact on future share price.
Worst Case Scenario $21.57
Assuming the company is unsuccessful in addressing the product mix at the Ann Taylor stores in Q1 2012.
Best Case Scenario $32.32
Learning from and correcting the recent mistakes made at the Ann Taylor stores, ANN will rise with the market to at least $32.32.
Technical Analysis
The weekly chart displays the multi-year uptrend that has been compressing within a symmetrical triangle since May 2011 (which is echoed in the daily chart starting in late October 2011). As ANN has been in a holding pattern for some time, it may be setting up for a notable move to the upside. The pattern is nine months into a projected twelve month maximum duration, so any further delay of a convincing break from the current trend may weaken the impact of any inevitable move outside the pattern.
Momentum and trend indicators are sitting at neutral values, yet two factors that may potentially fuel the magnitude of our forecasted upside breakout are ANN's recent divergence from the ((NYSEARCA:XRT)), as well as significant short interest (15.4% of float/4.3 days to cover).
[Click to enlarge]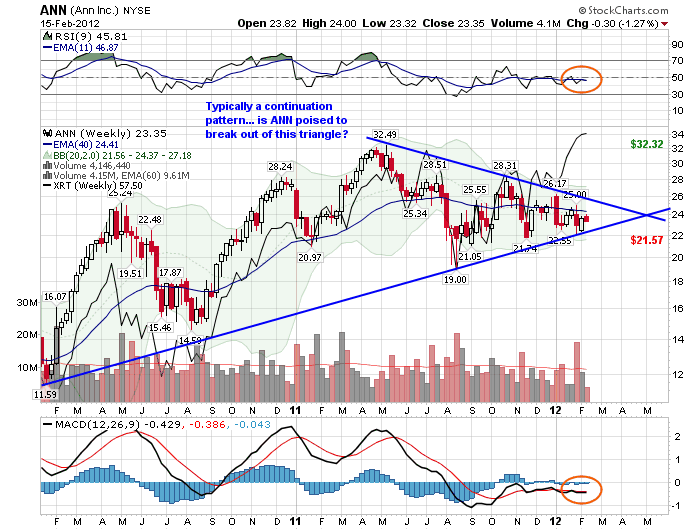 Click to enlarge
Conclusion
Recent quarters' positive sales reports and an anticipated correction of product mix missteps coupled with a decrease in cotton costs provide the basis for our bullish bias. Improving economic indicators and the health of ANN's target consumer (see table 1) are other factors that led to this viewpoint.
Given that ANN is trading just above our downside target and the current technical picture (reaching a critical time within the existing pattern), we believe ANN's current risk/reward profile is attractive enough to warrant a purchase before earnings.
Disclosure: I am long ANN.