Salesforce.com Inc. (CRM) has been bullish up to the beginning of 2011, moving sideways for about 14 months now. Is this stock worth a long term investment? If the stock could have been consolidating for the last year and is now possibly ready to move up, we would want to invest as it started to move up. But we are not sure it is a good move to do this. We take a look at a couple of key factors that make us avoid CRM as a long term investment at this point.
Click to enlarge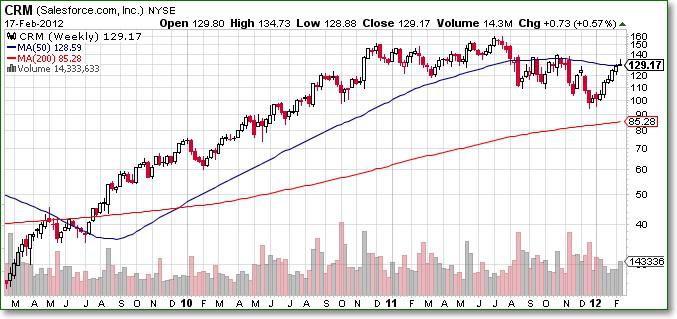 Salesforce.com, inc. provides customer and collaboration relationship management (CRM) services to various businesses and industries worldwide. It also offers a technology platform for customers and developers to build and run business applications. The company's Salesforce CRM services enable customers and subscribers to record, store, analyze, share, and act upon business data, and to help businesses manage customer accounts, track sales leads, evaluate marketing campaigns, and provide post-sales service. It markets sales force automation features of its application services under the Sales Cloud brand name, and customer service and support automation features under the Service Cloud brand name.
We do not like CRM as a long term investment this year, for a couple of reasons we will share:
Insider Selling
CRM has had huge insider sales taking place since August of last year. Last year the company had the second-highest insider selling of any company in the U.S. market.
Competition is Chipping Away at Market Share
The hyper-growth Salesforce.com once experienced is long gone-- with the company getting 90% of its revenue from subscriptions and support, and this area boasts 85% profit margins. Big margins attract large, well-financed competitors. Along comes Microsoft (MSFT) looking for its share of the market announcing these points:
Its CRM software, Dynamics CRM, was available in 40 markets and 41 languages.
It also said it would offer Salesforce and Oracle CRM customers low promotional pricing for the first 12 months if they agreed to sign a one-year contract.
Microsoft is charging $34 per employee per month, versus Salesforce's Professional edition at $65 per employee per month.
Microsoft Dynamics CRM is integrated with Microsoft Outlook, the hugely popular email application, and Microsoft Office. The latest version of Office is the fastest-selling one ever, and there's now a cloud version called Office 365. And while Salesforce might have a lot of valuable applications, and might still have a more robust and popular CRM product than Microsoft, it doesn't have Microsoft Office.
Create Accounting Practices Exaggerate Earnings
GAAP earnings are a measure of a company's overall earnings performance. With the luxurious stock option program CRM has, and when we think of this as an expense, we find very little GAAP earnings for the year. Even last year, with what has been described as its aggressive accounting style, Bernstein Research analyst Mark Moerdler, states that Salesforce results for July 2011 fiscal year would have been 79% lower on a GAAP basis and 30% lower on a non-GAAP basis if the company used the most conservative accounting and investment practices used by other large software companies.
Given the combination of officers selling shares on a major scale (even up to the writing of this article), larger companies like Microsoft and Oracle (ORCL) aggressively pursuing its market share, and finally-- liberal accounting practices that make it look financially better than it may be, we believe that other companies may deserve more research than Salesforce.com.