Finding good value in the market is much more challenging after the rally of the last six months. Discovering stocks with reasonable valuations and good yield is even harder. However, I believe Linn Energy (LINE) provides the right mix of both for income orientated investors.
Linn Energy (LINE):
Linn Energy, LLC, an independent oil and natural gas company, engages in the development and acquisition of oil and gas properties in the United States. The company holds interests in various properties located in Oklahoma, Kansas, Louisiana, Illinois, Michigan, and California, as well as located in the Permian Basin in west Texas and southeast New Mexico. (Business Description from Yahoo Finance)
7 reasons LINE offers solid value at $37 a share:

The stocks offers a generous 7.5% yield and has more than double its income distributions over the last six years.
Consensus earnings estimates for FY2011 and FY2012 have increased over the last two months.
The stock is poised to cross over its 100 day moving average (see chart).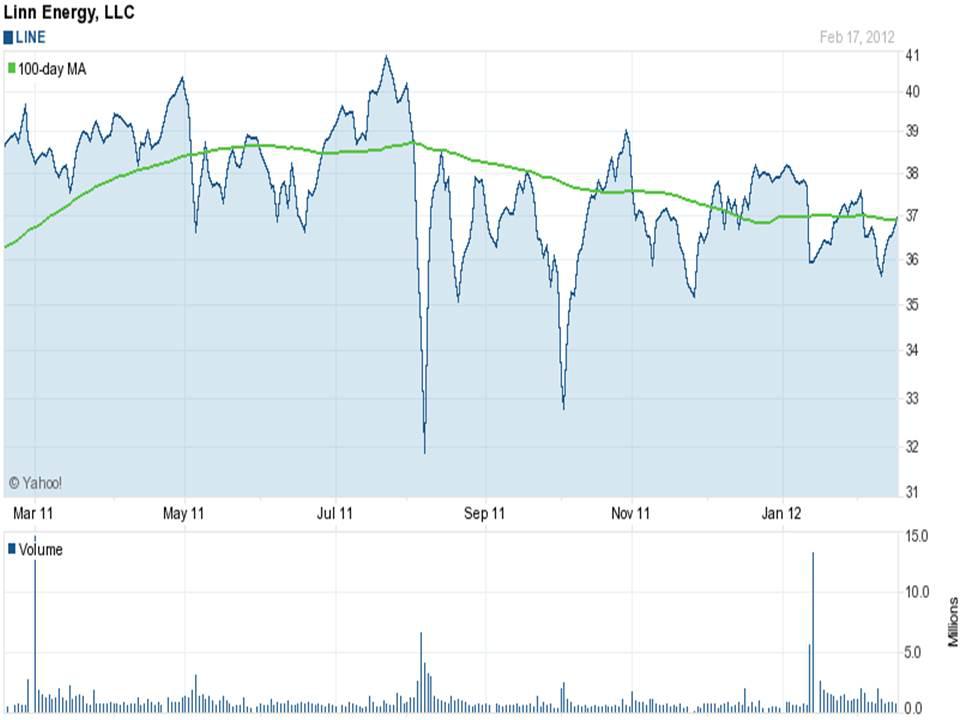 The company has had compounded earnings growth of 40% annually over the past five years, yet has a forward PE of under 17 even with its robust yield.
Earnings growth is continuing to be solid. LINE made $1.54 per unit in FY2010, is scheduled to make $1.83 in FY2011 and analysts have it earning $2.20 in FY2012.
Credit Suisse has a $42 price target on LINE. The median analysts' price target on the stock is $44.
In the fourth quarter of 2011, LINE announced it is acquiring Plains Exploration's (NYSE:PXP) assets in the Granite Wash for $600mm. This doubles LINE's presence in that area and Credit Suisse estimates this acquisition will add 21 cents to its earnings for FY2012.
Disclosure: I have no positions in any stocks mentioned, but may initiate a long position in LINE over the next 72 hours.