Today's stock market is just like the honey badger. It just doesn't care. It's goes up no matter what. The honey badger stock market just doesn't give a bleep: (Click to enlarge)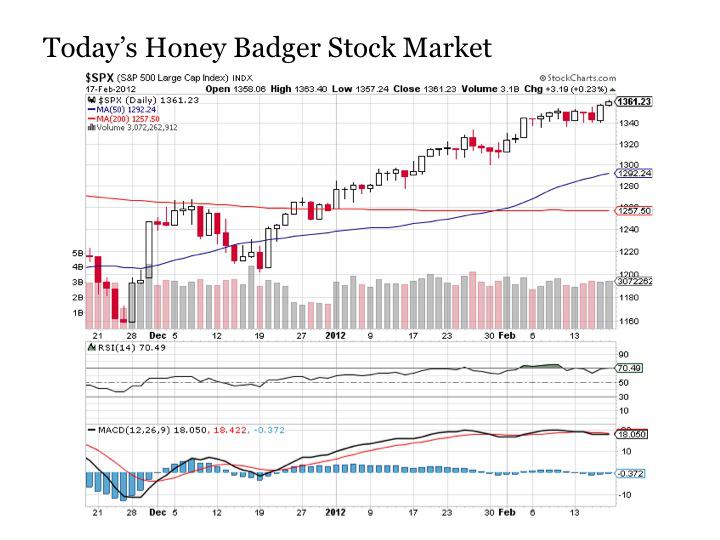 Click to enlarge
The stock market as measured by the S&P 500 (NYSEARCA:SPY) has been up in nearly 70% of the trading days since mid-December, which is a daily win percentage that is +4 standard deviations above normal. This is an unsustainable pace, but the honey badger stock market is just crazy. It just keeps going higher.
The stock market has been vastly overbought with a Relative Strength Index reading at or above 70 for most of the time since mid-January. But the honey badger stock market is fearless. It continues to rise.
The honey badger stock market rallies on the rumor and then rallies even more on the news. It doesn't even matter if the rumors end up being false. It also doesn't matter that if the news should actually be viewed as something negative. The honey badger stock market just takes what it wants.
The stock market is now trading for the first time at previous highs it tested and failed on three separate occasions last year. But the honey badger stock market doesn't care about investors that bought at the peaks last year. It's just hungry to move higher.
The stock market is now trading at a +5% premium to its 50-day moving average and a +8% premium to its 200-day moving average. But the honey badger stock market has no regard for moving averages or the fact that these premiums represent recent cyclical highs. It just keeps gaining.
The crisis in Europe remains unresolved and is potentially set to take a critically bad turn depending on how the situation in Greece plays out on any given day. But the honey badger stock market is nasty and it just doesn't care. It's going up.
Here is the problem. The stock market is not a honey badger. And in a normal market environment, the stock market would care deeply about all of the risks listed above. The stock market currently thinks it's bad like a honey badger because it's all hopped up on Fed stimulus. But while the honey badger is always going to be the honey badger, the stock market will eventually return to normal and will someday care profoundly about all of the risks it is currently ignoring today.
So just as you don't want to take in a honey badger as a house pet, you also don't want to invite the honey badger stock market into your investment portfolio without taking great precautions.
The following are some pictures that show what the stock market looks like once it wakes up to the fact that its not a honey badger and that it actually needs to care about all of the risks it's currently ignoring. In short, these are some ugly pictures.
Here's a snapshot from April 2010 when the effects of QE1 wore off. Notice all of those same readings that the stock market was ignoring in early 2010. While the honey badger can wake up from a venomous snakebite to finish his meal, the stock market remains stunned once the QE hangover wears off and quickly relents to the downside: (Click to enlarge)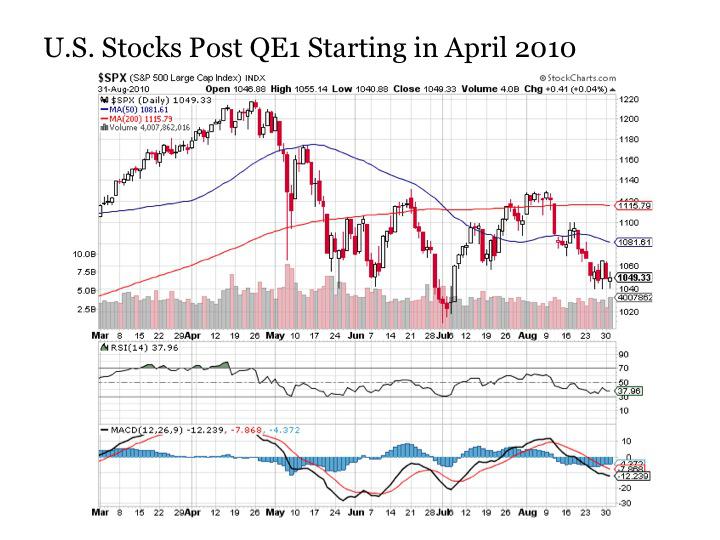 Click to enlarge
Here's another picture from July 2011 coming off the swagger of QE2. The story is pretty much the same as after QE1: (Click to enlarge)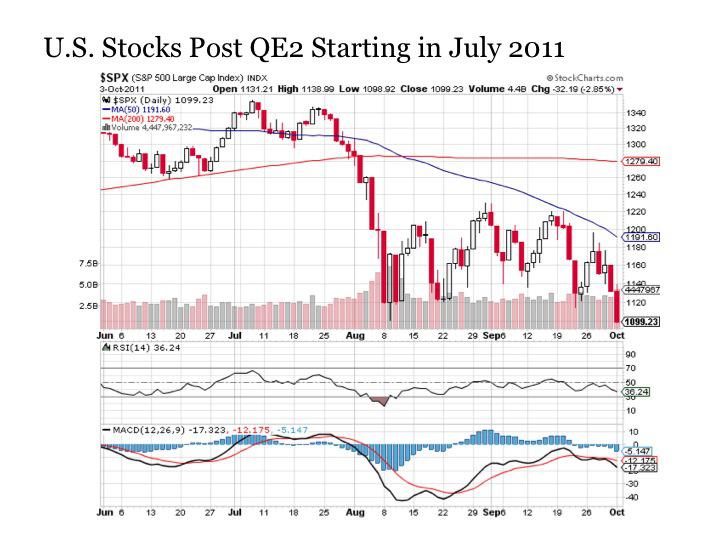 Click to enlarge
But here are two more pictures that are noteworthy. What they show is that even honey badger stock markets can be quickly shocked back into reality even when they're still receiving the juice. The first is the stock market in February 2011. At the time, it is still fully hopped up on monetary stimulus from QE2. Yet it still plunges sharply to the downside. (Click to enlarge)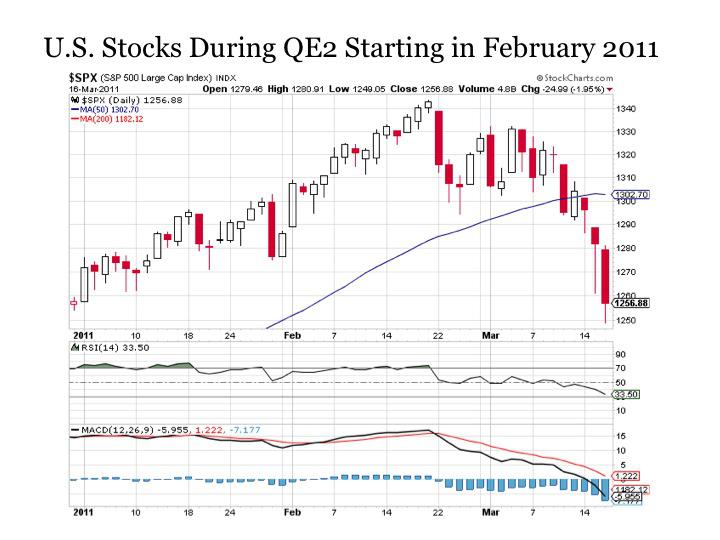 Click to enlarge
The second graphic is from May 2011. While the stock market should still be flaunting honey badger bravado with more QE2 stimulus pouring in by the day, it is no longer immune to the numerous stings of risk and eventually gives up the fight to the downside: (Click to enlarge)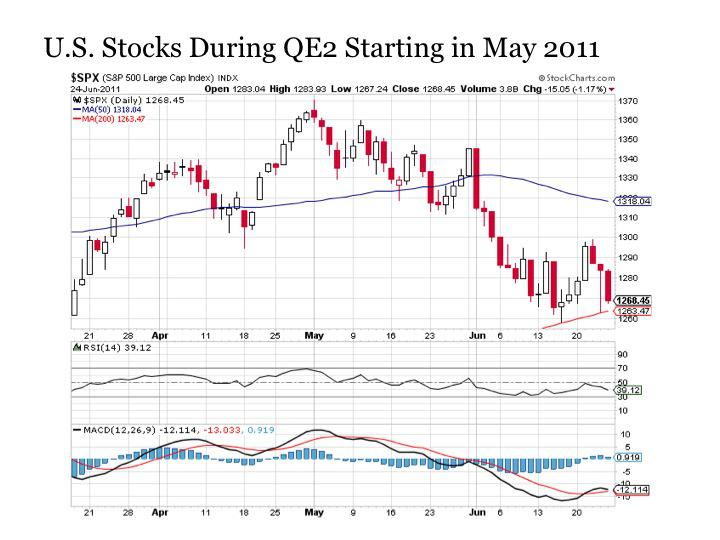 Click to enlarge
How much longer the honey badger stock market can keep things up today is anyone's guess. But if past history is any guide, it may not be much longer- even with the stimulus of Operation Twist (effectively QE3) still being pumped in on a daily basis and the ECB's next LTRO soon on its way.
Thus, today's honey badger stock market should be respected, but it also shouldn't be trusted. Stocks may continue to ignore all of the risks and continue to rise. Maintaining an allocation to stocks is worthwhile as a result, although tilting allocations toward the more defensive names in the market is worthwhile from a risk control standpoint. Representative names include McDonald's (NYSE:MCD) as well as JM Smuckers (NYSE:SJM) and Family Dollar (NYSE:FDO) on recent pullbacks.
And just like the honey guide, a variety of asset classes also exist that can continue to perform well along side the honey badger stock market, but can also stand on their own. These include U.S. TIPS (NYSEARCA:TIP) and Agency MBS (NYSEARCA:MBB), both of which have shown the ability to steadily rise regardless of the direction of the stock market. Other categories include Gold (NYSEARCA:GLD) and Silver (NYSEARCA:SLV), both of which stand to benefit from further monetary stimulus but also serve as safe haven destinations during periods of crisis.
While the honey badger will never care, the stock market eventually will. And when it does, it will be important to stand ready to act to protect against any potential stock market correction that comes along with this return to reality.
Disclosure: I am long GLD, SLV, MCD, FDO, SJM, TIP, MBB.
Disclaimer: This post is for information purposes only. There are risks involved with investing including loss of principal. Gerring Wealth Management (GWM) makes no explicit or implicit guarantee with respect to performance or the outcome of any investment or projections made by GWM. There is no guarantee that the goals of the strategies discussed by GWM will be met.