On Friday, Heinz (HNZ) reported its third quarter earnings and beat Wall Street's expectations. The company reported higher than expected results out of foreign markets and outlined a plan that will allow the company to continue to cut costs and expand. The company's third quarter results are as follows: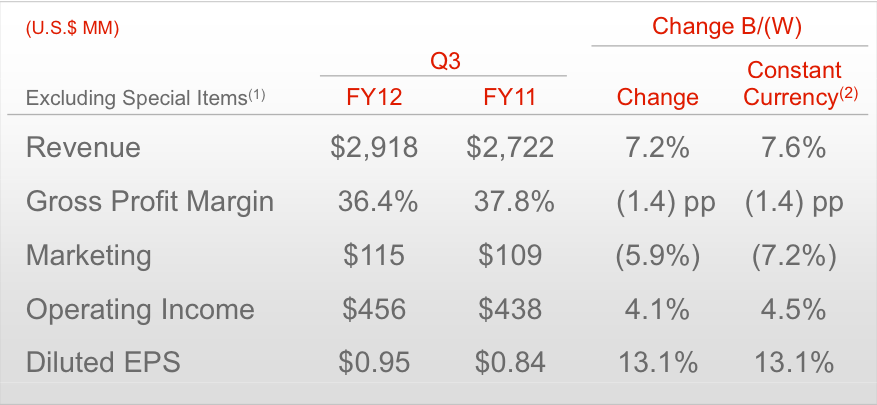 Click to enlarge(HNZ Quarterly Report)
These financial results are supported through a strong business model that is apt and able to support the company in nearly any economy. HNZ's mix of brand, staple products, and innovative team has allowed the company to grow for 27 straight quarters (below). From an investor perspective, the company is poised for extended growth into the coming years from emerging markets, which will yield top-line improvements. Through the company's efforts to cut costs and close as many as eight production facilities, HNZ is preparing to improve its bottom line through savings. All of this with a dividend of 3.70% illustrates to investors that HNZ is a company poised for continued growth and stability into the coming years.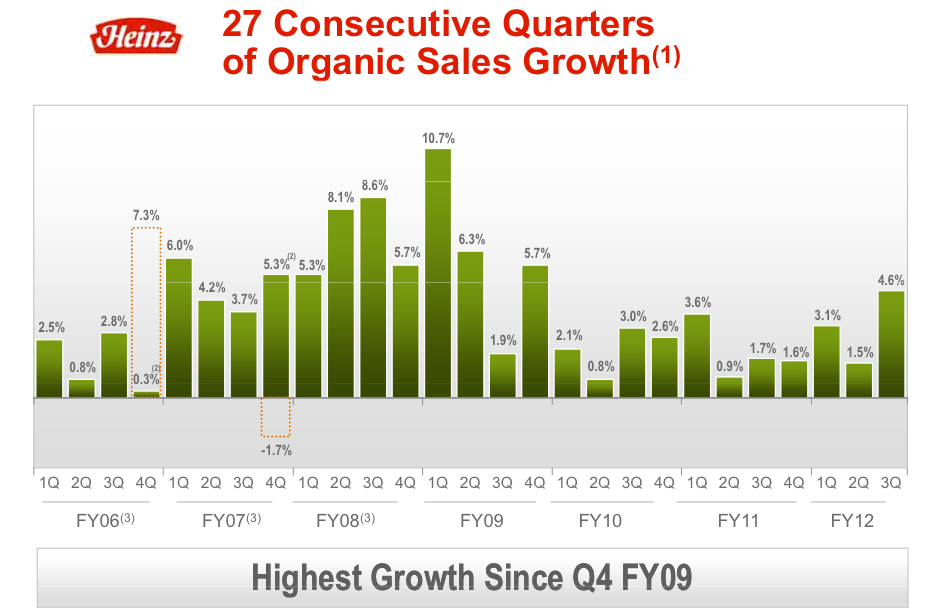 Click to enlarge
(HNZ Quarterly Report)
Emerging Market Growth:
In the third-quarter, the company reported that its sales grew by 40% in "the rest of the world." The results are as follows:
Sales for the Rest of World segment more than doubled (112.4%) to $242 million on a reported basis. Organic sales increased 30.2%. The Quero® acquisition in Brazil, which was completed at the end of Fiscal 2011, increased sales 86.6%. Higher pricing across the region increased sales by 20.1%, primarily due to price increases in Latin America taken to offset inflation. Volume increased 10.1%, driven by increases in Heinz® Ketchup and sauces in Latin America and numerous products in the Middle East. Foreign exchange translation rates decreased sales 4.4%. Operating income increased 129.5% to $18 million, resulting from higher pricing and the Quero® acquisition.
This type of growth is not traditional for companies the size of HNZ. This illustrates the company's opportunity to expand in emerging markets like Brazil, Russia, Indonesia, and China where its products are not as wide known. Though currency growth is expected to rise to 6% to 7%, causing the company to lower its forecasts slightly for FY12, HNZ is in a position to continue to grow incremental sales and profit through its ongoing strategy of emerging market expansion. This has the potential to provide investors with continued growth in share price and dividend income.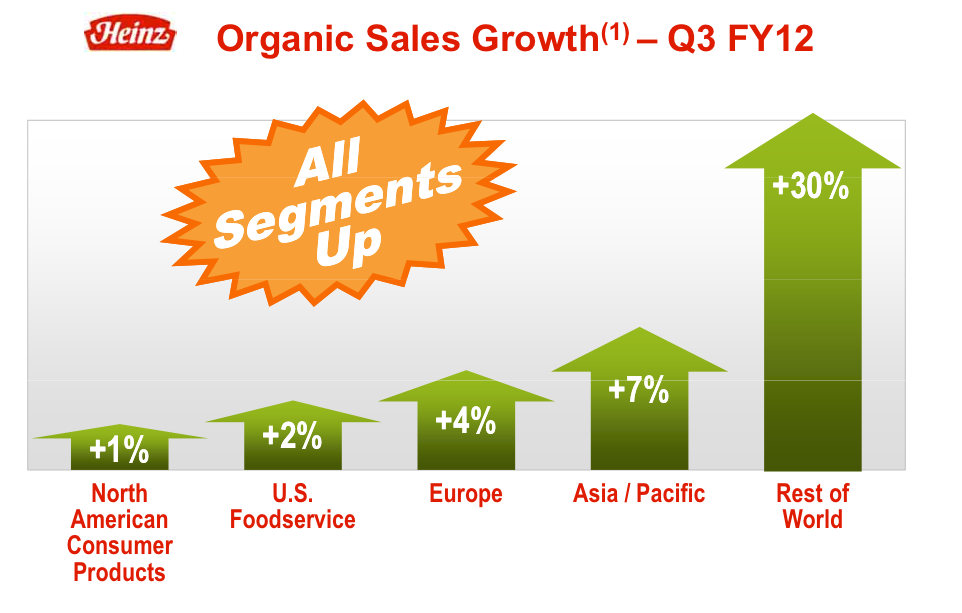 Click to enlarge(HNZ Quarterly Report)
Cost-Savings Initiative:
HNZ reported that it might be closing up to 8 production facilities and cutting 1,000 workers from its payroll. From the outside this has the potential to be viewed as a negative thing for the company, but HNZ is outlining a plan to cut costs and make its supply chain as efficient as possible. The company's CEO William Johnson states:
Heinz has been focused this year on reducing fixed costs by increasing manufacturing efficiency, reducing overcapacity and streamlining our operations. Through Project Keystone and the creation of our first centralized European supply chain hub, we are establishing the foundation for long-term productivity across the supply chain while also enabling better leverage of our global scale.
From an investor perspective, HNZ has set forth a strategy to drive profit and bottom line performance. In the same way that Ford (NYSE:F) introduced its "OneFord" several years ago to minimize overlap and costs Heinz appears to be using a similar strategy and it has the potential to increase stockholder security in the face of decreasing overhead. These changes make HNZ a more nimble company to navigate an ever-changing economy.
Dividend:
Over the past two years, HNZ has increased its annual dividend by 14% to 3.7%. This is a very strong dividend for a company that is growing at the pace it is and for a company with the stability of HNZ. Since 2004, the company has nearly doubled its dividend payment. The company includes dividend growth in its long-term strategy. This marks a key reason that HNZ is a strong investment. Thanks to expected emerging market growth the dividend can continue to increase into the coming years.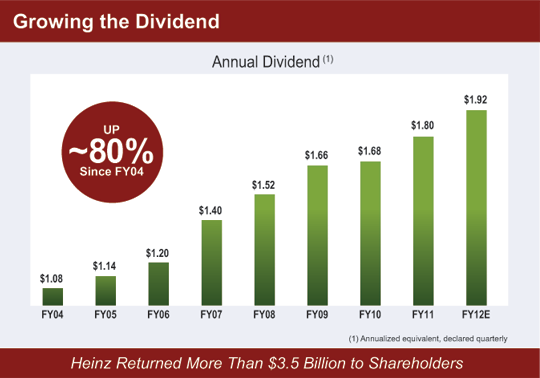 Click to enlarge
(HNZ Annual Report)
Financials:
Forward Price/Earnings: 15.13. This marks a PE ratio that is by no means low, but with the company's growth, stability and dividend, does not point to HNZ being overvalued.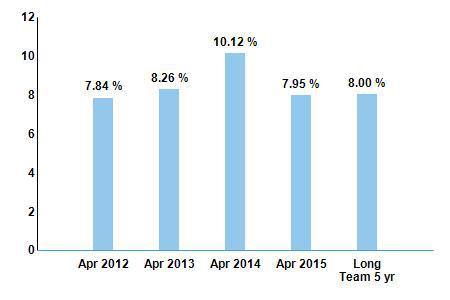 (Nasdaq)
PEG: 2.08.
Return on Equity: 35.87%
Debt-Cash: $4.129 billion. This is not a high level of debt for a company with the cash-flow that HNZ does.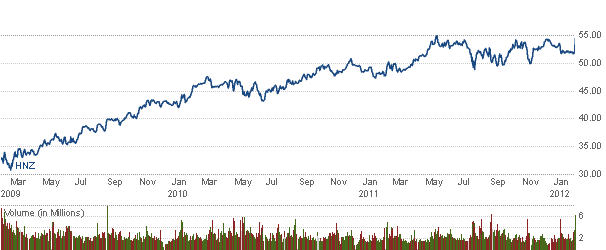 Click to enlarge
(NASDAQ:CNBC)
Conclusion: For the aforementioned reasons, HNZ is in a position as a company to grow in emerging markets, cut costs from its supply chain, and reward investors through a healthy dividend. There are few other companies in the world that have the brand of HNZ and the stability. The company has illustrated that its strong past has enabled it to deliver in an ever changing economy in the future.
Disclosure: I have no positions in any stocks mentioned, and no plans to initiate any positions within the next 72 hours.