There is a giant industry that many investors are participating in but generally are not profiting from. I'm talking about the $40 billion a year pet care and product industry. According to the American Pet Products Manufacturers Association, an estimated 63% of U.S. households own a pet. American's spend on their pet's care even when they cut back on many other discretionary items. This has created a somewhat recession-resistant pet care industry.
PetSmart (NASDAQ:PETM) is one of the biggest beneficiaries of pet care spending. As the largest pet specialty retailer in the United States, PetSmart benefits from both its size and its reach. There are more than 1200 PetSmart stores in the United States, Puerto Rico, and Canada. PetSmart offers a wide range of pet consumables, products and services such as grooming, training and boarding. Services accounted for about 10% of PetSmart's sales in the last quarter.
PetSmart seems to be quite smart at managing its business. The company has increased same-store sales for 16 consecutive years. They have increased revenue every year for 10 consecutive years.
Click to enlarge: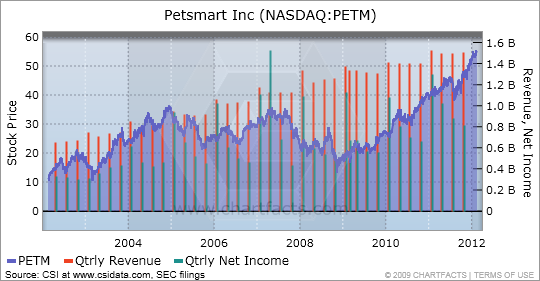 At near $55, shares of PetSmart are trading near all-time highs. While they could pull back, the valuation doesn't seem excessively stretched. PetSmart trades just over 18 times next year's earnings and trades at 1 times current sales. PetSmart's price-to-owner earnings ratio (a measure of price to levered free cash flow) is under 15. The company has increased revenue at an annual rate of 8.7% over the last five years and earnings at an annual rate of 10% over the same period.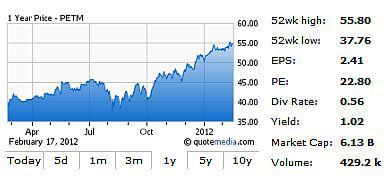 PetSmart pays a dividend of around 1%. The company continues to reduce its share count through a share repurchase program.
Click to enlarge: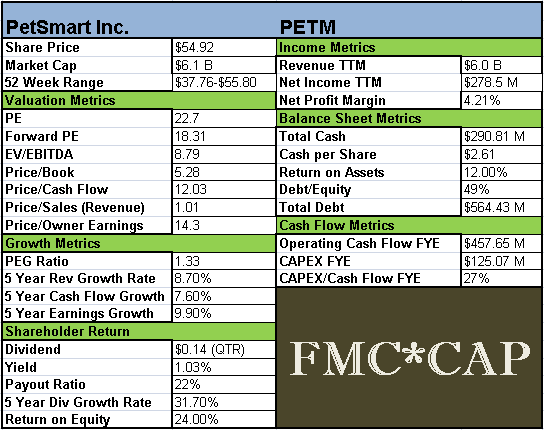 PetSmart projects 2012 EBT growth of 7%-12% and EPS growth of 11%-17%. The company expects to repurchase 4%-5% of outstanding shares in 2012, net of employee options and awards.
PetSmart has room for growth in the U.S. The company expects to open 45 stores in 2012. Some 60%-65% of those stores will be smaller format stores as the company continues to grow in smaller markets. Online shopping may also continue to grow and drive consumers from the company's website into its stores where they typically spend more. PetSmart is also continuing to innovate its product assortment. The company already has Martha Stewart Living (NYSE:MSO) and GNC (NYSE:GNC) branded products. The company plans to launch a line of Toys-R-Us branded pet toys this year.
At current levels, shares of PetSmart are not cheap. However, the company has executed almost flawlessly and there is no reason to think that won't continue. One macro concern that I have is the price of oil and gasoline. With gas prices on the rise long before the summer driving season, it isn't unthinkable that some parts of the U.S. could see $4 a gallon or more. This may put a temporary crimp in consumer spending and cause investors to flee the retail sector in general. PetSmart has certainly shown that it is able to manage through all types of economic headwinds but share prices could retreat along with the entire sector.
PetSmart reports Q4 earnings on February 29th. Investors considering PetSmart may want to wait for the announcement to get a clearer picture on 2012 guidance. Despite some economic headwinds, consumer spending is up and spending on pets is fairly recession-resistant. PetSmart is a best in class specialty retailer. Great management and good growth prospects should continue to have PetSmart barking up the right tree.
Disclosure: I have no positions in any stocks mentioned, but may initiate a long position in PETM over the next 72 hours.
Disclaimer: Mr. Constantino is a proprietary investor and does not provide individual financial advice. The stocks mentioned in this article do not represent individual buy or sell recommendations and should not be viewed as such. Individual investors should consider speaking with a professional investment advisor before making any investment decisions.