The stock market is currently valuing Hecla Mining Co (NYSE:HL) at $1.4 billion. This valuation represents a significant discount to Hecla's true value, based on its assets.
Silver Resources
248 million ounces

$33 per ounce

$8.18 billion
Based on these numbers, Hecla's reserves are valued at $8.18 billion. However, this is not the number that should be used to calculate what Hecla is worth. Rather, we need to subtract the costs involved in mining the metals. The best way to account for Hecla's expenses involved in mining is by looking at Hecla's margins.
Hecla's operating margins currently stand at 52%. By applying this number to the reserve ratio ($8.18 billion) we find that Hecla's reserves are really worth about $4.25 billion after mining costs. However, this is still not the final value of Hecla. We still need to account for expenses such as taxes and interest payments on debt. The net profit margin will accomplish this.
Hecla's net profit margin currently stands at 24%. By applying this number to the reserve valuation ($8.18 billion) we find that Hecla is worth a minimum of $1.96 billion, based on asset valuation. This number will likely continue to rise as Hecla continues to grow its resource base.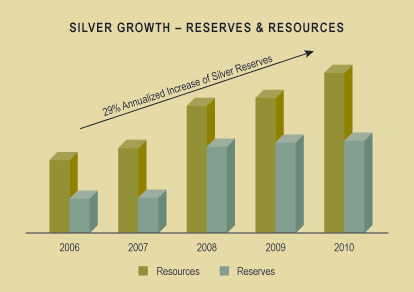 (hecla)
There are currently 279 million shares outstanding for Hecla. By dividing the $1.96 billion by 279 million, we find that the valuation for Hecla should be about $7 per share.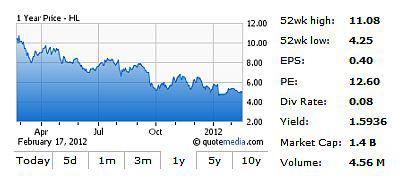 Conclusion
Hecla is undervalued based on the current valuation of its assets.
Disclosure: I have no positions in any stocks mentioned, and no plans to initiate any positions within the next 72 hours.