Bravo Brio Restaurant Group (BBRG) is the owner and operator of two Italian restaurant brands, Bravo Cucina Italiania and Brio Tuscan Grille. Bravo Brio currently owns 92 restaurants in 27 states. Bravo Brio is considered a relatively high end restaurant as far as chains go. Some of Bravo Brio's main competitors include Cheesecake Factory (NASDAQ:CAKE) Ruth's Hospitality Group (NASDAQ:RUTH), Darden Restaurants (NYSE:DRI), and Red Robin Gourmet Burgers (NASDAQ:RRGB). While these companies all differ slightly in exactly what they offer consumers and for what price, these restaurant stocks are all comparable to Bravo Brio.
Market Cap
Bravo Brio: $422 million

Cheesecake Factory: $1.8 billion

Darden: $6.5 billion

Red Robin: $513 million

Ruth's Hospitality: $215 million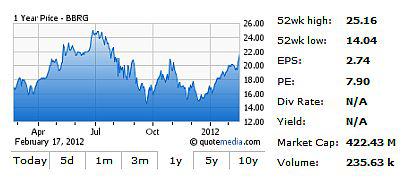 Bravo Brio is a smaller company that the majority of its peers. Only Ruth's Hospitality has a smaller market cap than Bravo Brio. Darden, Bravo Brio's largest competitor, is over 15 times the size of Bravo Brio. Bravo Brio's small size means it is a possible takeover candidate for larger rivals.
Number of restaurants
Bravo Brio: 92 restaurants

Cheesecake Factory: 169 restaurants

Darden: 1,900 restaurants

Red Robin: 460 restaurants

Ruth's Hospitality: 130 restaurants
Bravo Brio has significantly less restaurants than all of its competitors. This means that Bravo Brio can continue to grow because the company is far from saturation.
Valuation
Bravo Brio: 22.6 times forward earnings.

Cheesecake Factory: 17.3 times forward earnings.

Darden: 12.6 times forward earnings.

Red Robin: 17 times forward earnings.

Ruth's Hospitality: 12.8 times forward earnings.
Bravo Brio is more expensive than any of its peers. This makes sense because Bravo Brio has more opportunity for growth than its competitors.
Dividend
Bravo Brio: 0%

Cheesecake Factory: 0%

Darden: 3.38%

Red Robin: 0%

Ruth's Hospitality: 0%
Interestingly, Darden is the only company paying a dividend. The reason the other companies do not pay dividends is because they have room to invest in building new restaurants vs. Darden, which already has 1,900 locations. The lack of a dividend highlights the fact that investors are buying these stocks for growth, not stability.
Operating margins
Bravo Brio: 6.8%

Cheesecake Factory: 7.4%

Darden: 9%

Red Robin: 3.7%

Ruth's Hospitality: 7.3%
Bravo Brio's operating margins are in the middle of the pack. This indicates that Bravo Brio is a good, but not great, operator.
Conclusion
Bravo Brio has the most potential for growth amongst its peers. However, Bravo Brio is also the most expensive stock amongst its peers. One possible bullish catalyst for Bravo Brio is a potential takeover. Bravo Brio is small enough that there are likely many buyers who would have interest in buying it. Landry's recently acquired both Mortons (NYSE:MRT-OLD) and McCormick & Schmick's (NASDAQ:MSSR), both high end restaurants with similar characteristics to Bravo Brio.
Disclosure: I have no positions in any stocks mentioned, and no plans to initiate any positions within the next 72 hours.