In January I started to follow retail sales from Christmas 2011, paying particular attention to anything that was being deeply discounted, indicating a lack of consumer demand. I had expected to find big sales on things like outerwear and winter apparel because of the unseasonably warm winter, when I stumbled upon a surprise: discounts on Uggs.
Deckers (NASDAQ:DECK) has been a star over the last decade, led by their sales of Uggs. Young women have adored their sheepskin boots for years now, making them a hot commodity. However, the mania might be coming to an end. Dillard's (NYSE:DDS) had 40% discounts on 57 of the 136 types of Uggs online, as did Zappos and various other online retailers. Alexa.com, who posts traffic stats for websites, has shown a less than positive y-o-y comparison of online traffic to Deckers' main webpage, Uggs.com, and Amazon's top 100 Women's Boots (NASDAQ:AMZN) doesn't find Uggs at the top, but rather cheaper competitors such as BEARPAW and Sorel. On December 15th, Sterne Agee made a stunning downgrade, from a "Buy" to "Underperform," citing the above concerns, and noting that Nordstrom (NYSE:JWN) is no longer limiting the number of Uggs allowed to be purchased online by any one person. This is very concerning since customers never see discounts on real Uggs from these type of retailers, and the boots have always been top sellers.
Upon further research, Deckers' stock has started a steep descent since their last earnings report, falling from 118.90 to near 90. Concerns of less than stellar sales due to a warmer winter, and rising sheepskin costs in 2012, may cause the company to have lower gross margins. DECK said in their 3Q Conference Call that sheepskin prices have been locked in for 2012 at a 40% increase, causing the Cost of Goods Sold to rise by 10%. This direct rise in costs will cause Gross Margins to decline by 5% in 2012. This decline should be partially offset by price increases; however, I do not believe they can raise prices enough to offset the hit to margins.
The compression to Gross Margins is not being factored into analysts' estimates for 2012, and the technicals look somewhat ominous for DECK. The stock has recently sliced below the trend line that has been in place since Sept 2010. DECK did manage to pop back above the trend line last week; however, it could not close above it, which is quite bearish. There is another trend line at roughly $75/share, and a break of this line on a weekly close could open the floodgates for DECK to drop to $55-58 before the next support level. Bulls who are still long the stock should watch that $75 level very carefully.
Analysts' estimates for 2012 earnings are $5.84 on $1.61B in revenues. The earnings per share level looks a little too optimistic to me given the compression in margins we should see. Decreasing the gross margins a simple 2.5% in 2012 would cut earnings by $1 to $4.96/share. With the majority of the shareholders being fast money hedge funds and momentum traders, a major cut to earnings guidance would send all the shareholders running for the door. You could end up seeing DECK trade down to the $35-40 level in 2012 if this occurs.
Just to be clear, I'm not calling for the Uggs brand to disappear, but rather experience a slowdown in growth vs. prior years. It's not the end of the brand; it's just the end of the mania, which could mean that shares of DECK fall drastically in 2012.
Earnings are due out on Feb 23 and I believe the company will meet or slightly beat EPS. However, the company should reset the bar lower for FY2012 guidance, likely 10-15% below the current street estimates.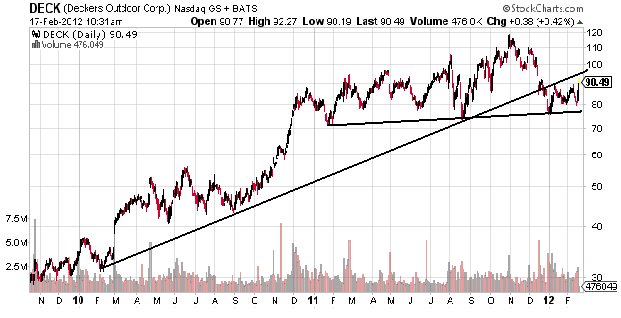 Disclosure: I am short DECK.