By Brendan Gilmartin
Overview
Home Depot (HD) is expected to report 4Q 2011 earnings before the opening bell on Tuesday, February 21. The home improvement giant is expected to report earnings at approximately 6:00 a.m. EST and follow with a conference call at 9:00 a.m. Home Depot is a member of the Dow Jones Industrial Average and is widely seen as a play on the index futures. Coming into the earnings, Home Depot appears to be the preferred name in the home improvement space among Wall Street analysts and fetches a slightly higher premium relative to Lowe's (LOW).

Outliers & Strategy
Key Measures Covered By Selerity:
Adjusted Earnings Per Share & Non GAAP Earnings Per Share: Historically, the table parser typically produces values for these measures that compare with consensus estimates. In the previous two quarters, however, the corresponding value to consensus was net Earnings Per Share.
Revenues: Revenues are seen coming in just above $17 bln.
Earnings Per Share Guidance (FY2012): The current consensus is $2.77.
Home Depot is expected to earn $0.42 per share (range is $0.39 to $0.45) (Source: Yahoo! Finance). Revenues are expected to reach $15.49 bln, up 2.4% from the prior-year period.
Home Depot is now trading at just 20.05x forward earnings, similar to rival Lowe's and above the 5-year average of 15.6x after touching a new 52-week high of $46.71 on Friday.
Recent News
Technical Review
Home Depot shares have been on an impressive run, recently touching a 52-week closing high of $46.71 this past Friday. From here, the upside appears limited, with the Relative Strength Index (RSI) now above the key 70-level, an indication the shares are overbought near-term. Should the rally fail to hold and the earnings present a "sell the news" scenario, initial support is at the 20-Day SMA near $45.25, followed by $44, and the 50-Day SMA near $43.50. There is no near-term resistance in the wake of the recent advance, as the shares trade at a multi-year high. (Chart courtesy of StockCharts.com).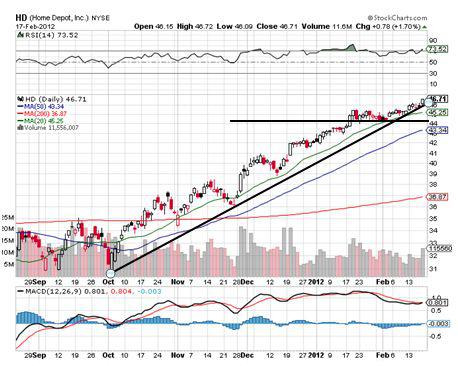 Summary
Home Depot shares have been on a tear lately, rising more than 25% over the past three months and recently touching a new 52-week high on signs of a turnaround in the economy. The company is also benefiting from favorable weather trends and an early start to the spring selling season in many parts of the U.S., along with improving housing sector statistics. Against this backdrop, however, the shares are now trading at a relatively high 17x forward earnings, leaving the shares vulnerable to any missteps when the company posts earnings on Tuesday.

Disclosure: I have no positions in any stocks mentioned, and no plans to initiate any positions within the next 72 hours.