By: Brendan Gilmartin
Overview
Wal-Mart Stores (WMT) is scheduled to report 4Q 2012 earnings before the opening bell on Tuesday, February 21. The release is typically available at 7:00 a.m. EST. Results from the world's largest retailer and constituent of the Dow Jones Industrial Average tend to influence the direction of the equity index futures. The shares also trade in Frankfurt, Germany.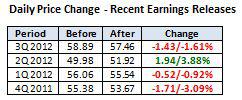 Key measures for Wal-Mart:
Earnings Per Share from Continuing Operations: The value for this measure is most often the figure that compares with consensus estimates. Based on the economic and sales environment in its markets and expectations for the holidays, previously indicated it expects 4Q earnings per share from continuing operations to range between $1.42 and $1.48. The current Street estimate is $1.45 (Source: Yahoo! Finance)
Earnings Per Share Guidance (1Q 2013): This is a crucial forward-looking measure for Wal-Mart. The current consensus estimate for 4Q 2012 is $1.05.
Earnings Per Share Guidance (FY 2013): Estimates currently call for Wal-Mart to deliver earnings of $4.90 per share for FY2012.
Revenues are seen rising 6.7% y/y to $124.2 bln. (Source: Yahoo! Finance)
Wal-Mart is trading at just 14.07x earnings, below the 5-year average of 14.9x and a mere 0.49x sales. The company is also paying a 2.34% dividend, while reducing operating expenses and a tighter capital cost structure to enhance shareholder value.
Recent economic statistics point toward a favorable backdrop for Wal-Mart, including the improving labor statistics, solid readings on consumer sentiment, and reports of a strong Black Friday that carried over through the holiday selling period.
Recent News
02/17: Jefferies raised its price target on Wal-Mart to $57, citing expectations for positive 4Q comps, according to a post on Benzinga.com. The firm also raised its U.S. comp forecast from 1.5% to 2.0%, following a decline of -1.8% a year ago.
01/23: Bank of America cut its price target on Wal-Mart from $70 to $65, but maintained a Buy rating.
Technical Review
Wal-Mart shares recently spiked to a 52-week high of $62.48 and its highest level in several years. Since late November, the shares have bounced above the 20-Day SMA, a testament to the recent strength. Since the start of this month, however, Wal-Mart has stalled out in the $61.00/$62.50 area, culminating in a potential bearish "hammer" candlestick in the wake of the recent advance. Aside from the shorter candlesticks and weakening volume trend, the Relative Strength Index and MACD are exhibiting overbought readings, signaling a possible near-term pullback. In that event, support is at the 20-Day SMA near $61.50, followed by the 50-Day SMA near $60.00, and $59.00. (Chart courtesy of StockCharts.com).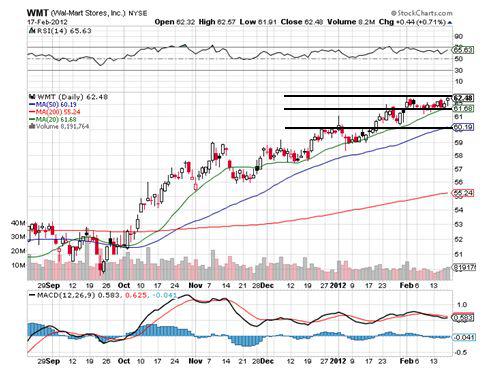 Summary
Wal-Mart shares have rallied nicely headed into the 4Q earnings release, thanks to the macro recovery in the U.S., tighter inventory controls, evidence of a strong holiday selling period, improved margins, increased foot traffic, and favorable comps versus the year-ago period. The company is also buying back stock and enticing investors with a 2.34% dividend yield. With that being said, the bar is set pretty high headed into Tuesday's earnings release.
The company already guided for earnings per share from continuing operations in the range of $1.42 to $1.48. But given the current backdrop, a number at or above the high end of the range may be needed to push Wal-Mart shares higher, with a comp store sales figure above 2.0%. Anything less may be seen as a disappointment in light of the recent run-up and mostly positive sell-side sentiment.

Disclosure: I have no positions in any stocks mentioned, and no plans to initiate any positions within the next 72 hours.