Real estate in China, which accounts for 13% of the Chinese economy, has been bottoming out since the beginning of 2012. China has been actively manipulating the bank reserve requirements and deposit rates for many years. What China is doing is not to be underestimated and I'll prove this by giving some numbers.
As said earlier, real estate accounts for 13% of total Chinese GDP ($US 6 trillion) and equals $US 780 billion. So the People's Bank of China needs to have firepower in the order of several billions to make a difference. And this firepower is actively being used by China.
Since 2010, China has been increasing reserve ratios almost every month for banks. To the point where it increased reserve ratios from 7% up to 21.5% in July 2011. Technically, China even increased reserve ratios to 22.8% in September 2011 because of the inclusion of margin deposits in the reserve requirement. So China has been saving a lot of money in its banks. What Chinese banks did with this money can be seen on chart 1. They sold their yuan and bought U.S. dollars to peg their currency to the U.S. dollar. Those U.S. dollars were put in U.S. Treasuries as foreign reserves, because those U.S. Treasuries gave bigger returns. But the curve isn't rising anymore; not since 2011.
Click to enlarge:
The Chinese are cutting their U.S. Treasury holdings up to $US 1.1 trillion today. Since December 2011, China radically reversed its course. Chinese authorities actually decreased reserve requirements so that banks will have more liquidity and more yuan. These yuan must come from somewhere. That's right, U.S. Treasuries as foreign reserve will be sold and reverted back to yuan. That is apparent in chart 1 and can also be seen in the rising currency exchange rate of the yuan against the U.S. dollar.
Every reserve requirement ratio cut by 0.5% will add approximately $US 63 billion into the Chinese economy. Today it stands at 20.5%. So they have a very long way to go in dumping U.S. Treasuries and putting the money back into the Chinese economy.
As China trades U.S. Treasuries back for liquidity in yuan in its banks, lending rates will be positive and increasing. The positive effects can already be seen in the real estate market. Chart 2 shows us that right at the moment that China decreased reserve requirement ratios for banks (December 2011), that was the moment that Chinese real estate started to move up. The Hang Seng index stocks have risen 7 weeks in a row right now. As I predicted, shares like Sun Hung Kai properties (OTCPK:SUHJY), recommended by Marc Faber, have surged upwards. They will continue going up as China makes the right decisions concerning their U.S. Treasury holdings. What is happening now is not bullish for U.S. Treasuries (NYSEARCA:TLT), but will be very bullish for the yuan (NYSEARCA:CNY).
Click to enlarge: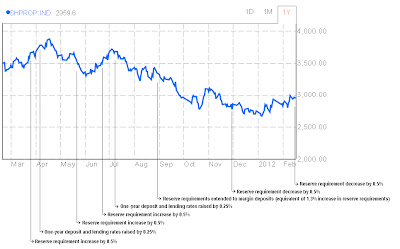 Chart 2: Shanghai Property index - Reserve Requirement timeline
Disclosure: I am long OTCPK:SUHJY.