Judging from the market's reaction to Frontier Communications' (NYSE:FTR) earnings report last Friday, Wall Street seems to agree with me.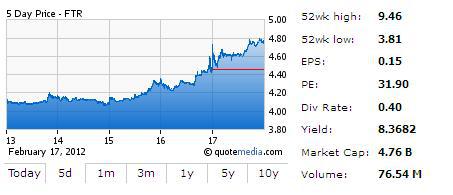 The stock jumped over 7% on nearly 4x the average daily volume as analysts reacted positively to management's Q4 report.
The big news coming out of the earnings call was the widely anticipated dividend cut from $0.75 to $0.40 annually. The 47% reduction still leaves FTR with an enticing 8%+ yield, hardly the end of the world, while giving the company much increased financial flexibility and removing a large uncertainty factor from the stock.
Of course, the dividend cut overshadowed other positive aspects of the earnings call, namely that Frontier looks to have stopped the bleeding somewhat as revenue declines and customer loss rates have slowed from previous quarters. The company is still experiencing shrinkage but at a slower pace which bodes well that Frontier may have seen the worst of it and will soon stabilize its customer base. For long-term investors, this was the most important issue facing the company, not the dividend's sustainability.
I first discussed Frontier in a stock screen a few weeks ago. At the time, I felt Frontier was attractive even with a dividend cut clearly on the horizon. Even with the company struggling to stem customer losses and revenue decline, Frontier's free cash flow was still significant and discounted too much by the market. Before the Verizon (NYSE:VZ) transaction, FTR averaged ~$500M in free cash flow (FCF) annually, which equated to roughly 7% of its asset base. While the company has a good history of integrating its acquisitions, the Verizon assets nearly tripled the Frontier's asset base so it may be prudent to assume a lower cash flow rate on its assets going forward. Assuming its current rate of 4% FCF on assets ($750M in 2011), Frontier is selling below 6x its free cash flow. Management has guided for $900M - $1B FCF in 2012. Even when I assume a -5% decline rate for the next five years, I still value Frontier at $6 - $8.
The key question surrounding Frontier is its ability to stem revenue decline and customer losses. A big key to this will be the company's ability to maximize the acquired Verizon assets. If the company can improve its FCF run rate or stabilize revenue or perhaps start growing again (!), the upside would look even better. However, my investment thesis doesn't require a best-case scenario or even a decent case -- Frontier is selling so cheaply, the company just has to avoid flirting with bankruptcy and at the least, investors won't lose too much money at these prices. As it stands now, shares prices are low enough to provide an adequate margin of safety.
Disclosure: I am long FTR.