Equinix (NASDAQ:EQIX) reported Q4 2011 results last Wednesday, after the market close. At the same time, the company announced its intention to expand its Washington, D.C. data center campus through the build out of a new facility, targeted to open in early 2013, and the start of phase two of its DC10 data center for Business Suites, expected to be completed in Q4 2012.
The first phase of the new DC11 data center is expected to cost around $88 million in expansion capital, and will add 1,200 cabinets with capacity for 1,800 cabinets in future phases. Phase two of DC10 is expected to cost $21 million in expansion CapEx. As a reminder, phase one of DC10, which adds about 15,500 square feet of co-location space, is scheduled to open next month.
A quick look at some of the quarter's highlights:
Revenues were $431.3 million in Q4, a 3% Q/Q increase and a 25% increase over the same quarter last year. This result included $17.3 million in revenues from ALOG, the Brazilian company acquired during 2011. On a constant currency basis, revenues grew more than 5% Q/Q;
Equinix achieved 2011 annual revenues of $1,606.8 million, a 32% increase over 2010 -- this result includes roughly $46.9 million in revenue from ALOG;
Adjusted EBITDA in Q4 was $198.1 million, an increase of 3% over the previous quarter. Adjusted EBITDA margin was 46%. This metric was also negatively impacted by FX headwinds of about $ 3.1 million;
Adjusted EBITDA was $738.4 million for the year ended December 31, 2011, a 36% increase over 2010.
The company repurchased roughly 900.000 shares in the fourth quarter, at an average price of $99.57 per share;
Net income attributable to Equinix in Q4 was $17.8 million, or a basic net income per share of $0.36 and $0.35 diluted;
Demand for data center services was described as strong, with favorable supply and demand dynamics and firm pricing.
Business Outlook
Equinix reiterated 2012 annual guidance of revenues to be greater than $1,870.0 million and adjusted EBITDA to be greater than $850.0 million - however, the company's forecast now includes a negative FX impact of about $15 million.
Discretionary free cash flow is expected to range between $ 500 million and $ 540 million.
Once more, Equinix delivered a strong quarter that was also favorably received by most analysts.
After earnings, Collins Stewart boosted their price target to $150.00, Evercore Partners maintained their Overweight rating and a $140 target price, Stifel Nicolaus increased their price target from $130.00 to $165.00, while both Citi and Wells Fargo increased their TP from $150 to $154 and from $146/$156 to $150/$160, respectively. Cowen believes that Equinix can outperform the market by 25% over the next 12 months.
As anticipated, excluding the negative FX impact, Equinix would have delivered even stronger results both in revenue and adjusted EBITDA. Churn for the quarter remained flat at about 2%, as expected by management.
Equinix confirmed the previously announced guidance for 2012, in spite of a negative forecasted FX impact of about 15 million. In other words, on a same currency basis, the company now expects to deliver stronger numbers than previously thought. We believe Equinix's management may have been conservative in its guidance, as it assumes a Q/Q growth probably inferior to its full potential.
The conference call was also a good opportunity to review the company's expansion projects and forecasted CapEx. As resumed in this chart, the company expects to invest about $ 700 to $ 800 million, to support market demand. Most investments will be in North America in 2012: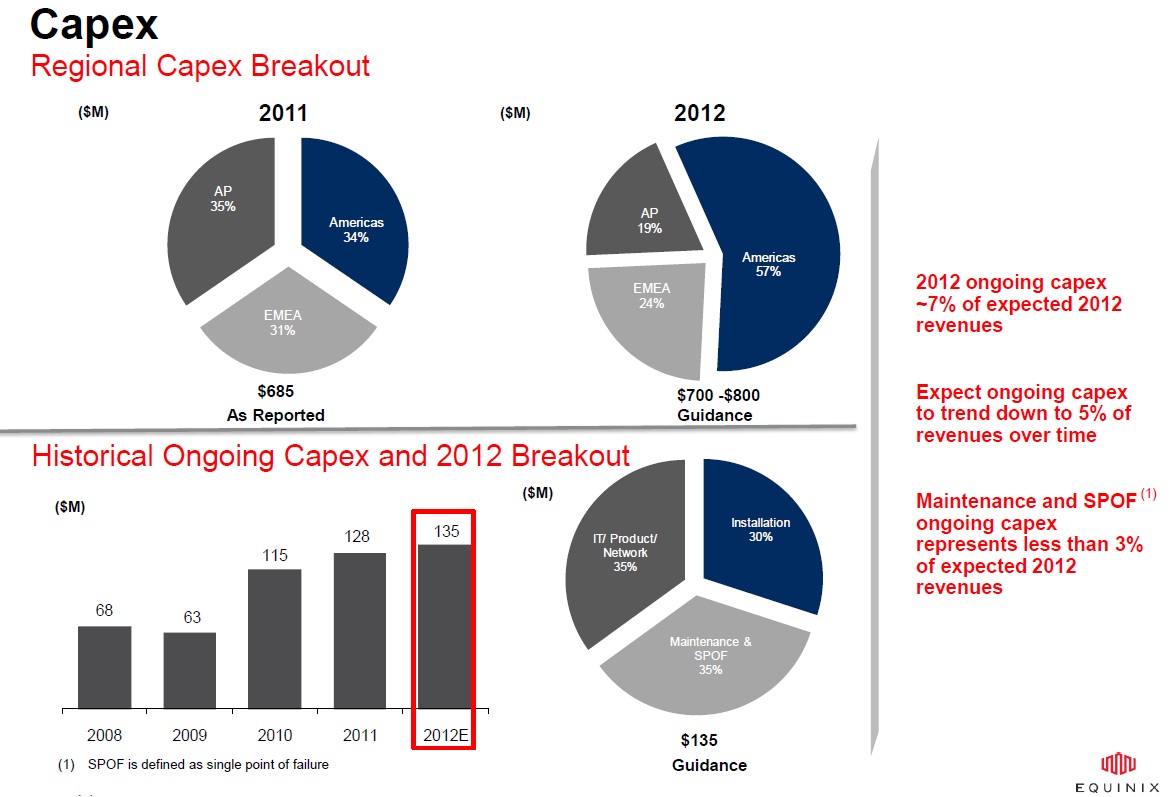 (from Equinix's Investor Presentation, Q4 2011)
Ongoing CapEx is expected to be about 7% of revenues, including installation costs -- an interesting datum, that confirms the company's forecast to be able to keep this expense in the 5% range going forward. As an indirect confirmation, Equinix also revealed that ongoing CapEx had an impact of 3% only taking into consideration the facilities open prior to Q4 2010 in the USA. As a side note, the first 8 IBXs built by the company are still delivering a 6% Y/Y growth, and running at about 87% occupancy.
REIT conversion
A good part of the conference call was dedicated to the potential conversion of Equinix into a REIT. Here is a comment from Equinix's CFO, Keith Taylor:
Michael Rollins - Citigroup Inc, Research Division

I was wondering if you guys have explored the possibilities of converting part or all of your business into a REIT structure, and if you can give us an update in terms of how you're looking at that possibility.

Keith D. Taylor

Thanks for the question. We sort of expected that we're going to get that question from the field here. First and foremost, I think it's very important to note that my responsibility, one of my key responsibilities for 2012 is really to look at this, this possibility of turning or becoming a REIT over some period of time. We have to look at that very seriously in 2012. It's consistent with sort of our prior expectations that if you consume all of your NOLs in the 2013, 2014, or in some cases maybe even 2015 time frame, you have to really back up and figure out when do you start thinking about how to roll that out. So first and foremost, I'd tell you we are thinking about it very seriously.
As a follow up to our previous article on this subject, what emerged is that-- among many other complexities-- the company will have to evaluate the tax treatment of the interconnection business (about 20% of revenues and a very margin rich activity), and the potential repatriation consequences for revenues generated abroad (about 35% of revenues right now).
We do not believe the company needs to act in the short term, as there are sufficient NOLs for the next few years. However, as already discussed, Equinix could certainly benefit in terms of share price / higher multiples from a conversion into a REIT, assuming there are limited negatives from this move.
In summary, Equinix delivered another solid quarter, with all non financial metrics showing strength, including an increase in monthly recurring revenue [MRR] per cabinet in the Americas region (+3.4% Y/Y and +1% Q/Q), that confirms a good price environment for the company's business proposition.
Disclosure: I am long EQIX.