Accenture (NYSE:ACN) is a maturing consulting firm whose shares have a lot of upside potential. Characterized by strong dividend growth, strong relationships with top companies, and the "recession-proof" characteristics that business services firms carry, it can be a great addition to a portfolio as many analysts believe that a bear market is set to return.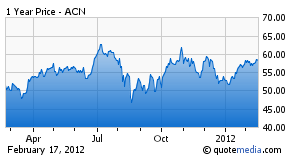 Accenture shares are up over 50 percent in the last 5 years and 9 percent in the past year. Its total dividends increased from 83 cents in 2010 to $1.13 in 2011. Going forward, dividends will most likely increase as the company's EPS is expected to go up 12.1 percent in the fiscal year ending in August 2012, and then increase by 10.5 percent in the next year. This is very solid growth for the business services industry and Accenture's stock price will probably increase at a rate at least as high as its expected earnings growth.
Business services stocks are an important part of a diversified portfolio because of their low volatility and relatively predictable performance. Being a consulting firm, most of Accenture's revenue is generated from long term service contracts. If business service companies begin to lose business, it normally will not affect their bottom lines for a couple of years and will not have as much of an effect on the current stock price.
There are plenty of good buys right now in business services. The stocks' low volatilities, predictable earnings, and strong expected growth make them good to hold as the market becomes more at risk for another bear run. Accenture is on the short list of specialized management and technology consulting firms that is publicly traded. I also recommend taking a look at Booz Allen Hamilton (NYSE:BAH), smaller cap consulting firm, and IBM, which has an operating segment focused on consulting.
Disclosure: I am long IBM.