Monday I read an excellent and relevant word press blog from Dean Barber of Barber Business Advisors, LLC. In the blog (Was Offshoring a Fad?), Barber explains the increasing trends of companies locating manufacturing operations in the United States. As Barber explains, the "made in America" resurgence is becoming more of a strategy than a fad:
With growth slowing in China and much of Europe, companies are now adding capacity in the United States, replacing aging equipment and even moving overseas production back from low-cost labor markets.
As Barber suggests, companies are starting to realize that the benefit of lower wages can be offset by higher logistics and materials costs and greater efficiencies realized by technology here at home. This strategically-aligned investment philosophy has become a "clear cut" trend as Barber explains:
Now manufacturers are realizing the total costs involved, not just the cost of labor (which is rising) for operating plants abroad. These extended and vulnerable supply lines come with a cost, not just in dollars but in terms of quality and serving your customers well.
Living in Spartanburg, SC and just fifteen minutes away from BMW's U.S. manufacturing plant, I have witnessed (first hand) this growing trend of constructing plants to serve regional demand. This idea of being "made in America" has been a revolutionary wave for many Japanese, German, and Korean auto manufacturers building plants in the U.S. (principally in the Southeast).
Barber explains that "manufacturing is the bedrock to a strong American economy" and he explains that
after falling every year since 1998, the number of manufacturing jobs rose in the U.S. in both 2010 and 2011. Since December 2009, the sector has added 300,000 jobs. Manufacturers added 50,000 people to their payrolls in January alone.
Industrial Real Estate is a Sound Asset Sector
Clearly, the U.S. industrial property market is strengthening. Following twelve consecutive quarters of unprecedented increases in vacancy, industrial absorption rates have now been positive for six consecutive quarters. The national average vacancy rate has been steadily trending lower and is currently in the single digits at 9.5%.
As Victor Calanog, PhD, Chief Economist with Reis, Inc. explains,
Both warehouse/distribution and Flex/R&D buildings showed consistent signs of improvement in fundamentals through 2011. These (sub-sectors) represent downward movements versus vacancies five or six quarters ago, when the downturn hit the sector worst. The differential fates of these two subsectors in the near-term are interesting to note. Flex/R&D properties generally register higher vacancy rates than warehouse/distribution facilities because of the type and size of tenants that occupy specific industrial subtypes. Historically, however, Flex/R&D also typically post higher rent growth because of their office component, vis-à-vis the relatively more standard warehousing space that warehouse/distribution facilities offer. This dynamic may change in the near-term.

Reis is forecasting rent growth to be stronger for warehouse/distribution facilities because of two reasons. First, demand for warehouse/distribution facilities is unusually strong, owing to the shift to online purchases and ecommerce, and the need for internet-based firms to house inventory and data centers. Second, the office component of Flex/R&D buildings used to serve as a boon for rent growth, but since job creation has been fairly lukewarm, office rents haven't grown as much. For this reason, rent growth for warehouse/distribution facilities may outstrip that of Flex/R&D buildings - a reversal from recent historical patterns.
Investing in Industrial REITs
With very limited new supply being built there is a lot of pent up demand. Assuming a return to more normal GDP growth levels, the industrial sector is poised for favorable fundamental improvements. Conversely, investing in real estate secured by long-term industrial leases can provide investors with risk-aligned and predictable income streams.
Within the FTSE NAREIT Index there are 126 equity REITs (with a combined market cap of $458.46 billion) and included in that group there are 8 Industrial REITs (with a combined market cap of $19.64 billion). The average dividend yield of the FTSE ™ NARIET ® All Equity REIT Index is 3.4% (as of January 31, 2012) and the average dividend yield of the industrial sub-sector is 3.65%.
click to enlarge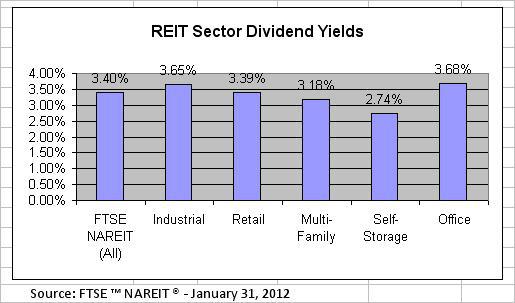 Investing in industrial REITs can provide a risk-aligned objective that can also hedge against insulated inflationary pressures. As a sound fixed-income strategy, industrial REITs provide a safe-margin platform whereby; land values will rise; replacement costs will rise; and rental rates will rise, as the U.S. dollar's purchasing power diminishes. Industrial REITs should benefit from the continued occupancy fundamentals and gain broader acceptance by corporations seeking regional demand needs. My industrial REIT picks include Prologis, Inc. (NYSE:PLD), EastGroup Properties Inc. (NYSE:EGP), DCT Industrial Trust, Inc.(NYSE:DCT), Monmouth Real Estate Corp. (NYSE:MNR), and STAG Industrial (NYSE:STAG).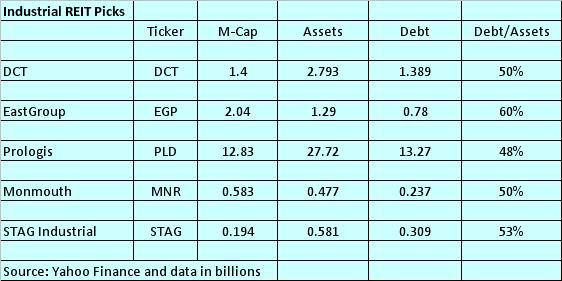 Prologis, Inc. is the leading owner, operator and developer of industrial real estate, focused on global and regional markets across the Americas, Europe and Asia. As of December 31, 2011, Prologis owned or had investments in, on a consolidated basis or through unconsolidated joint ventures, properties and development projects totaling approximately 600 million square feet (55.7 million square meters) in 22 countries. The company leases modern distribution facilities to more than 4,500 customers, including manufacturers, retailers, transportation companies, third-party logistics providers and other enterprises.
EastGroup Properties, Inc. is focused on the development, acquisition and operation of industrial properties in major Sunbelt markets throughout the United States with an emphasis in the states of Florida, Texas, Arizona, California and North Carolina. The company's strategy for growth is based on ownership of premier distribution facilities generally clustered near major transportation features in supply-constrained submarkets. EastGroup's portfolio currently includes over 30 million square feet. Tenants include Iron Mountain, US Postal, and International paper.
DCT Industrial Trust, Inc. specializes in the ownership, acquisition, leasing, development, redevelopment and management of bulk distribution and light industrial properties. The company's focus is the United States and Mexico, and the business platform serves companies on a national and local level, and across a broad range of industries such as medical, consumer products, online retail, logistics, manufacturing and government. As the largest Industrial REITs focused solely in North America, DCT has over 400 high-quality industrial buildings and 78 million square feet in 29 key markets across the U.S. and Mexico. Tenants include Coca-Cola (NYSE:KO), Goodyear Tire (NYSE:GT), Caterpillar (NYSE:CAT), Duke Energy (NYSE:DUK), FedEx (NYSE:FDX), Ford Motors (NYSE:F), Sears (NASDAQ:SHLD), Home Depot (NYSE:HD), HEB Grocery, Wal-Mart (NYSE:WMT), Walgreen (WAG), Sherwin Williams (NYSE:SHW), and Xerox (NYSE:XRX).
Monmouth Real Estate Investment Corporation was organized in 1968, is a publicly-owned real estate investment trust (REIT) specializing in net-leased industrial properties subject to long-term leases primarily to investment grade tenants. MREIC's current tenants include: Anheuser-Busch (OTC:ANHVF), Best Buy (NYSE:BBY), Caterpillar Logistics Systems, Coca Cola, FedEx (43% of portfolio), Keebler/Kelloggs (NYSE:K), Mead Paper, Sherwin-Williams, and Siemens (SI). The company's equity portfolio consists of 68 industrial properties and one shopping center located in 25 states, totaling approximately 8 million square feet of gross leasable area. In addition, the company owns a portfolio of REIT securities.
STAG Industrial, Inc. closed on its IPO in April 2011 (just 11 months ago) when it generated around $205 million (in gross proceeds). The company's portfolio consists of 105 properties in 27 states with approximately 17.3 million rentable square feet. STAG targets individual Class B, single-tenant industrial properties predominantly in secondary markets through the United States. Several of STAG's largest tenants include International Paper (NYSE:IP) (4.8%). Bank of America (NYSE:BAC) (3.8%), and Spencers (3.2%). I wrote a Seeking Alpha article on STAG here.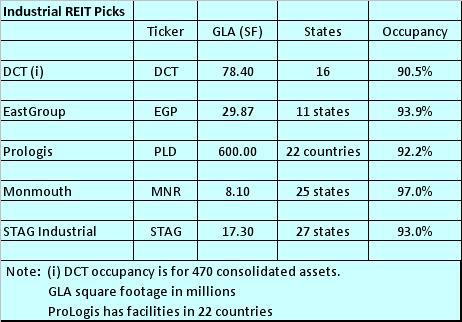 Investing in "Made in America" Resurgence
As Jonathan Morris, Managing Director of REIT Capital Markets at Jones Lang LaSalle explained,
As the worlds requirement for goods grows - halted briefly during the recession - so too does the need to store items short, medium or long term. The rise of mega-industrial REITs like AMB and their competitor Pro-Logis -- now a single company - was welcomed. Fly nationally or globally and you'll see the ProLogis logo on buildings near major airports. In fact, these buildings are not only built as state-of-art, but also contain significantly advanced technical equipment to monitor the temperature, humidity, security and occupancy of each asset. Remotely.
Likewise, investing in Industrial REITs can be as simple as renting from Prologis. The triple net lease structures are desirable sources of income and the demand for space is increasing. Occupancy levels continue to rise (Prologis occupancy increased from 89.9% in Q1-11 to 92.2% in Q4-11) and absorption is continuing to fill out. Ownership of industrial properties has generally provided stable and steady returns and tenant default rates are low. Also, one key advantage (for the industrial sector) is that unlike the office, apartment, or retail sectors, this sector does not have a need for ongoing capital expenditures to keep the buildings in good repair.
In summary, the industrial sector is perceived as a sustainable income model distinguished by sound diversification and core demand-driven real estate. U.S. industrial growth should continue and interest rates should remain low - a combination that should provide accretive earnings and durable dividend growth. REITs that specialize in industrial-sector properties can be very good investments and the current supply and demand trends make the asset class a compelling risk-aligned choice.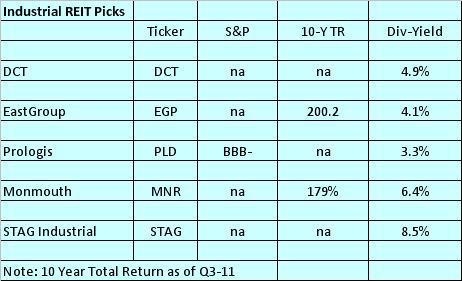 Note: There are eight industrial (sub-sector) REITs included in the NAREIT index including: Prologis , DCT Industrial Trust, EastGroup Properties, First Industrial Realty Trust (NYSE:FR), First Potomac Realty Trust (NYSE:FPO), Monmouth Real Estate Investment, STAG Industrial, and Terreno Realty (NYSE:TRNO).
Disclosure: I have no positions in any stocks mentioned, and no plans to initiate any positions within the next 72 hours.