Frontier (FTR) announced fourth quarter results and a reduction in the yearly dividend from $0.75 to $0.40. The size of the cut was a surprise to many considering up until the Goldman Sachs conference on September 20 management reiterated the dividend was safe and secure and saw no headwinds to change their commitment.
We noted the following in our last article:
The ttm FCF including integration cost is dangerously close to the dividend line in Q3. It must be reversed starting with Q4 by meeting or exceeding guidance. 2012 FCF guidance should meet or exceed the original 2011 guidance…FTR is at a tipping point that should be decided one way or the other when Q4 earnings are released and full 2012 guidance is announced.
So how did they do? Free cash flow did reverse in Q4, including integration costs as shown below: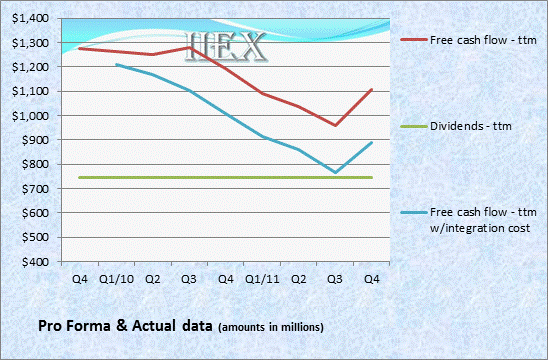 Free cash flow started trending up leaving a cushion as it relates to the previous dividend. So why the huge cut? The reason is because this is an anomaly. Despite the upward trend, FCF (free cash flow) will start trending down per management. The 2012 guidance is shown below compared to forecast and actual 2011 numbers.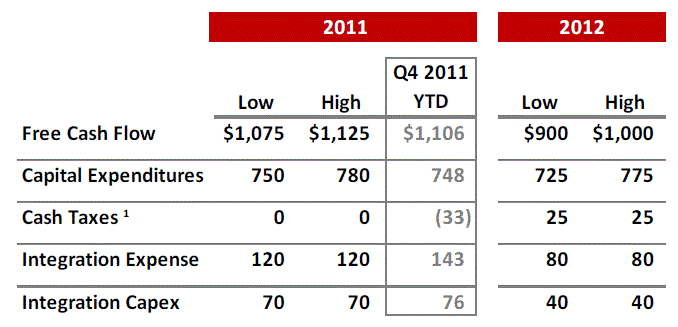 The only reason FTR met 2011 FCF guidance was by slashing capital expenditures in Q4. Q3 capital expenditures were $266 million and Q4 capital expenditures were $125 million, including integration capital expenditures. Capital expenditures in Q1 should return to about $200 million from $125 million in Q4.
Management projections for FCF do not inspire confidence. When Frontier announced the acquisition in May 2009, FCF on a pro forma basis was $1.73 billion, including expected synergies at the time. The deal was completed in July 2010. Once integration was under way FTR issued 2011 FCF guidance on February 23, 2011, in a range of $1.15-1.2B. At the Goldman Sachs conference on September 20, 2011, FTR lowered the 2011 FCF projection from a midpoint of $1.175 billion to $1.1 billion. Now the midpoint for 2012 is $950 million. The problem is guidance continues to trend in the wrong direction. When the quarterly projections are visually displayed (below) it's easy to see the dividend was not sustainable.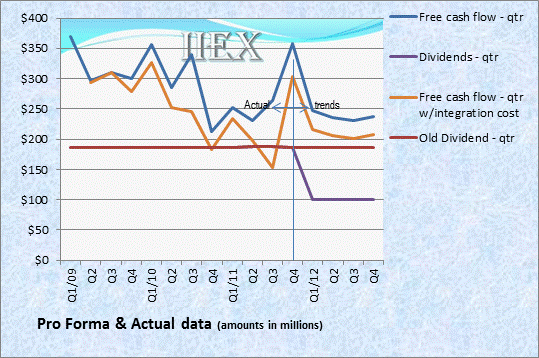 The important metric in the short term is FCF including integration costs. FTR publishes FCF excluding integration costs. Both are shown above. FTR needs to generate enough FCF not only to cover the dividend but to pay down debt and allow for any shortfalls with the pension funding.
The old dividend payout ratio was approaching 100% without any chance of reducing the debt, and debt is looming large for the company. FTR has over $2 billion in debt coming due through 2015. The breakdown is as follows:
Debt Schedule Through 2015

Year

Debt ($mil)

2012

94

2013

639

2014

658

2015

858
The 47% dividend cut provides enough cushion to support current guidance, generating an additional $348 million a year to reduce debt.
In combination with the reduced FCF the fate of the dividend was sealed after Standard & Poor's revised its outlook to negative from stable on January 27. Will the size of the cut satisfy the rating agency? S&P commented on the dividend cut:
Standard & Poor's Ratings Services said today that its ratings and outlook on Stamford, Conn.-based incumbent local exchange carrier Frontier Communications Corp. (BB/Negative/--) are not immediately affected by the company's announcement that it reduced its annual dividend to $0.40 per share from $0.75 per share. While we estimate that the dividend reduction will conserve about $350 million of cash per year, our negative outlook reflects our expectation that revenue and EBITDA will decline in the near term.
All this sounds like code for show us the downtrends will be reversed and then, and only then will we consider an outlook revision.
We think management has a few problems:
The continued downward revisions for free cash flow
How pension obligations could put additional downward pressure on free cash flow and by default the dividend.
Credibility as it relates to the safety of the dividend and guidance going forward
A potential future downgrade by S&P making it harder to negotiate better terms on the debt
The bottom line:
The dividend cut, while painful to many, was necessary. There is now the added flexibility to:
Meet pension obligations
Reduce and/or refinance debt
Lower leverage
Lower payout ratio (42% at midpoint of 2012 FCF guidance)
The risk is additional downward revisions to FCF. Given the current projections and a current yield close to 9% there is little downside and the stock could move up since the short term uncertainty surrounding the dividend and 2012 FCF guidance is now lifted. The nagging question continues to be, will longer term FCF continue its downward trend or is the worst behind them? Unfortunately, this will not become apparent for several quarters. In addition, will investors have confidence in management's forward guidance? These questions could hold the stock back which in turn will produce a dividend yield in the range of 7-9% going forward.
Is the new dividend secure? If management can reverse the downward trend in FCF then yes. Until then not much will change until FCF visibility becomes clear one way or the other.
The raw data used in this article can be downloaded in excel format here.
Disclosure: I am long FTR.