When B&G Foods (NYSE:BGS) reported fourth quarter and full year earnings on February 16th, strong earnings were expected. B&G had adjusted EBITDA of $36.7 million or or an increase of 11.8% for the fourth quarter, and $131.1 million or an increase of 9.5% for the year. The company issued guidance for 2012 of adjusted EBITDA of $166.0 million to $170.0 million. All very strong numbers.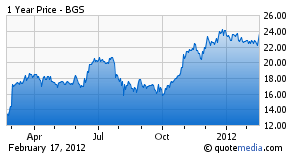 What was a surprise was the increase of the dividend for the third time in the past year. The 17.4% increase of the quarterly dividend from $0.23 to $0.27 improved what was already one of the best dividend yields in the sector. It is the focus of this article.
On Thursday, before the increase was announced, the shares traded at $22.20 and the yield was 4.14%. Even after Friday's 6.8% increase in the share price to $23.71, the former $0.92 dividend yielded 3.90%. The new dividend of $1.08 translates to a yield of 4.6%. Compare this to other much larger companies in the food sector where B&G competes. Sara Lee (SLE) at 2.2%, J. M. Smucker (JMS ) at 2.6%, Kraft (KFT) at 3.1%, General Mills (NYSE:GIS) at 3.2%, or Kellogg (NYSE:K) and Pepsi (NYSE:PEP) at 3.3% are all significantly lower.
B&G has been a dividend favorite of mine for quite some time. It has grown by acquiring "orphan" brands from other companies. These brands are typically successful products, but are often considered too small and a drain on the divesting company's marketing, sales or management resources. B&G's most recent acquisition was a group of six products, collectively called the Culver Specialty Brands (or CSB) from Unilever (NYSE:UN), largely completed during the fourth quarter.
As a result of acquiring the CSB suite of products, B&G expects to increase its free cash flow (or FCF) by $20 million in 2012 after incremental interest expenses. This increase, and B&G's desire to reward shareholders, was a primary motivation for the latest dividend increase. And as much as I appreciate the tasty dividend increase, I was expecting an increase much later in the year.
B&G took on a significant amount of incremental debt to acquire the CSB products. This increased the company's leverage ratio to 4.5x, above the company's long term target of 4x. At the time of the acquisition, David Wenner, B&G President and CEO, noted that the accretive acquisition would allow the company to get close to the 4x target by year end 2012. The dividend increase will most likely delay meeting that target.
During the Q&A session of the company's conference call, one of the analysts raised the same question that was of concern to me. If a new acquisition were to become available, how high would B&G allow its leverage climb. Wenner responded that he would be comfortable going much higher based on FCF metrics, but that the share price was likely to be hurt if the company went above 5x.
Different investors have different levels of tolerance for debt. Debt has also become a more significant criteria in evaluating investments since the collapse of Lehman Brothers and the credit markets freezing up. If a similar crisis arises in the future, how well will B&G be able to handle the situation? In the case of B&G, there is no debt due until 2016 and the company has a substantial and unused open revolver. From that perspective, the current debt level should be easily managed.
I do have one very significant concern. B&G has been able to make acquisitions like CSB because they were able to quickly arrange financing and because they have a reputation for being able to quickly close deals. I would hate to see their ability to close a future outstanding acquisition like CSB limited because of the recent dividend increase, its impact on leverage constraints or the availability or cost of credit.
Summary
B&G surprised this investor with a third dividend increase within a year, and the already attractive dividend yield was made even more attractive. I expect B&G to be able to easily manage the increased dividend payments, although it might hamper the company's ability to take advantage of future accretive acquisition opportunities.
Disclosure: I am long BGS, PEP, SLE.
Additional disclosure: I have no positions in the other companies mentioned in this article, and may add to my positions in Pepsico and B&G Foods at any time.