Swiss industrial conglomerate ABB (NYSE:ABB) has an oddly bipolar record when it comes to its financial reports. Where most companies tend to report streaks of better than expected (or worse than expected) numbers, with ABB it's always a toss-up from quarter to quarter. Although ABB did not end the fourth quarter on a uniformly positive note, the company still looks like an interesting name for the year ahead.
Better Orders, But The Past Intrudes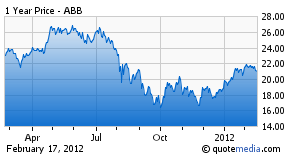 ABB announced that revenue rose 16% in local currencies for the fourth quarter, with organic growth coming in at an impressive 10%. That's remarkably better performance than competitors like Siemens (SI), Emerson (NYSE:EMR), and Rockwell Automation (NYSE:ROK), and only Eaton (NYSE:ETN) and General Electric (NYSE:GE) showed markedly better performance in overlapping segments.
Top line growth was led by Power Solutions (up 17%) and Process Automation (up 10%). Power Products (up 6%) and Discrete Automation (up 5%) were the laggards, but it's notable that every segment was positive.
Where ABB didn't do as well was with its profitablity. Although the company reported that operational EBITDA rose 18%, adjusted performance was a little less impressive and the company's margins (again, adjusted) were basically flat with last year and about 150 basis points below analyst expectations.
Some of the company's margin pressures are more easily forgiven - the company did seem to spend more on R&D, for instance. In other cases, and especially in Power Products and Discrete Automation, the company seemed to have issues with product mix and the impact of legacy orders with less favorable pricing.
The Future Looks Brighter
Like Siemens, ABB was pretty upbeat about its overall prospects for 2012. Although the first quarter will be a little rough, the company expects orders to pick up and support solid growth for the full year.
For the fourth quarter, ABB did report double-digit (10%) organic order growth, with strong strong in power systems and discrete automation. Asia and the U.S. in particular look like they're strengthening for ABB. While companies like Siemens, Emerson, and General Electric have been relatively positive about 2012 prospects, ABB management didn't seem to be as cautious or hedged with their comments about 2012 expectations.
It's also worth noting that the company sees even more room for cost cutting - to the tune of perhaps $1 billion in incremental cuts. That's pretty impressive given ABB's relative margins and returns already and if the company can deliver, it's only going to intensify the pressure on rivals like Siemens, Schneider, and Alstom.
The Bottom Line
ABB continues to reap the benefits of greenfield growth in emerging markets and reinvestment in process industries like autos and petrochemicals. At the same time, utilities are finally loosening the pursestrings and investing in T&D (transmission and distribution) assets. What's more, ABB also has the potential to significantly leverage the distribution assets that Thomas & Betts (TNB) will bring to the table once their transaction reaches completion.
ABB's somewhat schizophrenic operating history ups the risk in this story, and the market will not be forgiving if margins erode again in the first quarter of 2012 and/or guidance slackens. Likewise, if high energy prices start crimping demand in China, India, or North America, guidance will be all the harder to achieve.
By the same token, the company should be looking at solid incremental free cash flow conversion over the next few years and even modest revenue growth should fuel solid bottom-line results. With fair value in the mid-to-high $20's, ABB is still worth considering as a global industrial holding for 2012.
Disclosure: I have no positions in any stocks mentioned, and no plans to initiate any positions within the next 72 hours.