After so many years, it's interesting to see that there are still a few sell-side analysts willing to stick their heads out and support Spectranetics (NASDAQ:SPNC). More than 25 years into its life as a medical device company, Spectranetics has yet to really carve out much more than niche applications for its laser ablation products. While the company may at last be in place to deliver some meaningful cash flow leverage, it looks like valuation is already ahead of the story.
Double-Digit Growth In Q4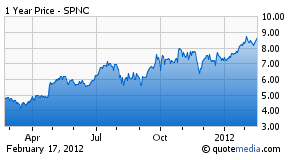 Spectranetics delivered 11% growth in the fourth quarter, with 12% growth in its lead management business and 13% growth in its vascular business. Sales of disposables rose more than 12%, and the company placed an additional 8 laser units in the field (taking the total north of 1,000). To be fair, that's quite a good result when compared to other peripheral vascular companies like Bard (NYSE:BCR), Covidien (COV), and Cardiovascular Solutions (NASDAQ:CSII).
Spectranetics also did reasonably well below the top line. Gross margin improved over two points to nearly 73%. Management continues to put money into the sales efforts (SG&A up 17% this quarter), but adjusted operating income did jump about 29%.
Can St. Jude's Pain Be Spectranetics' Gain?
Arguably the most under-appreciated part of Spectranetics' business is its lead management products. Put simply, Spectranetics lasers can be used to ablate and remove embedded leads used to attach pacemakers and ICDs to the heart. Although these leads don't always (or even often) need to be removed, there are exceptions in cases of serious defects or performance problems.
A while back, when Medtronic (NYSE:MDT) had problems with some leads, Spectranetics saw a small uptick in business in lead removal. With St. Jude (NYSE:STJ) more recently having problems with its Riata leads, there is likewise the chance that the company can see some uptick in this business. Luckily for Spectranetics, there's not much competition here - Cook Medical sells a mechanical solution for lead removal and SPNC has about 60% share of the market.
Still Waiting On Peripheral To Pay
When I followed Spectranetics on the sell-side back in the 90's, there was some excitement and optimism that the company could take its place among the stent companies and arthrectomy devices (like Boston Scientific's (NYSE:BSX) Rotablator) in cardiac care. This never really worked out, but the company then started targeting the peripheral vasculature - a seriously under-served market.
Unfortunately, the story hasn't improved all that much. Sales have steadily improved, but Spectranetics has really never been able to garner much market share or momentum in peripheral care.
There are a few problems Spectranetics struggles to overcome in the clinic. While the company's lasers have been out there a while, the approach is still unfamiliar to many doctors; by comparison, every doctor gets training in medical school with the catheters and stents that are offered by companies like Bard and Cook.
While the company has worked to bring out successively better products like the Turbo-Booster, Turbo-Tandem, and GlideLight (still in the investigational stage in the U.S.), the procedure still suffers from long procedure times and it is difficult to use in the curving vessels of the leg. That has left it lagging the arthrectomy products of rivals Covidien (the SilverHawk/TurboHawk family) and Cardiovascular Systems, as well as the more conventional balloon/stent approaches.
Hope Springs Eternal
To its credit, Spectranetics doesn't quit. Although I don't think the company is ever going to see great traction with its vascular laser approach, there are still some factors working in the company's favor.
First, the peripheral vascular market is large and very badly served - amputation is still considered a treatment option - and the aging U.S. population means more clogged peripheral arteries.
Second, the company is actively pursuing labeling and follow-on indications for in-stent restenosis. Stents almost always become clogged and need to be cleared out to restore blood flow; arthrectomy devices from Covidien and Cardiovascular Systems are contra-indicated here. As stents are becoming more popular in peripheral procedures, it stands to reason that future in-stent restenosis treatment potential is growing as well.
The Bottom Line
With the end of the company's licensing agreement with Medtronic eliminating one potential hitch to a deal, there is a chance that companies looking to grow their peripheral business (including Boston Scientific and Johnson & Johnson (NYSE:JNJ)) could consider this company. There is an argument to be made, after all, that the efficacy rates from clinical trials suggest these products should be in wider use and simply need a bigger/better marketing push.
All of that said, the shares don't look notably cheap. Admittedly, trading at about 2.3x trailing sales Spectranetics shares are not expensive by that metric. Conversely, the forward-looking cash flow model doesn't really work unless the company can produce double-digit revenue growth and that doesn't seem to be in the forecast. A best-case scenario could produce a fair value of around $10 or $11 a share, but that requires some exceptional improvements in free cash conversion. Accordingly, it's hard to get too excited about these shares at today's price.
Disclosure: I have no positions in any stocks mentioned, and no plans to initiate any positions within the next 72 hours.