The scales could have tipped either way last week, but Thursday's encouraging news on the jobs front (against a backdrop of a potential resolution to the European crisis) sparked a buying effort that cemented last week's gains.
The rally now stands at 12.9% since the December 19th close, which is getting to 'uncomfortable' proportions. Yet, as Keynes said, "The market can stay irrational longer than you can stay solvent." Bullish momentum aside, how much gas is really left in the market's tank? We'll poke and prod things below, right after a look at the key economic data.
Economic Calendar
Last week was loaded with economic numbers, so well just hit the highlights. In order of appearance…
* Retail sales (with cars) was weaker than expected, up 0.4%. Retail sales excluding autos from the tally was better than expected, up 0.7%.
* Industrial productivity and capacity utilization - two 'biggies' for the market's long-term trend - weren't encouraging. Production for January was flat with December, while capacity utilization actually fell back to 78.5%. It's too soon to be alarmed yet, but this is something we want to keep tabs on.
* Unemployment claims continue to drop…. a lot. New claims fell to a multi-year low of 348K, while ongoing claims fell to 3.42 million, which was also a new multi-year low.
* The construction industry is busier too. Housing starts jumped from an annualized rate of 689K for December to 699K. Issued permits were up from 671K to 676K in January.
* Inflation is under control. Producer inflation was only up 0.1% last month, though on a core basis (minus food and energy) was up 0.4% last month. For consumers, prices rose 0.2% on a core as well as a non-core basis. The annualized inflation rate now stands at 2.93%.
Economic Calendar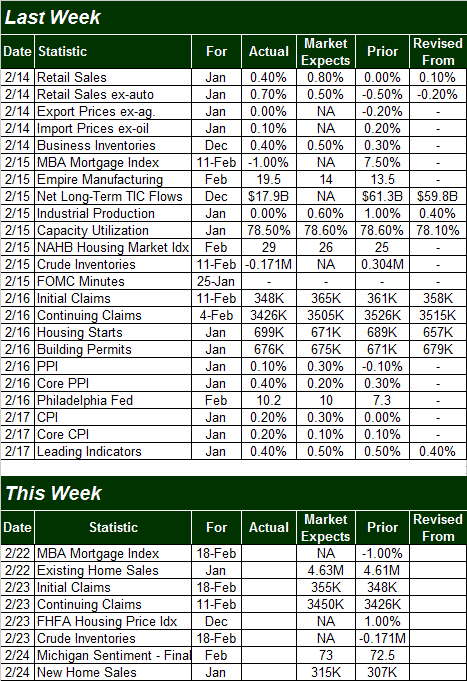 The coming week is clearly going to be a light one, though an important one for the real estate market. Existing home sales will be unveiled Wednesday. Look for more of the same…an annualized rate of 4.63 million. New home sales will be announced open Friday, and the pros are looking for the rate to increase to 315K.
S&P 500
Usually we go with a daily chart of the S&P 500 Index (SPX) (NYSEARCA:SPY) below, and then follow with a weekly chart. This week we want to paint the bigger picture first with a weekly chart, and then drill into the daily.
The fact is, though the S&P 500 is feeling overbought; it hasn't yet reached its absolute current ceiling. That's around 1370, where the upper 20-week Bollinger band (gray) as well as peak from last May was. Versus Friday's close of 1361.23, there's still a little more room for the bulls to move. The question is, will they use it?
S&P 500 - Weekly
click to enlarge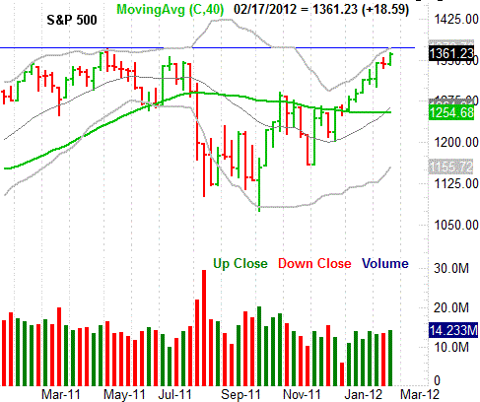 So does the daily chart show us anything different? Not really - the market's still trapped somewhere between 'solid momentum' and 'this is crazy'.
For the S&P 500, that means the index is still above the 10-day (red) and 20-day (blue) moving averages, and below the upper 20-day (gray) and 50-day (orange) Bollinger bands, moving at a well-paced (read 'sustainable') clip. It seems hard to believe, but as long the S&P 500 can stay in the zone without overheating or breaking down, this bullish trend can stay alive.
Take a look, but be sure to keep reading for some thoughts on the CBOE Volatility Index (VIX) (NYSEARCA:VXX) (NYSEARCA:VXZ).
SPX & VIX - Daily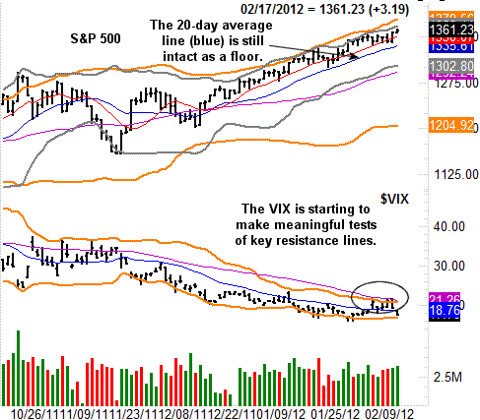 Our concern as of last Friday (two Fridays ago) was that the VIX - for the first time in a long time - was pressing into its upper 20-day Bollinger band (orange) as well as the VIX's 50-day moving average line (purple).
An encounter with the upper Bollinger usually means a downside reversal from the VIX is on the way, and is therefore bullish for stocks. The same goes for meeting resistance at the 50-day moving average line. Yet, it wasn't clear if the move up and into the moving average line and Bollinger band this time around was going to result in a downside move from the VIX, or if this was just the beginning of a move above the 50-day moving average line and upper 20-day band line. If it was the latter, then this was the beginning of a bearish move for the S&P 500… provided the SPX's 20-day moving average line also (finally) at 1335.6 also failed to act as a floor.
Well, we're still no closer to an answer.
Though the VIX did peel back from those key ceilings on Monday of last week, both were tested again on Wednesday and Thursday. And once again, both lines sent the VIX lower again, and the market rallied accordingly.
Here's the thing - last week's effort from the VIX to punch through the upper Bollinger band line and/or its 50-day average was the second time in the last several weeks we saw such fear and worry. The bulls ARE getting nervous here in a way they haven't since November. It hasn't been a problem (bearish) yet, but the market's complexion IS changing even if the momentum hasn't yet (NYSEARCA:DIA) (NASDAQ:QQQ) (NYSEARCA:IWM).
We still ultimately need to see the VIX make a couple of closes above the 21.00 area (above its recent resistance levels) before we can fully say a pullback is underway. But, we're closer to that move than most traders may realize.
Disclosure:
I have no positions in any stocks mentioned, and no plans to initiate any positions within the next 72 hours.