Here are five really good reasons to own Calumet Specialty Products Partners L.P. (NASDAQ:CLMT), in no particular order of importance:
The dividend is excellent and growing:
Actually, this is a pretty important reason. The latest Calumet dividend was $0.53 per share, which is an improvement over the $0.50 per share in the previous quarter, and at a price of about $23, amounts to an annual yield of 9.2%. Last year at about this time, the stock was yielding about 8% and so if the stock returns to its historical yield, it should have a price of at least $26 at this point.
Click to enlarge:

The company is into profitable niche markets:
Rather than compete with BP (NYSE:BP) and ExxonMobil (NYSE:XOM) in the fuel business, 81% of the company's operating income is derived from "specialty products" which include lubricants, waxes, and other materials. For example: The gas station across the street from me at this moment is selling fuel for about $3.55 per gallon. A tube of name-brand lipstick, containing a specialty wax, is selling at the local drugstore for $8.99 per 0.15 ounce tube, which is $429 per gallon. Naturally, Calumet only produces the feedstock for lipstick, but the point is, the specialty business is a lot less sensitive to the feedstock cost.
Even Calumet's fuel business was profitable in the fourth quarter, at exactly the same time that its competitors Marathon Petroleum Corporation (NYSE:MPC) and Tesoro (NYSE:TSO) were reporting losses. The reason: Calumet's refineries use crude oil from the Midwest and/or southern Canada and their product mix is 1:1 gasoline versus diesel fuel, an unusually high level in this industry which averages closer to 2:1. Diesel fuel is higher margin than gasoline at the moment.
The management is trying to grow the top line:
The company used cash from a share offering and an increase in long-term debt to do several transactions in the last quarter: Calumet purchased a refinery from Murphy Oil (NYSE:MUR) in Superior Wisconsin that uses Midwest or Canadian crude oil, increasing the company's refining capacity by 50%. The company purchased Hercules Oil's aviation and refrigerant lubricant business in January, along with a lubricant distribution business. Calumet is still benefiting from a transaction a year ago which allowed it to use its distribution network to sell Lyondell's lubricant business.
Insiders are buying:
Insiders bought 156,000 shares versus zero selling in the last six months; alot of this when the stock was beaten down into the high teens last fall when energy prices fell.
There is still some earnings upside:
The last earnings announcement stated the company's gross profit at $80M in the fourth quarter of 2011, compared to $55M in 2010.
At its most recent earnings announcement, Calumet was still only at 70% of its nameplate refining utilization versus an industry average of 84% as of last week, and versus about 90% in the Midwest among companies that use the advantaged Bakken and Midwest crude oil. So, merely improving to "average" has potential to increase Calumet's top line significantly. And if we get the seasonal price appreciation in the energy sector this spring, so much the better.
There are some risks.
Foremost among the risks are the possibility of another 2008-type general economic meltdown, and/or another 2011-type hyper-seasonality, neither of which were beneficial in the long run for this industry.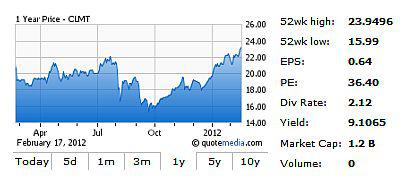 Unlike normal refiners, who tend to be cash-heavy, the company does not keep an exceptionally large amount of cash on hand. The last earnings announcement stated $64M in cash on the books, a proportionate increase over its $37M on hand a year ago. It is a much bigger company now, after all, but the company is still vulnerable to interest rate increases and financing cost increases, which may carry knock-on financing issues.
The company does derive a lot of its income, and occasional losses, via the practice of hedging. Its historical earnings from quarter to quarter are impacted significantly by how well or poorly the company did at this activity. I did this summary about a year ago. I wrote that over time, hedging tends to add about $2 per barrel to Calumet's feedstock costs, which is chicken feed compared to the $21 per barrel average refining margin Calumet has for its specialty products. But this does tend to make the earnings announcements unpleasant from time to time, particularly during times of falling crude oil prices.
As we are so fond of saying, the world is chaotic and there are no guarantees on anything, but if you really must make an investment in the nasty refining business, which everyone hates, it makes some sense to focus it in an area where you can maximize your chance for success.
Disclosure: I have been long CLMT for about the last year. While I was initially annoyed that the management diluted my shares with the stock offering of about a year ago, I am a bit happier at the moment since they used it to grow, and I have a nice cash balance in my brokerage account from the dividend stream that I got while I waited patiently for the stock to turn around.