There is no question that financial stocks have been heavily affected by Europe's sovereign debt problems. Has Google (NASDAQ:GOOG) also suffered?
On any given day, any increase in the likelihood of a European default causes financial stocks to be on the defensive; particularly for the likes of Morgan Stanley (NYSE:MS), Goldman Sachs (NYSE:GS), Citigroup (NYSE:C), Bank of America (NYSE:BAC) and others.
As the problems escalated throughout 2011, Goldman's stock price dropped 46% from $168.16 on December 31, 2010 to $90.43 on December 30, 2011. Morgan Stanley dropped 44% from $27.21 to $15.13. Citigroup also dropped 44% from $47.3 to $26.31, while BofA dropped 58% from $13.34 to $5.56. There is no question that there were also other factors at play, but European Sovereign Debt issues played a major role, both directly (through financial loss implications) and indirectly (through negative investor and consumer sentiment implications).
Meanwhile, any perception of an easing of such crisis provides support for such share prices. As Greek bailout talks gathered steam throughout the start of 2012, and an imminent bailout seemed to be in the cards, these stocks have recovered some lost ground. As of February 17, 2012, Goldman Sachs has appreciated 28% to $115.19, Morgan Stanley has appreciated 26.6% to $19.16, Citigroup has appreciated 25% to $32.92 while BofA has appreciated 44% to $8.02.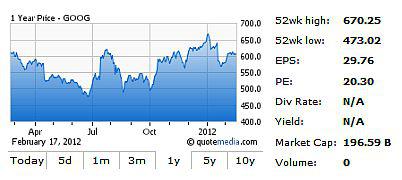 Google (GOOG) has been traditionally perceived to be a technology company. In reality, it is more of a media company, as the bulk of its revenues is driven by advertising. Its search engine, which provides the bulk of its profits, generates most of its revenues through Pay-Per-Click fees it charges clients for the privilege of displaying their names next to customer search results. Very far off from the way financial firms generate revenues.
Since December 30, 2010, Google has appreciated less than 1% from $598.86 to $604.36 on February 17, 2012. Meanwhile, other technology companies, such as Apple (NASDAQ:AAPL) and International Business Machines (NYSE:IBM) have appreciated by as much as 55% and 42% respectively.
Google's international sales make up about 53% of its revenues. The bulk of such revenues take place in Europe. In its latest earnings release in January 2012, Google missed analysts' earnings estimates of $10.50/share when it reported actual Q4 2011 net earnings of $9.50/share. Google announced that a major factor causing the shortfall was related to the weak performance of the euro.
There is no question that Apple and IBM also have substantial international sales, but it seems they have been able to weather the EURO drop during Q4 2011. However, as Google is actually also a media company, the deteriorating economies in Europe had restrained advertising expenditures.
Depending on how Google has hedged itself against currency fluctuations since Q4 2011, it is possible that an appreciation in the euro may benefit Google. However, despite a Greece bailout deal, any positive effect on the euro is not guaranteed to be sustained. Europe still faces substantial issues with Portugal, Italy and Spain.
In addition, the European Central Bank (ECB) has provided its banks substantial liquidity through 3-year interest free loans; whereby such loans have been utilized in the shoring up and purchase of European Sovereign debt. In other words, it seems that Europe has momentarily swept its problems under the carpet. At the end of the day, this pseudo-quantitative easing is likely to increase the supply of euros, and hence can possibly depreciate its value in the future.
The Greek bailout is good news for Google as a stronger euro and the potential for healthier European economies are supportive to Google's international revenues. However, the Greek bailout may only temporarily support the euro. In addition, as long as European economies remain weak, and haven't actually started showing concrete evidence of improvement, European advertising budgets will also be constrained. Both factors will act as headwinds for Google. As the U.S. economy improves, Google can possibly offset some of its challenges in Europe through increased U.S. revenues as well as product diversification.
Disclosure: I have no positions in any stocks mentioned, but may initiate a long position in AAPL, GOOG over the next 72 hours.